Camera
The Honor 5X features a 13MP camera with SmartImage 3.0 which promises to deliver the clearest image with every shot. F2.0 aperture, 28 mm wide angle lens with five elements, a blue glass infrared filter to help with low light shots, and a single LED flash. Photos are shot in a native 4:3 aspect ratio with a resolution of 4160 x 3120px.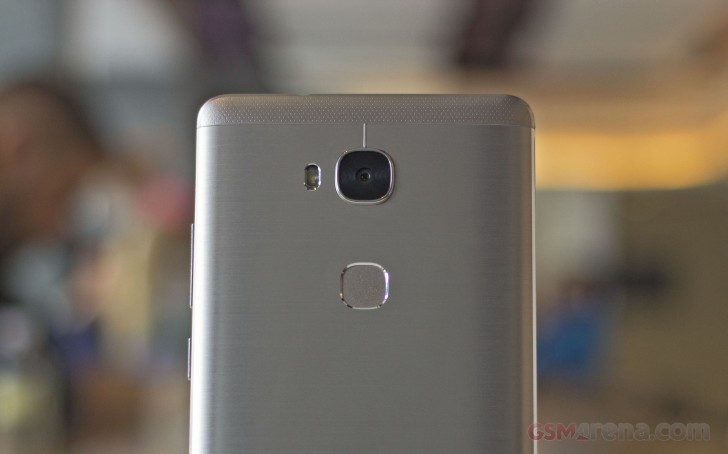 The interface of the camera app is straightforward if a little scattered. Swiping left or right in the virtual viewfinder lets you switch between still/video, and the all-important Light painting, Beauty and Time-lapse modes.
From the shooting modes you can select HDR, and Watermark (also available post-shot from the image editor), among others.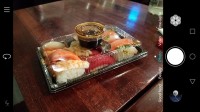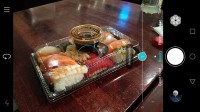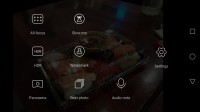 Standard viewfinder • Swipe up or down to change photo taking mode • Other shooting options available
The front shooter has a 5MP camera with 4:3 aspect ratio as well which brings it to a total resolution of 2592 X 1944px. The front camera also has an F2.4 aperture, 22 mm wide angle lens with 4 elements, and a blue glass infrared filter to reportedly help with low light shots.
Making out the different textures in Vidalia Park's plaque is very difficult because of the excessive digital noise in the image. This speckling is not only apparent in low light pictures, but in all photos we took with the Honor 5X.
This noise blends the photos too much to where we could not differentiate obvious shifts in texture throughout an image. Branches of leafless trees were too soft to make out while dramatic contrasts like the edges of the park bench against the snow on the ground were exaggerated by the imaging software. It just doesn't look right in either case.
Colors appear washed out in images with distant backgrounds. The camera was not able to accurately capture the warmer colors of the sunset going on above the waterfall.
Dynamic range on the camera is not impressive. HDR mode is barely able to make a significant difference in the range of lighting conditions. While the camera was able to reduce a bit of the highlights to make out the skies, details of darker shades were left barely visible in the dark.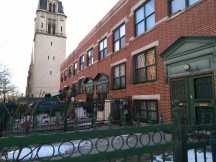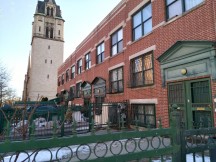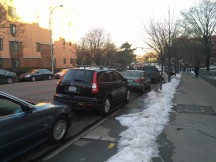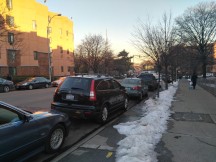 HDR off (left) • HDR on (right)
Beauty mode is also present on the Honor 5X's camera. Beauty mode has a slider from 1 to 10 to allow you to refine how processed you want your face to look.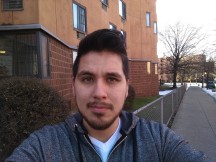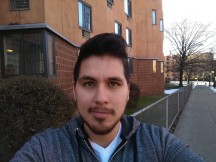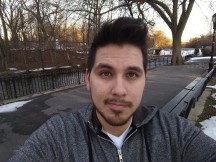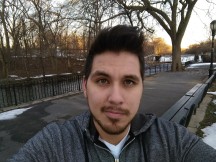 Selfie #1 with front cam. • Beauty mode 5/10 • Selfie #2 with front cam. • Beauty mode 1/10
The panorama mode does work well and can blend different exposures of the same scene excellently. The Honor 5X does not use stock Android's method of stitching multiple photos together. Rather, it uses contextual software and "sweeps" the scene instead.


The Honor 5X's panorama mode works flawlessly
Video camera
The video camera is capable to up to 1080p at 30fps. In well-lit environments without fair ranges of light, the video performs fairly well like at a busy intersection. Though, we found the camera sensitive to objects moving toward the camera and causes the video to change in exposures as to compensate.
However, in environments where there may be more light behind the subject, the video camera (just like the photo mode) performs poorly in dynamic ranges of light.
Videos filmed in lower light results in a noisy image and crunchy textures. If you are filming scenes with a lot of details like in our waterfall video, you'll be getting a lot of noise as well.
Check out a video sample that we uploaded to YouTube.
As always, you can also download full-resolution samples directly as well:
Sample 1: waterfall ~25MB / Sample 2: intersection ~32MB