Conclusion
The Honor 5X could be the best phone you could get for $200. At least in the US, as there aren't as many offerings in the mid-range 5.5-inch space. We like how Honor is pushing itself into the US market which is quite difficult to do especially in the mobile industry. From here we'd like to see both Honor and Huawei make a larger presence in the US to compete with the big guys in the US like Samsung, Apple, and LG.
The Honor 5X is a great choice for anyone's first smartphone, kid's phone, or even a spare phone. EM UI can provide a feature rich experience to users without overwhelming them with too many menus and widgets.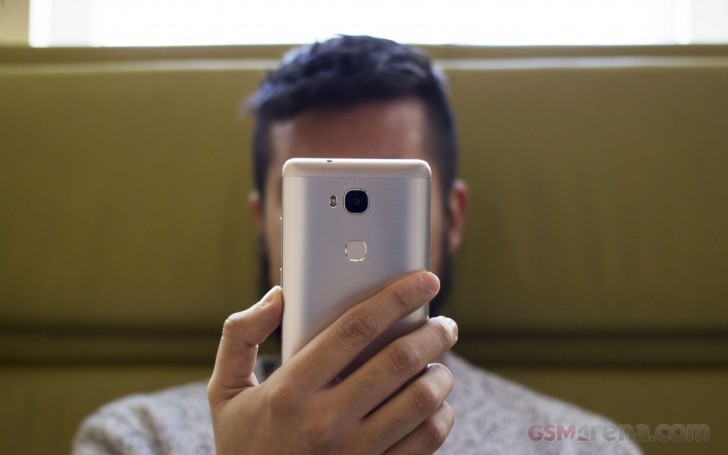 Honor's had to make a few compromises for this device, and they result in a very well-balanced trade-off for the price range. Lack of NFC, 5 GHz Wi-Fi, and an average performing Snapdragon 616 still don't turn our attention away from a metal-bodied $200 smartphone with a fingerprint scanner and great performing battery.
The Honor 5X could improve in the imaging department. The camera delivers "okay" photos, but we feel that with a software update to the camera, it could perform a little better in the way that it processes images. Still, camera performance is not bad for the price range of the Honor 5X.
Along with the added-value features of EM UI, the Honor 5X is among the best bang-for-buck smartphones in the newly explored US market and worldwide.
Honor 5X key test findings:
Great build quality with a premium-looking metal-bodied design;
The 5.5-inch, 1080p screen has good max brightness and contrast and excellent sharpness;
76h endurance battery rating means great battery life for the midrange smartphone niche;
Fingerprint reader unlocks the phone quite quickly and is always on even when the screen is off;
EmotionUI delivers a feature-rich but non-intrusive UI experience;
Performance left us with mixed feelings - once loaded, apps and games perform well, but starting them up will leave you waiting sometimes;
Loudspeaker is average in loudness, certainly not high quality in sound
Excellent audio quality for a phone of this price range; Crosstalk was kept at a minimum and volume dropped just a bit when plugging headphones;
Images taken with the Honor 5X are only okay if you don't zoom down to 100% view as image processing is of questionable quality;
1080p videos shot by the 5X are okay as well, though not stellar;
The m1 metal is priced similarly to the Honor 5X, and both devices are identical in screen size and camera resolution. They both have a microSD slot as well. The Honor 5X, however, gets you a better processor and more RAM, along with Honor's promise of an update to Marshmallow.
The Lenovo K3 Note is another phone that falls in the midrange, 5.5-inch/1080p device niche. While the Lenovo k3 note is a little bit cheaper, in return you will get a much better screen, but lesser battery life and an all-plastic build.
The Samsung Galaxy J7 also has similar specs to the Honor 5X, though, it falls under a slightly higher price range. For a bit more money, the J7 will get you Samsung's TouchWiz take on Android, a much more refined camera experience, better battery life, but at the expense of having a lower screen resolution and an unremarkable design.
Sometimes it might be better to buy an older flagship for the price of today's midranger. And in most cases, the former outperforms the latter. In this case, we're referring to the OnePlus One. It's got better performing imaging, processor, graphics, and RAM. The only thing you'll be missing from the 5X is the fingerprint scanner, but of course, you'll also be getting faster Wi-Fi, NFC, and a much less intrusive Android experience.
If it's available in your country, the Moto X Play comes with many value-added features of the Moto branding while keeping the Android experience as close to stock as possible. It might be a bit pricier than the Honor 5X, but it delivers a snappier, stock Android experience with Motorola's legendary build quality, along with a strong battery endurance and an above average camera experience.
Intel chips in smartphones are still rare to see out in the smartphone market wilderness. However, the similarly spec'd Asus Zenfone 2 ZE551ML outperforms the Honor 5X, but it's also slightly more expensive.
The Honor 5X offers flagship level features like a 1080p display, a 3000mAh battery, fingerprint scanner, and metal bodied-design in exchange for just a few shortcomings like the performance, lack of NFC and 5GHz Wi-Fi, and average camera performance. For $200, the Honor 5X is a steal, and the Chinese company has a large potential to pursue the midrange smartphone market in the US. The Honor 5X is a perfect example of 'No Nonsense' that the company has promised.