Software overview
The Huawei Honor 7 boots the company's latest EMUI 3.1, which skins an Android 5.0 Lollipop edition. Huawei adopted Android Lollipop, without Google's new material design though. The user interface has remained flat with almost no traces of Google's latest aesthetics. EMUI 3.1 remains true to its style and has preserved the user experience mostly intact. Fans will also be happy to know that the OS is still packed full of various extras and additional functions, baked right in.
The default lockscreen looks simple, but hides lots of useful tricks. You can easily start the camera, you can also pop up an iOS-like control center from the bottom with various. The latter also holds a few options for controlling the covers and cycling through them.
The graphics on the lockscreen are referred to as Covers and the phone comes with quite a collection of them and a means to discover and instantly download more. They are really being treated like first class citizen with a dedicated download center, complete with channels, subscriptions and auto-updates. You can actually go in, set a few of your preferences and let the covers cycle between every screen wake, so you always have something fresh to look at. That's definitely the most eye-catching feature of EMUI.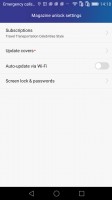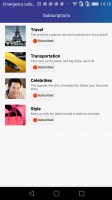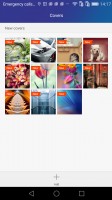 Customizable covers with downloads and subscriptions
Beyond the lockscreen we find a fairly standard Android homescreen with five customizable shortcuts, which are docked at the bottom and are visible on all homescreens. There are nine homescreen panes at most - and at least a couple of them will be populated by the preinstalled apps. Widgets are available, you can also opt for different transition effects.
As is customary for Chinese Android UIs, there is no app drawer like there would be on vanilla Android.
Anything you install pops up on the homescreen, just as it would on an iPhone or a Xiaomi. While this means that you don't have to bother creating shortcuts to your apps on the homescreens, it also means that you cannot effectively hide any of your installed apps either. You can, however, group them into folders.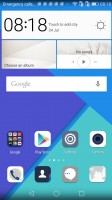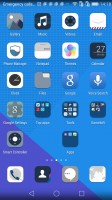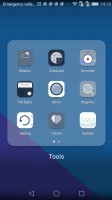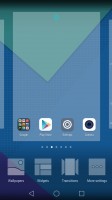 The homescreen is where your apps reside, like it or not
Themes are available as well. A theme will change your homescreen wallpaper, lockscreen style and animation. You can also adjust things like homescreen transition effects, and even change your wallpapers at random or specific time intervals.
The notification area has two pages - one that hold all notifications sorted in a timeline, and another for all of your quick toggles. You can swap around the ones you want visible on the first three rows. The shade has undergone some degree of modification. It is now transparent and creates a blur effect underneath, quite reminiscent of iOS.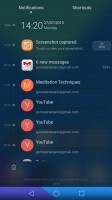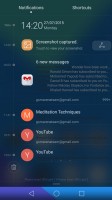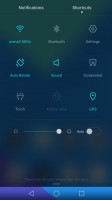 The notification area with toggles
The Huawei Honor 7 features a task switcher that lets you swipe away unwanted apps, and there's a "Clear all" button that also informs you how much memory you've freed up.
Finally, there is a system-wide Search, which was borrowed from iOS - you swipe down anywhere on the homescreen and you can search throughout all content on your phone. Just like Spotlight on iOS.
Huawei has invested quite a lot of effort in various usability and accessibility features and most things that are not customizable through theming can still be rearranged and moved around. The phone comes with features, such as customizable navigation bar, simple homescreen, Do not disturb mode, and even one-hand optimizations for system apps.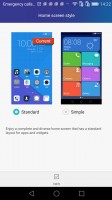 Simple homescreen with a Windows Phone style tiled interface
Various display options are also accessible on a system-wide level. The UI can be tailored to your needs and the lockscreen can be as secure as you would like.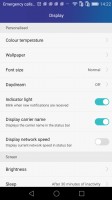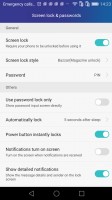 Display and lockscreen options
EMUI 3.1 offers granular control over various system functionality via the Phone Manager app, including protecting apps with a password or a fingerprint. Those can be different from the PIN/fingerprint for unlocking your device. You can also block calls and messages from here (Harassment filter), regulate battery usage with different power optimizations.
Huawei has given battery management an equally thorough treatment. The Phone Manager has a dedicated interface within the Power Saving options for managing what it refers to as protected apps. The notion is that only applications that are deemed necessary by the user can be left to run in the background and consume battery and possibly network data, when the screen is off. Any app not on the list has no such privileges. This level of control is astounding ad we really wish that other manufacturers would adopt similar mechanisms to give back users granular control of their software and hardware.
The Phone Manager also features a notification center, from which you can control which apps can send you the three types of available notifications - the shade notifications, the lockscreen notifications and the banner style notifications.
High level of control is also employed when it comes to the app access to network data. The user can control the rights of each application to access either WiFi or mobile data. This can save a lot of traffic and help you optimize your data plan and consumption in an easy and convenient way.
Motion control is also big on the Huawei Honor 7. There are flip gestures, as well as picking up, tilting and more. All of those are extensively customizable to your liking as well.
You can configure three different functionalities for the so-called Smart key, the one on the left side of the Honor 7. You can set actions (apps or shortcuts) for single press, double press and long press. For example we set Take a Screenshot option at a single-press and it made this review way easier to complete. Nice!
You can enable the so-called Suspend button - it's a virtual key you can move anywhere on the screen, allowing you to expand it to the primary Android keys - Back, Home, Task Switcher, Lock and Close all running apps. It will help you control your P8 with just one hand, but if that's not enough for you, there is always the one-hand mode - it uses the accelerometer to move the keyboard, the dialer and the navigation bar to the left or right side of the phone.
Knuckle sensing technology is also available. More of a gimmick than anything else, you can use your finger's knuckle to double tap on the screen and that would create a screenshot. You can also capture only a certain area of the screen by circling it, again with your knuckle.
And finally, we've saved the best for the end. There are a couple of super useful gestures you can perform on the fingerprint sensor below the rear camera. Note that you can do those with any finger, there is no need of print recognition.
First, you can answer a call with touch and hold. Alarms can't be turned off the same way. Snap a photo or capture a video with tap&hold too. Then you can swipe down and up for showing/hiding the notification panel. We found all of those really cool and useful, so we recommend opting for these gestures.