Software
The Mate 10 Lite runs Android 7.0 Nougat with Huawei's EMUI 5.1 on top, despite launching pretty much at the same time as the Mate 10 and Mate 10 Pro, which have Android 8.0 Oreo and EMUI 8.0 on board. This is one of the differences you'll have to live with, unless Huawei ever decides to grace the cheapest member of the Mate 10 family with the latest tasty treat.
We'd call this yet another cost-cutting measure meant to enable the Mate 10 Lite to reach its price point, but we're not sure that would be accurate. It may just have been a matter of prioritizing development of EMUI 8 for the flagships, but as Huawei is a huge corporation we're baffled as to why it wasn't able to find more software developers to work on that for the mid-range Mate 10 Lite as well.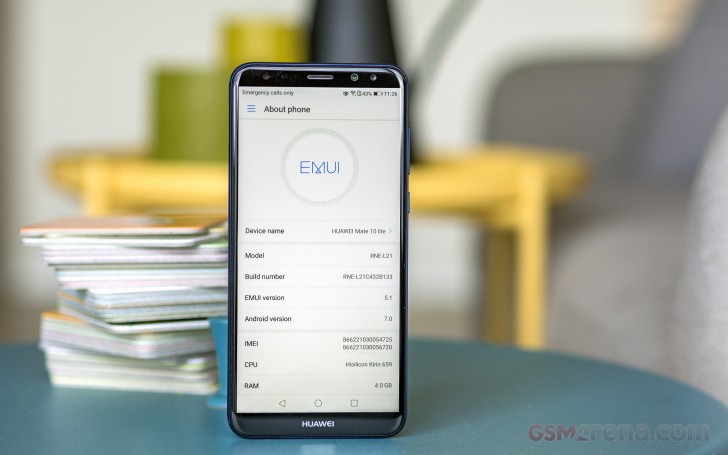 To consider EMUI 5.1 iOS-inspired would definitely be an understatement. The skin is heavy and you're not likely to recognize Google's vision for Android underneath it unless you specifically go looking for the smallest of things. The entire Settings menu has an iOS feel to it, and the Share function seems to have been deliberately made worse in terms of usability just to remind you of Apple's software. Oh, and by default there is no app drawer, with all of your apps being laid out on the home screens themselves - sound familiar?
All of this 'inspiration' from that other popular mobile operating system is paired with neon blue quick settings icons that take us back to a time when Google loved that color scheme too. It was introduced in Android Honeycomb, perfected in Ice Cream Sandwich and Jelly Bean, and altogether forgotten starting with Lollipop. Huawei's quick settings panel might thus instill you with some fond (or otherwise) memories of days gone by.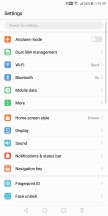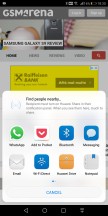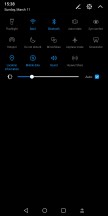 EMUI: Settings • Share sheet • Quick settings panel
The software's design is a matter of personal preference, of course. You may or may not like what EMUI looks like, or you might decide to live with it in spite of its looks. It comes with some interesting features and loads of gimmicks too. In the former category let's put the optional heavy restrictions for what apps can do in the background and the built-in screenshot editor (which is only making it to Google's iteration of the OS with Android P). There are a bunch of Huawei apps either alongside Google's or replacing them.
The Chinese company doesn't have its own app store like Samsung, but you will get its Calendar, Clock, Calculator, Contacts, Dialer, Gallery, Messaging, and Email apps, for example. A handy file manager is included too. There are also some preinstalled games such as Asphalt Nitro, Kingdoms, and Spider-Man: Ultimate Power, alongside the Quik video app. How annoyed you'll be by these depends on how useful you find each one, of course. Generally speaking, though, we prefer not to see bloatware at all on a smartphone, but let's not to get into the whole "what is bloatware" discussion that leads some people to say that even Google's apps count as such.
EMUI on the Mate 10 Lite is as far from a stock Android experience as you can get nowadays, which is definitely something to keep in mind if you're considering this as your next smartphone. The Xiaomi Mi A1 is cheaper and delivers an Android purist's dream in terms of software, so that's a better fit if having the OS 'as Google intended' is high on your priorities list and you don't mind some downgraded specs. If you don't care about that, EMUI brings you plenty of customization options, including built-in theming with an associated theme store.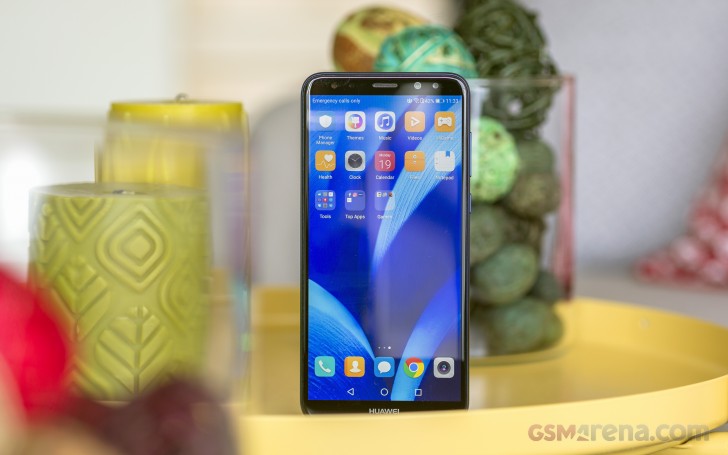 It also seems to give you a much better idea of what's going on in the background at all times, including which apps are draining your battery more than others. These "Power-intensive apps" are listed in a special section of the Battery settings, and you can choose to let them keep the phone awake or close them. There's also the option to close all apps when the screen locks, or just a subset.
Updates
While we haven't seen Oreo yet on our review unit, we have received two software updates already, the latest one coming with the February 1, 2018 security patch level. That's just one month behind what's current, and unfortunately not many mid-rangers can boast even this level of security fixes, so props to Huawei here for doing a slightly better job than others. We're hoping for improvements in this area in the future, but not holding our breath.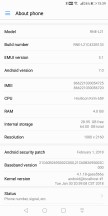 Latest software as of mid-March 2018
Bugs
No piece of software is bug-free, and EMUI on the Mate 10 Lite is no different. We've encountered around one random reboot every week, and there are times when the Camera app simply refuses to start from the home screen or app drawer - showing a black screen for a minute or two before we give up and try to go back. That brings us to the fact that when an app or the system misbehaves in any way, everything else will usually slow down to a crawl.
Going back to the home screen or trying to invoke the multitasking menu when the camera app bugs out sometimes takes 30 seconds or so from when we tap the corresponding button in the navigation bar and until the desired thing actually happens. General slowdowns are covered more on the next page of this review.
Additionally, at random times the recent apps menu takes around 2-3 seconds to come up, even if there's theoretically nothing intensive going on in the background, and that doesn't make for very smooth multitasking.