Design
The Huawei Mate 20 Pro is jam-packed with cutting-edge hardware, but its design isn't among the features to push the industry forward. The curved glass sandwich has been around for quite some time, but it's still among the top picks for a flagship.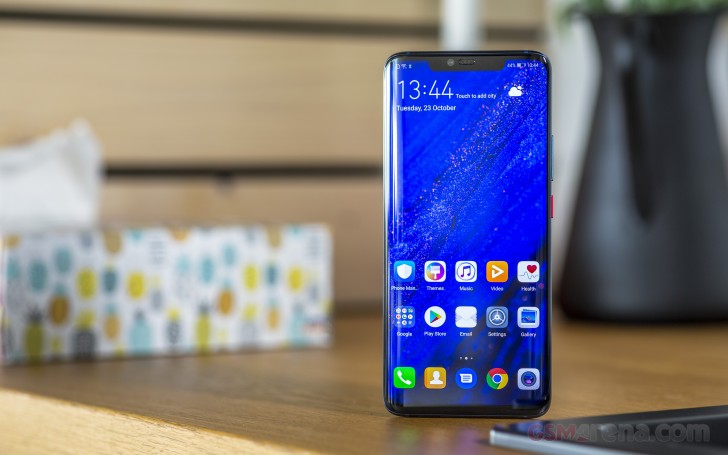 Huawei did try to make it its own though. While the front is one bezel-less screen with a cutout, the back has a uniquely arranged camera setup. There is also this vinyl-like pattern on the glass, which does wonders for the otherwise compromised grip.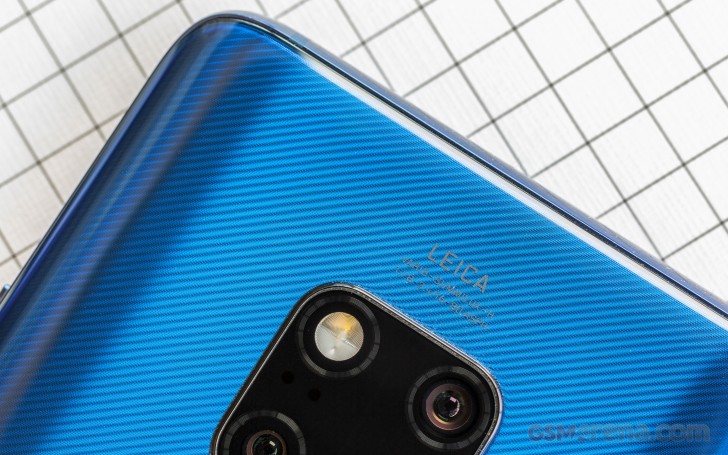 But first things first. And that curved screen is the instant eyecatcher.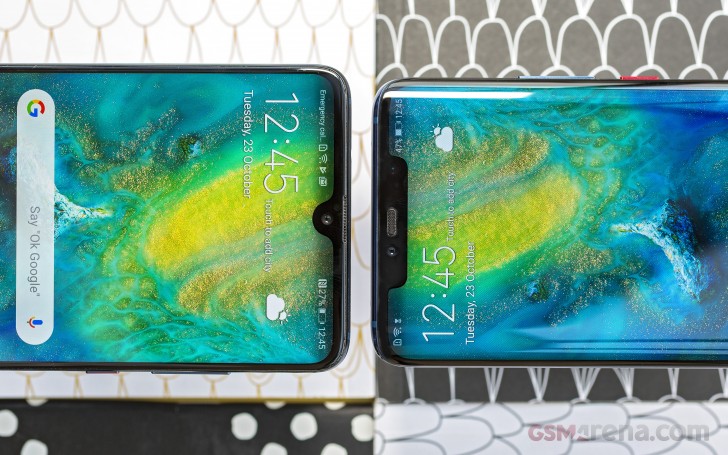 Huawei Mate 20 vs Huawei Mate 20 Pro
The Mate 20 Pro packs a 6.39" AMOLED screen curved towards its longer sides, in Samsung Galaxy style. This year it is of a higher 1440p resolution and has a marvelous pixel density of 539ppi. The OLED panel is flexible and has a cutout on top of it, but it's beneath a solid and curved Gorilla Glass. It's not Samsung-made though - Huawei has switched to BOE for the Mate 20 Pro screens.
The cutout is large, a lot bigger than the Mate 20's dewdrop-like notch, but there is a reason for that. In addition to the selfie camera and the earpiece, which also doubles as a speaker, the Mate 20 Pro also has an infrared camera and flood illuminator for advanced face unlock.
Also nested on the notch, there are a couple of sensors and a tiny LED for notifications.
Huawei might have invested in more secure face recognition, but it did not ditch the fingerprint reader. Quite the opposite. It is still here and cutting edge, residing under the display. It's Huawei second generation in-display sensor, but you'd be forgiven for not remembering the Mate RS Porsche Design had one too.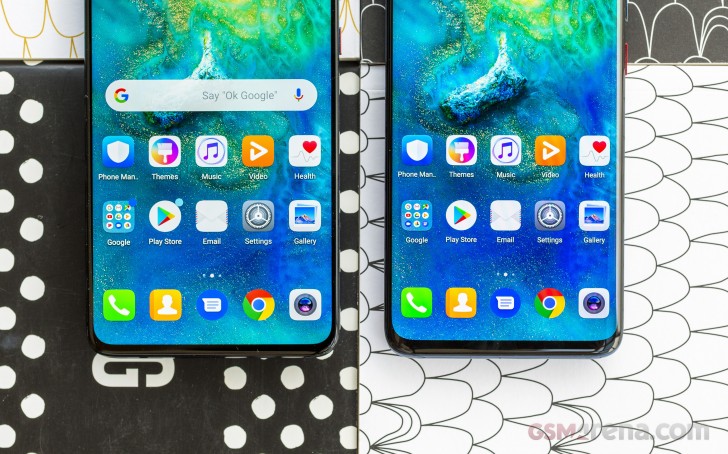 Huawei Mate 20 vs Huawei Mate 20 Pro
Huawei claims the Mate 20 Pro's Dynamic Pressure Sensor is 30% quicker than the old one. And we found it indeed quick and reliable although it requires a bit more pressure on the glass than what we are used to with regular sensors. It's faster than any other UD sensor we've tested so far and is as fast as the first-generation Touch ID by Apple. Which means the tech is finally usable and if you want, you can rely solely on it for security.
The back of the Huawei Mate 20 Pro, well, that's something everybody will remember and recognize in an instant.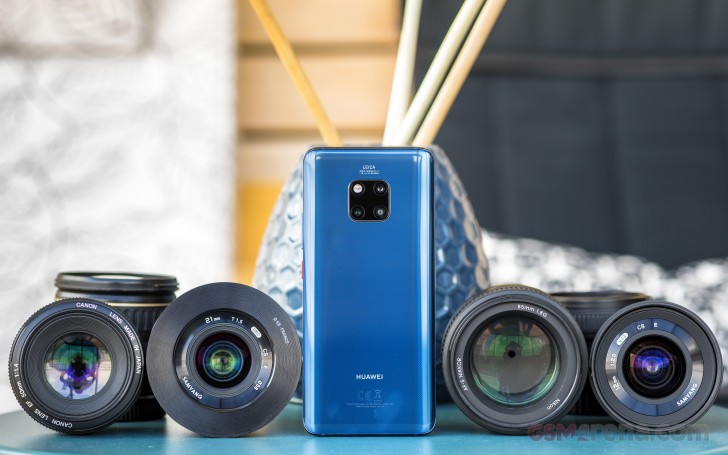 Okay, we didn't help much with that picture either, but the new square camera setup has three cameras. The fourth circle contains the dual-LED flash. The design creates an unusual square camera island which makes it instantly recognizable.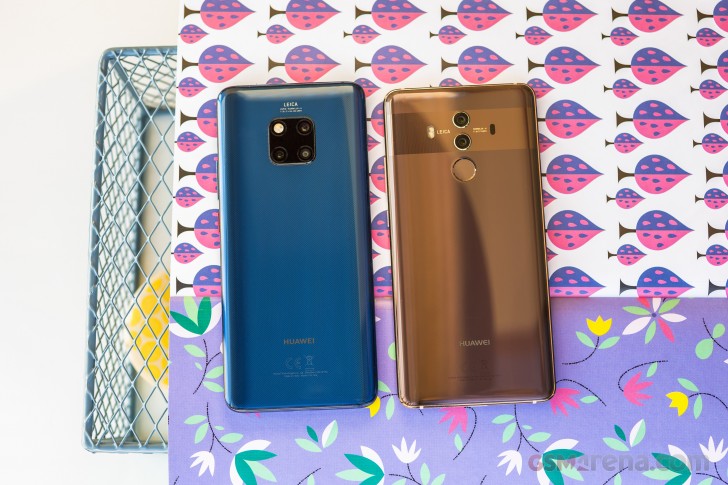 Huawei Mate 20 Pro and Mate 10 Pro
The bigger change, however, are the cameras themselves. While the Pro model retains the 40MP main snapper and the 8MP OIS 80mm telephoto one from the P20 Pro, it has retired the monochrome camera. Instead, Huawei has added a new 20MP shooter with 16mm f/2.2 wide-angle lens.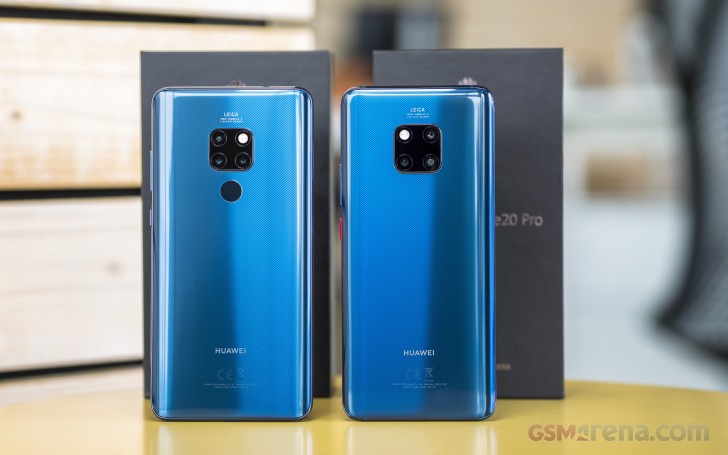 Mate 20 and Mate 20 Pro
Curiously, the regular Mate 20 has three cameras as well, but they are different. Its main camera is a 12MP one, aided by an 8MP 52mm telephoto cam and a 16MP wide-angle cam.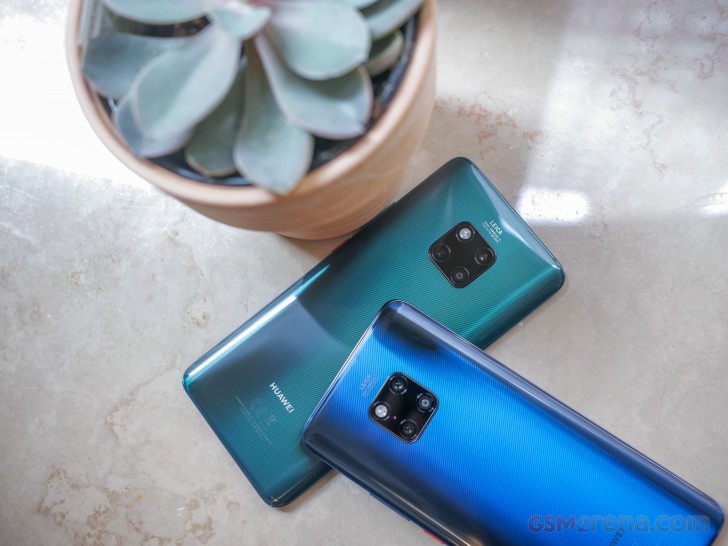 Huawei Mate 20 Pro has a lot of new cool color options. The gradient Twilight, the signature paint job for the P20 series, is here to stay, though Huawei has two new hues making the Mate 20 series special.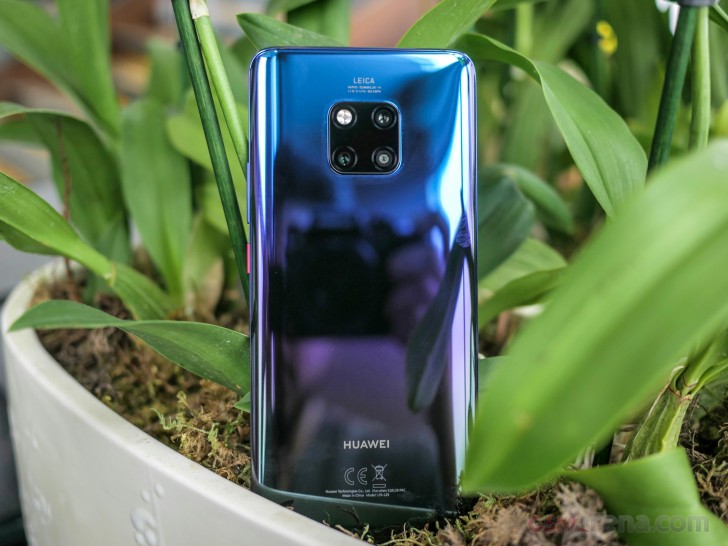 The company calls the Emerald Green and Midnight Blue hyper-optical - the rear glass has vinyl-like texture, which is a great grip booster and, even naked, the Pro felt quite secure in hand. Handling the hyper-optical Mate 20 Pro is a unique experience with a nice pinch of a retro vibe. Also, this grippy surface is more fingerprint resistant, and you can tell it immediately. Smudges are less likely to stick, and the whole thing is easier to clean.
The Huawei Mate 20 Pro lacks an audio jack but is IP68-rated for dust and water resistance. The protection is a step above the IP67 of the Mate 10 Pro from last fall and this time around the Pro has also gained expandable storage to match the non-Pro model.
So, the Mate 20 Pro has a double-sided SIM slot and its bottom tray accepts one of those new NM cards or a nanoSIM.
You see, Huawei has created a new memory card standard and the Mate 20 phones are the first to introduce it - it's called Nano Memory Card and has the shape of a nanoSIM. This has immediate benefits for the phone manufacturer as it allows them to make a smaller card slot while still allowing memory expansion.
That's fine, but the consumers didn't really need a new memory card standard, especially one that can't go beyond 256GB as per Huawei's own specs.
These cards are so new that you would have a hard time finding one available for purchase. Huawei will be manufacturing the first ones, but they hope other memory card manufacturers will jump on board soon. And until they become mass market products, they will surely cost a lot more than the good old microSD cards.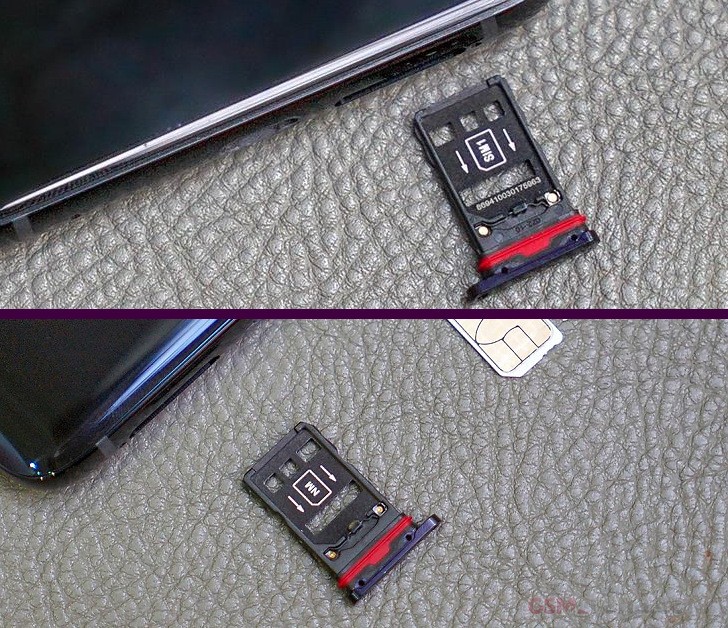 So, if you want to expand the Mate 20 Pro storage you have to buy an expensive new memory card, whose availability is scarce at best. On top of your €1000 smartphone. Peachy!
And while we are on the subject of questionable decisions, guess where is the second loudspeaker? It's inside the USB port!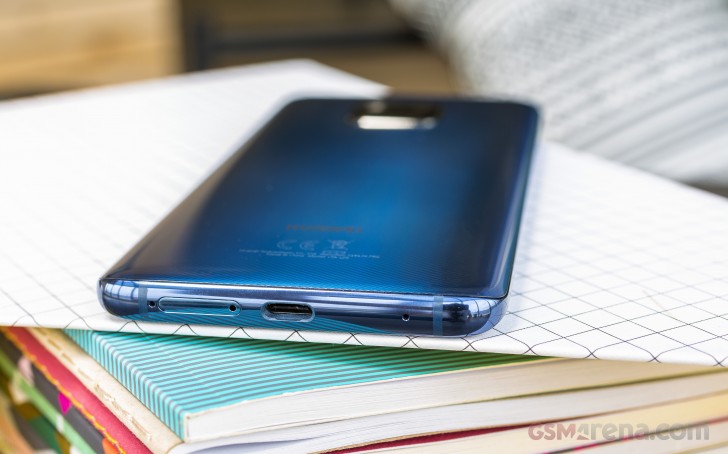 Well, that's probably a first. A loudspeaker inside the charging port. The good news is the port hole can be used as an amplifying chamber. Sure, plugging the cable has some impact on the loudness but there is a silver lining - the bottom speaker then becomes as loud as the otherwise inferior earpiece. So, this one did pan out! But, yes, there is a but...
There are two mics at the bottom of the Mate 20 Pro, but one of them is really close to the SIM tray and can be easily mistaken its ejection pinhole. We really hope Huawei has secured that mic against accidental punctures or you could lose both your mic and water resistance with just one foolish mistake.
Finishing our tour around the Mate 20 Pro, underneath that beautiful OLED screen lies a large 4,200 mAh battery with support for Huawei's latest 40W SuperCharge solution. We'll test this in a moment.
The Mate 20 Pro also supports 15W wireless charging, and it can even wirelessly charge other devices. We'd imagine the best-case scenario to use this is to lend power to your smartwatch that's running out of power. After all wireless charging is hardly very power-efficient so charging another phone would be too wasteful.
The Huawei Mate 20 Pro spreads at 157.8 x 72.3 x 8.6 mm and weighs 189g. It's quite compact for its large 6.39" screen. The Mate 20 Pro is actually 2mm narrower than the Mate 10 Pro which has a smaller 6" display.
Now it's time for our lab tests!