Performance
The Huawei P9 is powered by an in-house Kirin 955 chipset. The model number doesn't suggest a big change compared to the Kirin 950 inside the Mate 8, and that's indeed the case.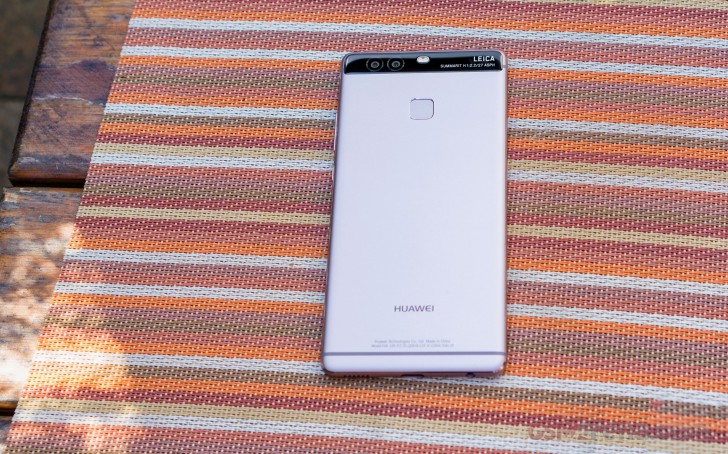 The Kirin 955 SoC features an octa-core CPU with four Cortex-A72 cores clocked at up to 2.5GHz (compared to the 2.3GHz of the Kirin 950's), and four Cortex-A53 cores ticking at up to 1.8GHz (same as Kirin 950). The GPU is again a quad-core Mali-T880 MP4.
We kicked off our benchmark routine with the GeekBench CPU test. The performance of a single Cortex-A72 core is rather uninspiring compared to the Snapdragon 820's Kryo within the Xiaomi Mi 5 and the LG G5, nor does it come close to the Apple's Twister CPU.
GeekBench 3 (single-core)
Higher is better
Apple iPhone 6s
2542
LG G5
2328
Xiaomi Mi 5
2305
Samsung Galaxy S7
2170
Huawei P9
1819
Samsung Galaxy S6
1490
The multi-core test is where the Kirin 955's CPU shines - thanks to the higher processor clock it does better than the Huawei Mate 8 and bested every other smartphone we've tested so far.
GeekBench 3 (multi-core)
Higher is better
Huawei P9
6558
Samsung Galaxy S7
6360
Huawei Mate 8
6323
LG G5
5362
Xiaomi Mi 5
5358
Samsung Galaxy S6 edge
5095
Apple iPhone 6s
4427
Sony Xperia Z5 Compact
3796
Huawei P8
3380
Huawei Ascend P7
1895
The compound AnTuTu 6 test gives the P9 some edge over its Mate 8 predecessor, but trails behind the current crop of flagships. That's probably due to the lower-grade GPU, but we'll talk about that in a minute.
AnTuTu 6
Higher is better
LG G5
134541
Samsung Galaxy S7
132084
Xiaomi Mi 5
131758
Apple iPhone 6s
129990
Huawei P9
98069
Huawei Mate 8
91609
The BaseMark OS 2.0 test paints a slightly different picture, because in addition to CPU, GPU, RAM, and UX, it also gauges web and storage performance, plus overall OS behavior. Here the Huawei P9 scored an excellent mark and is on par with the LG G5 and the Galaxy S7.
Basemark OS 2.0
Higher is better
Apple iPhone 6s
2195
Xiaomi Mi 5
2180
Samsung Galaxy S7
2128
Huawei P9
2068
LG G5
2065
Huawei Mate 8
2017
Samsung Galaxy S6 edge
1750
Sony Xperia Z5 Compact
1440
Huawei P8
1112
Huawei Ascend P7
552
It's the graphics department where Kirins are often not quite up to par, and seeing that nothing's changed over the Mate 8 in this respect, benchmark results are very much the same. While the Kirin 955, same as Helio X25, uses Mali-T880 MP4 (quad-core) graphics, the flagship Galaxy S7's Exynos utilizes Mali-T880 MP12 (12-core graphics), hence the big difference. Qualcomm's Adreno 530 within he Mi 5 and G5 is the best, though.
GFX 3.1 Manhattan (1080p offscreen)
Higher is better
LG G5
30
Xiaomi Mi 5
30
Samsung Galaxy S7
28
Sony Xperia Z5 Compact
18
Huawei P9
10
Huawei Mate 8
10
Huawei P8
3.4
GFX 3.1 Car scene (offscreen)
Higher is better
Xiaomi Mi 5
17
LG G5
16
Samsung Galaxy S7
15
Huawei P9
6.5
Huawei P9 runs on 1080p resolution, which gives it an edge over the Quad HD LG G5 and Samsung Galaxy S7, which cuts the gap short and makes more sense for Huawei not to opt for the best GPU on the market.
GFX 3.1 Manhattan (onscreen)
Higher is better
Sony Xperia Z5 Compact
38
Xiaomi Mi 5
29
LG G5
15
Samsung Galaxy S7
15
Huawei P9
11
Huawei Mate 8
11
Huawei P8
4.3
GFX 3.1 Car scene (onscreen)
Higher is better
Xiaomi Mi 5
17
LG G5
8.8
Samsung Galaxy S7
7.9
Huawei P9
7.1
BaseMark X GPU test clearly shows the superiority of Galaxy S7, LG G5, and Xiaomi Mi 5. BaseMark ES.3.1 gives us pretty much the same results.
Basemark X
Higher is better
Xiaomi Mi 5
33110
Samsung Galaxy S7
32345
LG G5
29456
Samsung Galaxy S6 edge
27046
Sony Xperia Z5 Compact
23703
Huawei P9
16942
Huawei Mate 8
15593
Huawei P8
6307
Basemark ES 3.1 / Metal
Higher is better
Apple iPhone 6s
879
Samsung Galaxy S7
732
LG G5
587
Xiaomi Mi 5
580
Huawei P9
341
Huawei Mate 8
311
To sum it all up, the Kirin 955 brings a marginal improvement in performance over the Mate 8's Kirin 950. The flagship chips from Qualcomm and Samsung will remain undisturbed at the top for the time being.
Still, the Huawei P9 packs top-notch CPU punch and enough GPU power for its 1080p display. While its GPU performance may not be the best in class, there isn't a single game the P9 can't handle right now. And it offers a ROG power-saving mode that lowers the screen resolution down to 720p, which will not only save you some battery, but allow for a higher framerates if needed.