Android 9.0 Pie with EMUI 9 on top
The P Smart 2019 boots Android 9 Pie with Huawei's own EMUI bolted on top, itself version 9 as well. As it stands, the smartphone is one of not all that many midrangers to run Google's latest, so that goes in our Pros list at the end of the review.
Like all EMUI-driven devices, you can set up a magazine lockscreen style that changes the picture every time you wake up the screen. Sliding from the bottom will bring out quick shortcuts to some commonly used utilities. As usual, we found it to be useful and a bit annoying at the same time because there were times when we just wanted to unlock the phone but we brought out the menu instead.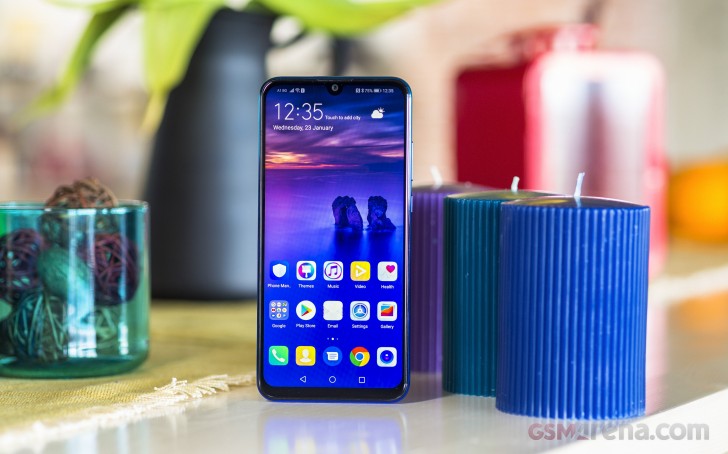 On the homescreen you will find all of the installed and system apps but there's a toggle in the settings menu that lets you choose between the standard layout or a homescreen with an app drawer. It's a personal preference and it's good to be able to choose.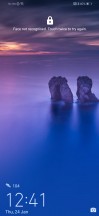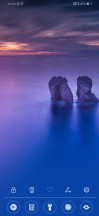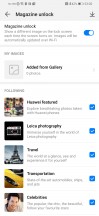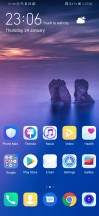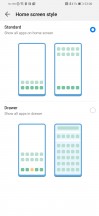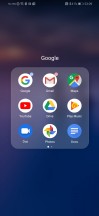 Lockscreen • Tools • Magazine unlock • Homescreen • Homescreen style • Folder view
Swiping to the right from the homescreen will bring up your Google Feed while swiping down from an empty area lets you search in your apps and contacts. On other makers' launchers that last action could bring down the notification shade, but not here.
You can, however, pull down the shade by swiping on the fingerprint reader, then double tap to dismiss all notifications and swipe back up to hide the shade - no more reaching for the top bezel when using this tall 19.5:9 screen. This is a setting that you need to enable in the fingerprint ID section of the settings menu, it's not on by default.
The notification shade itself is nothing out of the ordinary. It can fit three rows with five quick launch icons for each row and right under the icons, you will find the screen brightness slider.
The notch on the P Smart may be minimal, but you still get the option to hide it altogether by painting the entire status bar black. Curiously, Huawei hasn't bothered customizing the visualization in settings to match the P Smart's notch, but if that lets them put our Pie before the rest, so be it.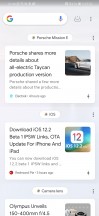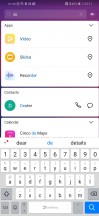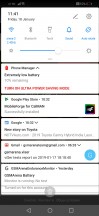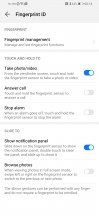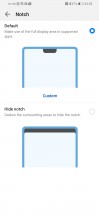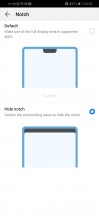 Google Feed • App/contacts search • Notification shade • Fingerprint reader swipe gesture • Notch settings
As we've seen on other recent Huawei/Honor devices, on the P Smart 2019 you can opt for gesture based navigation if the classic navbar is too 2018 for you. It goes like this - swipe up for Home, swipe up and stop midway for Task switcher, or swipe from the left or right edge of the screen for Back.
From the Phone Manager app, you can access shortcuts to storage cleanup, battery settings, blocked numbers, Virus scan powered by Avast, and mobile data usage.
Huawei's own Music app offers a way to listen to stored MP3s, while Huawei's Health app offers Google Fit syncing and step counting. The gallery is an entirely custom job too, but it has the usual chronological and albums views plus an AI powered highlights selection. There's a file manager app and a note-taking app. And if you don't like any of those - there is an abundance of alternatives in the Play Store.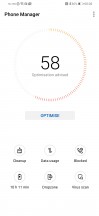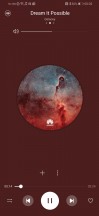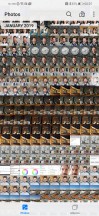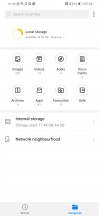 Phone Manager • Music Player • Gallery • Files
The "Security and privacy" menu lets you set up a fingerprint, enable face detection, set up "Find My Device" option, etc. The fingerprint enrollment process is pretty straightforward and the phone will instruct you which parts of your digit you need to rescan if you didn't do it quite right the first time. Subsequent recognition is excellent as well, though it does take an extra fraction of a second more to unlock than we're used to - it's not slow by any means, but we've been spoiled.
Face recognition is available as well. You get to choose whether the phone will unlock instantly when it detects your face or it will require a swipe before unlocking.
Performance and benchmarks
The P Smart 2019 is powered by the in-house mid-range SoC, the HiSilicon Kirin 710, made on a 12nm process. It packs an octa-core CPU in a 4+4 configuration - 4 big 2.2 GHz Cortex-A73 cores and 4 smaller 1.7 GHz Cortex-A53 cores. The GPU is Mali-G51 MP4. Our review unit comes with 3GB of RAM and 64GB of storage, but a 32GB version is also available (with the same 3gigs of RAM).
As was the case with the Honor 10 Lite, the P Smart 2019 wouldn't cooperate and we couldn't install any benchmarks on it. We have tested the Mate 20 Lite and the Honor 8X with the same chipset, so you can turn to those to get the ballpark of the benchmark scores you can expect from the P Smart 2019.