Android Wear is a standard affair
The Huawei Watch runs on Android Wear, Google's platform for wearables. Unlike the Android smartphone realm, the interface on all smartwatches is almost entirely identical. That said, a certain form of fragmentation is also present here - Android Wear v1.4 has already been released bringing a host of new gestures, but our Huawei Watch is still on v1.3.
The watch face is the lockscreen (if you allow the analogy) and swiping to the left takes you to the app drawer of sorts. The apps are organized in a single list with the three most recently used ones on top, the rest following in alphabetical order.
Another swipe to the left lists your contacts, while a third one takes you to Google voice search. You can shout out voice commands to your smartwatch or tap to take notes, send messages, set a timer and other useful actions.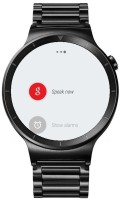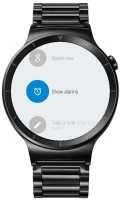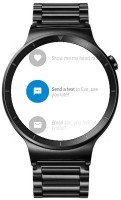 Quick actions in the rightmost pane
Swiping from the top pulls down a notification shade of sorts, which contains a few screens with quick toggles and a shortcut to the settings menu.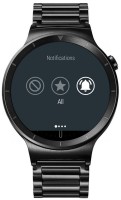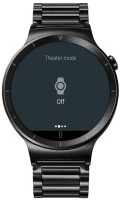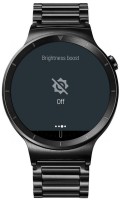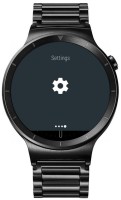 Top shade toggles and shortcuts
Actual notifications appear on the bottom, occupying about a third of the watch face's height. You swipe up to expand to fullscreen, and further swipes cycle through all the available notifications.
Android Wear has added a bunch of new gestures in v1.4, which we can't show you, because our Huawei Watch only has the two ones already available on v1.3. You just flick your wrist up or down to scroll through notifications. Sadly, this doesn't work in the menus or any apps, but it is quite convenient for reviewing your notifications almost hands-free.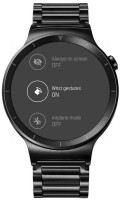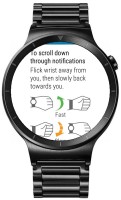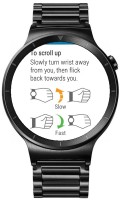 Only the two original gestures are available on the Huawei Watch yet
The settings menu gives you control over brightness (1 to 5, and no Auto), font size (small, normal, large), connectivity options (Wi-Fi and Bluetooth, Airplane mode), the lot. You can also change watch faces from here, but you're likely to prefer the usual long press on the watch face.
There's an Accessibility feature, which currently only contains a toggle for triple-tap magnification.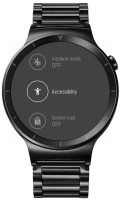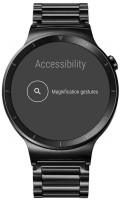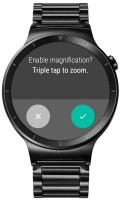 Accessibility mode is basically a magnifier
There's the Draw emoji feature, where you can doodle a simple shape on the screen and Wear will suggests a few emoticons that might match what you're trying to achieve.
The agenda app is pretty self-explanatory. It pulls your calendar items and lets you browse. Sadly, there is still no way to add a task from the app itself. This, however, can be done via a voice command and, seeing how you don't really have any way to type it out, the decision is all but justified.
Other familiar features include a timer and an alarm app, both with nothing really new to offer. Naturally, you can also ping to locate your phone.
Another neat little trick is the added flashlight feature. All it does is blast the brightness and set a white background on the watch, but it is pretty convenient for getting around in the dark.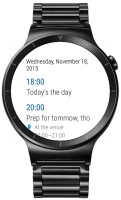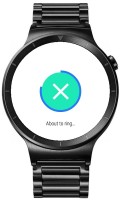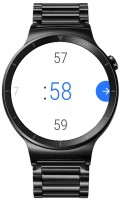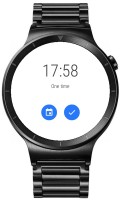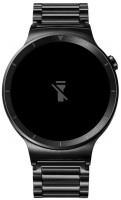 Agenda app • Find my phone *Alarm app • Flashlight
The Huawei Watch is clearly not geared towards active sports use, instead placing its focus on looks. That said, it still has the usual set of fitness tracking features - a pedometer and a heart-rate sensor are both available.
Google Fit integration is readily available and practically always on - the device is constantly keeping track of your steps. The Google Fit app itself is unchanged, but it really doesn't need to be as it already does what it sets out to achieve. For the most part, it is independent from your phone and doesn't even need its full Android counterpart installed on the handset.
Daily tracking is Huawei's Fit counterpart. It displays today's number of steps, calories burnt, and also the number of times you stood up from your chair. That last one might have been useful to those who work in an office all day, if it was any close to reality.
You can also set it track a specific exercise and set either a time or a calorie goal. There's a dedicated heart rate measurement app, which can also keep a record of previous measurements.