Design, bill of materials
Just because you are making a budget phone doesn't mean it can't look the part. The Infinix Zero 8 is rocking a charmingly-distinctive design. Its back panel, in particular, is very memorable, mostly thanks to the rhombus or diamond-shaped camera hump. A rotated square is also an equally-acceptable description. The accent surrounding it helps create a distinctive look, as well. So does the two-tone geometric pattern on the back panel. The camera hump, is arguably, on the taller side. But, that's just nitpicking.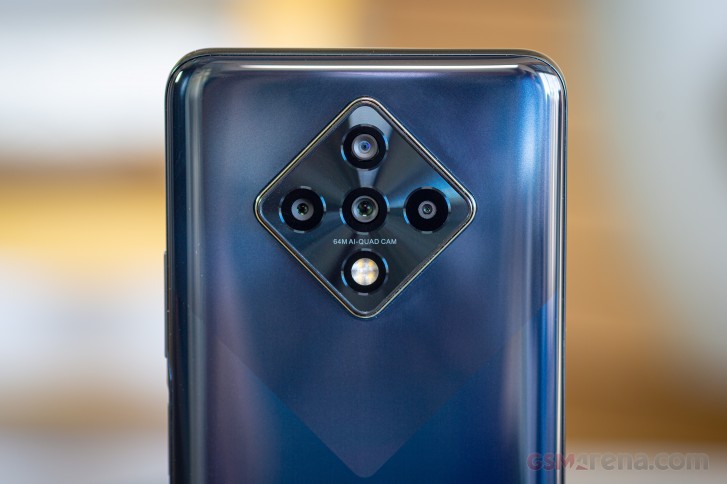 Once you actually hold the Zero 8 though, the task of masking its budget nature becomes significantly more difficult. In keeping with what we expect from a handset around the $300 mark, the back panel is plastic and so is the middle frame.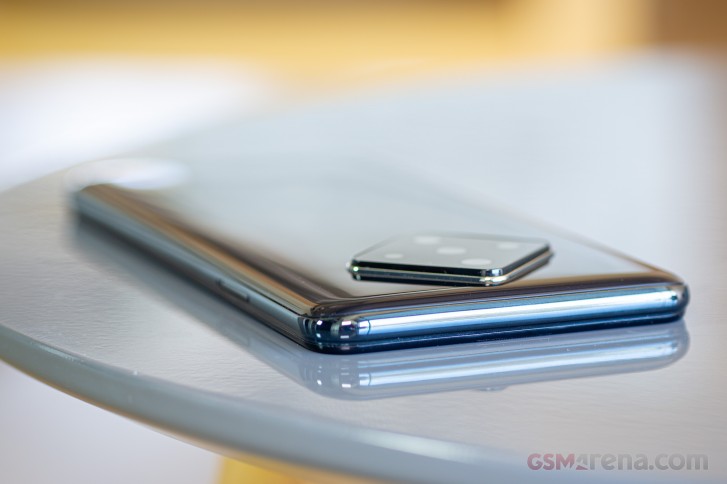 The glossy finish on both tends to retain a lot of smudges easily. The back panel also has a big of flex to it, in part facilitated by the existence of a small internal gap between the 4,500 mAh battery pack and the panel. Again, like the choice of materials, this is something fairly common in this price segment, which we will not hold against the Zero 8.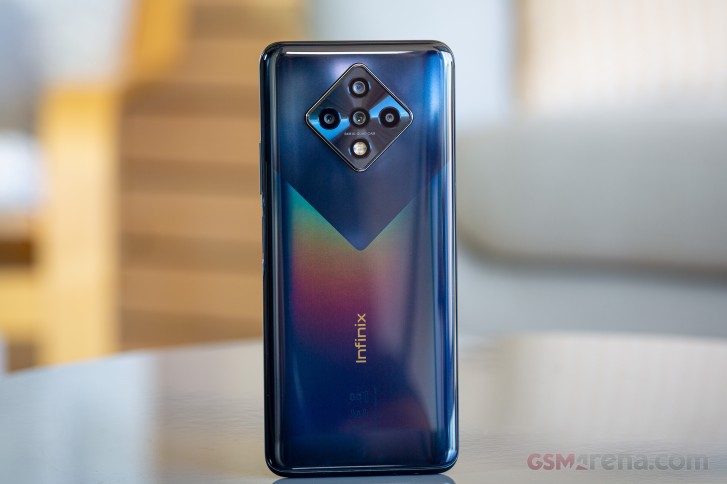 On a more positive note, the Zero 8 feels very sturdy and is well put together. Despite that flex in the back panel, we just mentioned, the phone feels surprisingly and reassuringly dense. It is a bit bottom-heavy, in terms of weight distribution.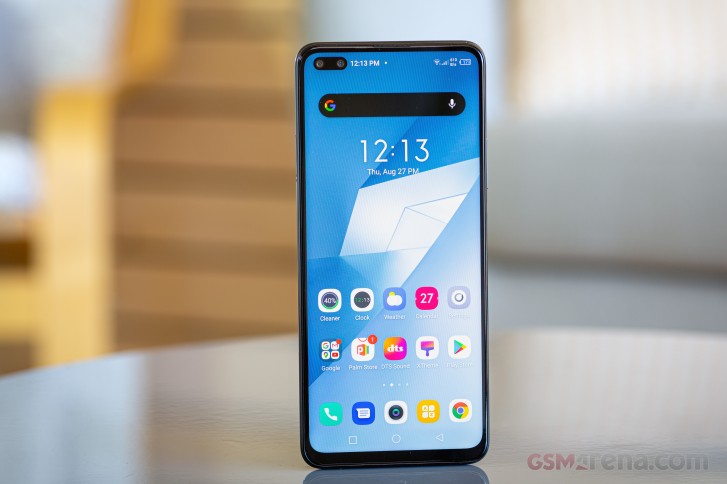 The Zero 8 manages to look very modern from the front, as well. Bezels, surrounding its 6.85-inch IPS display are very reasonably-sized. The bottom chin is just a bit thicker, presumably to house a more budget-friendly and easier to manufacture display driver board, that does not require some extra wrap-around setup. Even so, the Zero 8 once again punches above its price category with a "headshot" worthy of a modern midranger.
The double-wide selfie camera punch hole is a bit on the bigger side. At least it is not weirdly off-center or too close to either of the edges. More importantly, the presence of the punch hole is integrated into the UI very well. The clock and the notification icons are perfectly vertically aligned.
Infinix has even taken integration one step further in its XOS Android ROM, incorporating some animations that include the area around the selfie camera punch hole. Most-notably, switching between the main and the selfie cameras triggers a cool ring animation effect..
The display on the Zero 8 is covered with a Gorilla Glass 3 layer for protection.
Controls, connectivity and sensors
Controls on the Infinix Zero 8 are straight-forward and well laid-out. You get a nice power button and capacitive fingerprint reader combo on the right-hand side. It is conveniently located height-wise, offers a satisfying tactile feedback and is easy to feel-around thanks to the recess it is positioned in. The fingerprint part of it is very snappy and accurate. Also, always-on. We have no issues with it.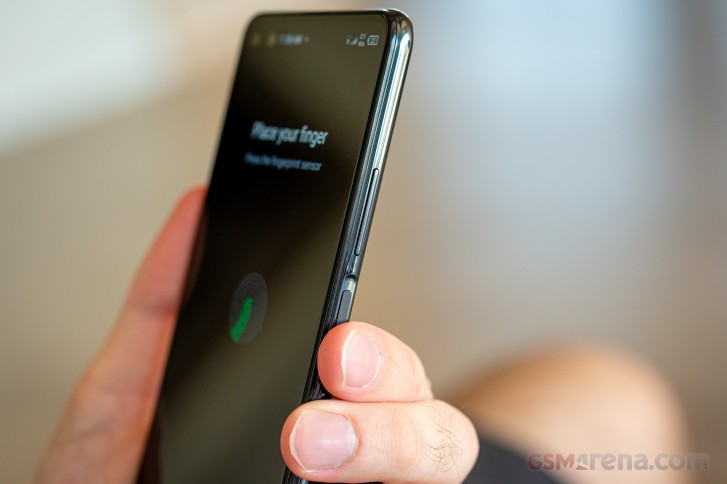 Right above it - an equally well-placed volume rocker. Unfortunately, unlike the power button, this one feels very "mushy" and is not satisfying to click. Perhaps if Infinix had used metal, instead of plastic on it, for some extra weight, the situation might have been better.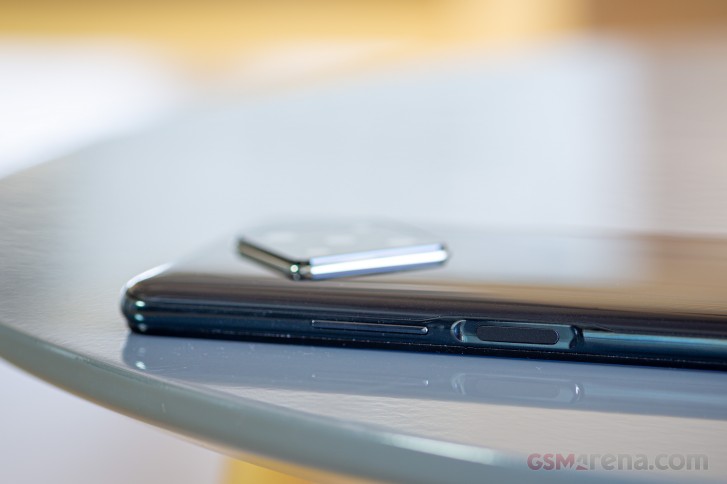 All the other controls on the Zero 8 are positioned on the bottom bezel. These include a trusty 3.5mm audio jack, Type-C port, with just a basic USB 2.0 interface behind it, but still one that includes USB host support.
The single speaker on the Zero 8 is also here. There is unfortunately no stereo setup, not even a hybrid one.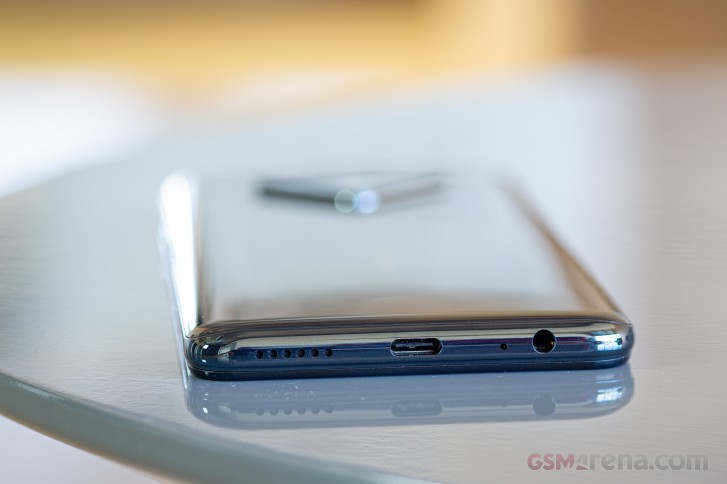 The MediaTek Helio G90T is hardly a powerhouse, but is still perfectly modern in terms of connectivity options. In terms of network, our Infinix Zero 8 review unit features two nano SIM slots, which can both operate in simultaneous 4G mode - dual 4G VoLTE and 4G data. Advanced network features like IMS (VoLTE\ViLTE\VoWi-Fi) are also supported. The G90T is equipped with a Cat-12 4G LTE WorldMode modem with 3x CA and 4x4 MIMO and 256QAM. The fairly spacious SIM tray also has a dedicated spot for a microSD memory card.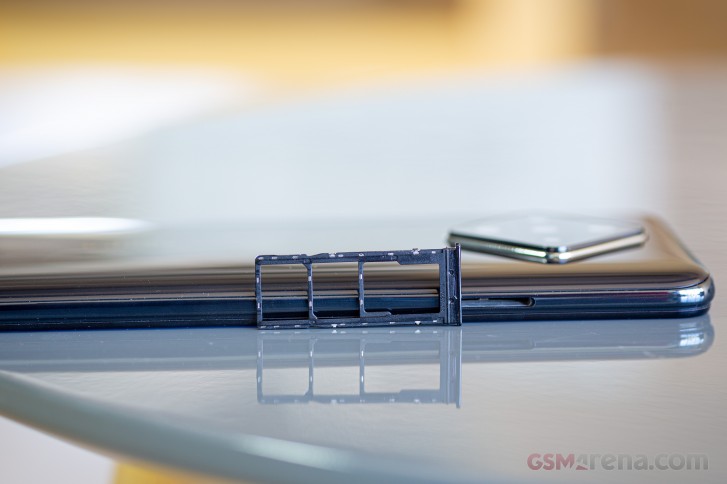 In terms of local connectivity, the Zero 8 has Wi-Fi ac, Bluetooth 5.0 and an FM radio receiver. GPS is also, naturally on board. All basic sensors are covered too: G-sensor, e-compass, luminance sensor, proximity and a gyroscope.