Android 10 with XOS 7 on top
Infinix has a custom XOS launcher of its own. The Zero 8 is running version 7 of it, but not a lot has changed since the last XOS 6 skin, we saw on the Infinix X5 Pro.
OSX is still one of the heaviest and busiest skins we have seen in a while. It comes chock-full of extra features, which you may or may not appreciate.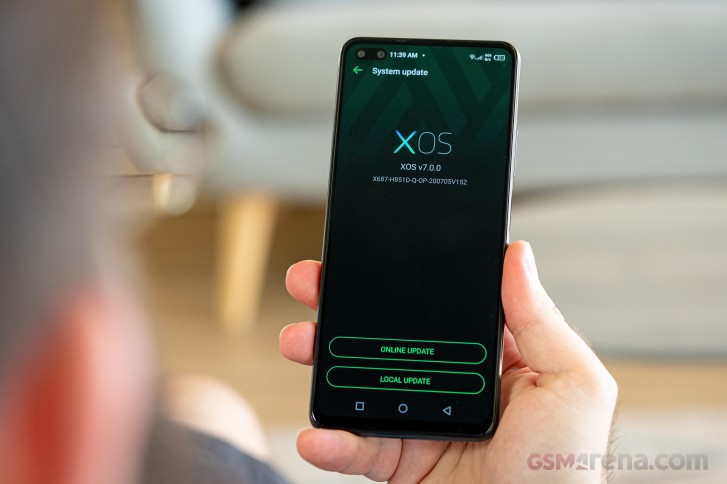 The Zero 8 also has a ludicrous amount of pre-loaded applications, most of which can easily be defined as "bloat". There are advertisements all over the place. So much so that you are constantly bombarded with these from the very first moment you first set-up the phone. Out of the box, the notification bar tends to get filled-up with persistent notifications and ads almost faster than you can get rid of them. Even the app drawer itself features a row of app ads at the top.
Granted, some of these pre-installed apps are created by Infinix and do serve a particular purpose. Other third-party ones are more or less launchers and hubs. Instant games, in the sense of web-based gaming experiences are a common sight among the latter. While not necessarily bloat in the traditional sense, these tend to generate an obscene amount of notifications, which is the point at which we start taking issue with them. Some of these notifications are persistent, as well.
We can only imagine that Infinix is leaning hard into this strategy in order to subsidize its phones as much as possible and bring down end-user costs. We can respect that, but it is something worth noting, going into the Zero 8. Be prepared to spend some time uninstalling things. Some of which might even require ADB command line uninstalls, since they are protected apps.
We can somewhat understand and justify third-party app deals. However, the bloat on the Zero 8 extends to some basic features, which is a lot harder to forgive. For instance, the default keyboard prompts the user for quite a few permissions and access to all sorts of information the first time you try to type. Other core parts of the UI do the same too.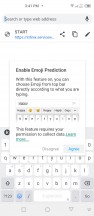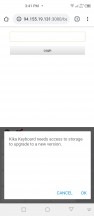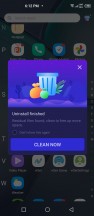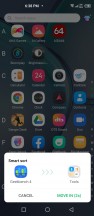 Keyboard and other permission request and nagging prompts
Even putting privacy and security concerns aside, this simply makes for a cumbersome experience. Initial setup on the Zero 8 was truly annoying, with prompts and wizards and permissions all over the place. After that, many of the apps we tried launching, had some data, access or account requirements of their own to nag about. Some of these apps install even more bloat and shortcuts on the Zero 8.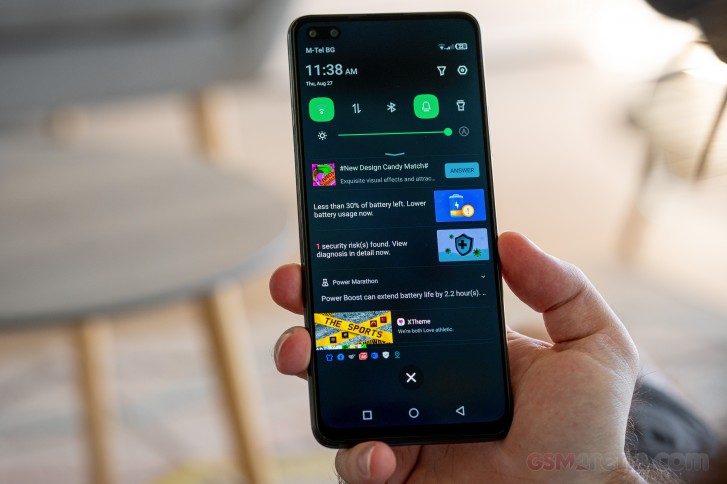 It's an amazingly poor user experience overall. Once XOS7 gets properly decluttered, it does become noticeably more usable, though.
Upon successful screen unlock with the fingerprint reader, or face unlock, you will be taken on a homescreen that's basically the same across all launchers - a Google widget, and shortcuts for the most important apps.
The leftmost pane holds cards, which is another word for widgets. There is a ton of those, some of them contain ads, but you can disable those (thankfully).
There is an app drawer if you decided to use one - the strange A-Z orange icon at the bottom. There is a lockscreen "magazine" feature for changing its wallpaper automatically, if you are into that sort of thing.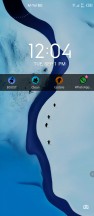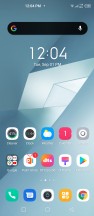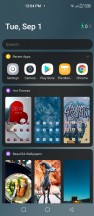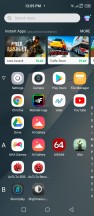 Lock screen • Homescreen • Cards pane • App drawer
The notification shade itself is nothing out of the ordinary. It can fit three rows with six quick launch icons for each row and right under the icons, you will find the screen brightness slider.
Multitasking is a familiar affair and the task switcher allows for split-screen mode. Only apps that officially support non-fullscreen operation are listed, though. XOS7 does not attempt to force the behavior on other apps.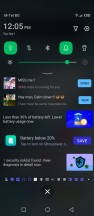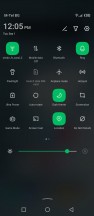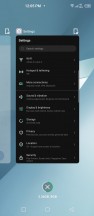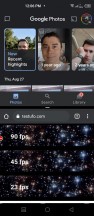 Notification shade • Quick toggles • App switcher • Split-screen mode
There are a ton of useful settings such as battery saving options, themes, smart panel, social turbo, gestures, and what not. So many, in fact, that the top of the Settings menu even features a carousel of settings banners. Kind of an odd choice, which, given the ad-laden state of the rest of the UI can easily be mistaken for yet another ad spot.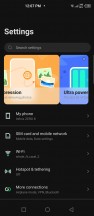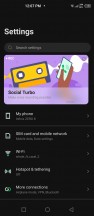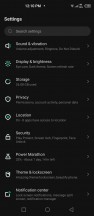 Settings menu and suggestion carousel
In no particular order, here are some of the more standout settings. The Infinix Zero 8 has a pair of audio enhancements. One is the oddly-titled "BesLoudness", which acts like a small, but noticeable volume booster for the loudspeaker. Frankly, we don't know why anyone would want to turn it off, which makes is wonder why even have the toggle. Regardless, it's there. And so is the much more-justified DTS menu. It comes with a few presets, as well as a full-on manual equalizer.
Power Marathon is the Infinix take on a battery management hub. It has all of the basics covered, including schedules and settings for killing or limiting background activity on a per-app basis.
It is worth noting that it is not the only phone health management hub, included on the Zero 8, though. There is the Phone Master app, which can also invoke some automatic process-killing activities, for power saving. Those are, interestingly enough, a separate set of functions, entirely. There is sort of an ongoing theme of doubling features in XOS7.
The CPU cooler bit immediately caught our eye. Turns out, it just offers to close some of the app that are using more resources at the moment or were doing so a while ago. Which, indeed, should lower overall system temps.
Since we are already on the topic of assistive apps for the phone itself, XOS7 has a few other pre-loaded apps, technically also in that category. There is Carlcare, which seems to be dedicated to getting aftersales service for Infinix phones including tips, phone and chat support and service center locations.
Infinix seems to operate on a digital warranty basis, which gets activated the first time you set up the phone. Neat!
There is also the self-explanatory Feedback app. Overall, even though we would have preferred a more orderly approach, with one single central location for all of these features. We appreciate the extra attention to aftersales support and service on the part of Infinix.
Speaking of lack of proper organization in XOS7, theming support is surprisingly robust here, but is split into a settings menu, which can only set items you already have downloaded or created and a separate XTheme app, for all of the actual customizing.
On the plus side, there is plenty of content to explore in the online repository. Better still, all of it seems to be free for the taking. At least we didn't stumble- across a paid item ourselves.
XOS7 still have more options and interesting apps to offer, so back to listing. System navigation is on a classic on-screen button setting, by default. You can, however, opt for familiar gestures instead or leave the buttons and just swap the pack and recent apps controls.
Game Mode is prominently featured on the Infinix Zero 8. It actually consists of two parts - one is an app, which holds some settings, as well as detailed statistics on in-game time and usage. More-interesting here are the Parental controls, which allow for strict gaming limits. There is also, a rather clever background resource optimization scheme, which lets you select apps that you want and app that you don't want the OS to kill and otherwise disable for resource, while in-game.
In order to actually get Game Mode working in a game, you need to have it centrally enabled, either through the above menu or the quick toggle in the notification shade and then have your game either automatically or manually tagged by the features.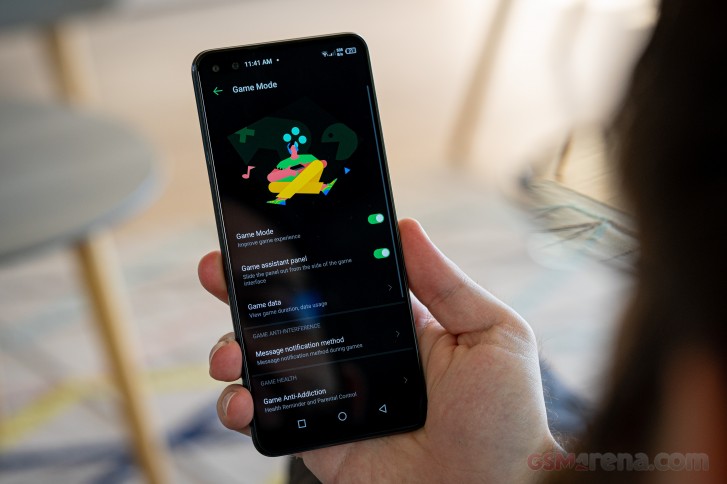 Once all of these are in order, you can swipe from either side of the screen in-game and bring-up a game bar or HUD, if you will. Once again, the features here are self-explanatory. We would have preferred a more numerical indication of current CPU and GPU loads. But, other than that, we don't really have a lot to complain about.
One extra hidden feature is the ability to map on-screen controls to the volume up and down keys. This works rather well for certain games. It's definitely not on the same level as say, the ROG Phone 3 and its amazing multi-functional AirTrigger controls and extensive mapping software. Even so, it's a rare sight on mainstream smartphones, in general.
Extra points to Infinix for really taking inspiration from the top dogs in the mobile gaming niche and putting the extra effort for a surprisingly competent implementation of its own.
XOS7 has a few assistive features outside of gaming, as well. Smart Panel is a quick menu, which can be summoned by swiping left or right, from the edge of the display, anywhere in the UI. It can house a number of tools, as well as app shortcuts and even a volume slider. Pretty convenient.
And then there is the standard slew of gestures. One of which is double-tap to wake.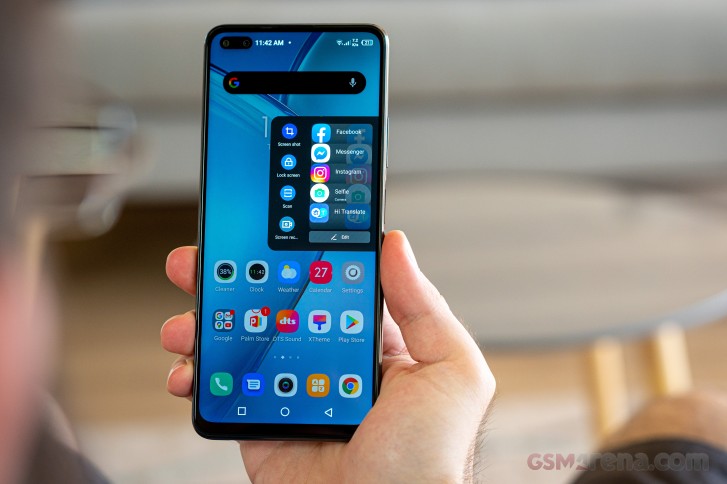 Social Turbo is a particularly curious feature. Especially since it resides in the main settings menu, instead of being a separate app, making it something of a low-level, core extra. It contains a set of upgrades for WhatsApp. Things like a beauty filter for the camera, custom icons and the ability to peek at messages, without marking them as read. Very specific stuff. We can only imagine that this is one example of Infinix catering its offerings to its particular markets and customers.
This local-market approach to XOS7 at least partly explains the inclusion of some of the pre-installed apps on the system. Things like Boomplay - an app with a very similar look and feel to Spotify, which offers both a free tier for music streaming and a paid subscription.
Same goes for apps like Games Lobby, AHA Games and Palm Store. Both of these are alternative app stores, of sorts. Well, Palm Store is and it features plenty of deceptive titles and descriptions, often masking ad-heavy and potentially malware-ridden actual APK downloads. We would recommend staying away from it.
Games Lobby offers a quick way to play HTML browser-based games. Apparently, those are popular on the markets Infinix operates. AHA Games seems to offer a little bit of both - game downloads, as well as "Instant Games". All of this is likely subsidizing the Zero 8 and bringing down its cost, so we won't be complaining too much.
These should frankly be on the top of your list of apps to instantly uninstall, since they are the most vocal, when it comes to spamming notifications. There is no real loss in doing so either, since the Infinix Zero 8 still has a full Google suite of apps installed. This includes the Play Store, as well as basics, like Files and Photos. We were even a bit surprised to see that Chrome is the default web browser.
Pleasantly so, since Infinix could have easily gone for a sponsored deal with any number of odd Android web browsers out there. Sadly, unlike the browser, the default keyboard did not escape some sort of deal, with the KiKa keyboard as the pre-loaded one.
In another odd setup, Infinix has some of its own in-house apps pre-loaded in XOS7 and certain ones basically double features, already covered by Google apps. Like the Files app and the default AI Gallery, which is, honestly, not bad at all. It even offers a decent set of basic editing options and some extra features for cleanup, photo compression and hiding items.
We don't really have anything against these apps, since they both look and work well. Same goes for other core apps that Infinix has developed, like the calculator, calendar, clock, notepad, sound recorder, weather and video player.
There are a few weirder and more out-there first-party additions, as well. Magic Line is a nifty AR-based doodling experience for the camera. X-boy is weirder still, placing an Infinix mascot on a surface and then playing animations for it, again in AR. YoParty can connect multiple devices together to play music in a synchronized manner.
All and all, Infinix has thrown a lot into XOS7 for different reasons and with various goals. Some extras are definitely more thoughtful than others and seem to work surprisingly well. Game mode was a truly pleasant surprise. Other bits are clearly shoehorned-in for financial reasons. Thankfully, those can be removed. You do need to go into XOS7 with the corresponding mindset, though. Once you invest some time into cleaning it up, it can provide a rather pleasant custom Android experience.
Performance benchmarks
The Infinix Zero 8 is based on a Mediatek MT6785 Helio G90T chipset. It's manufactured using a 12nm process and it includes a pair of faster 2.05 GHz Cortex-A76 cores and six more Cortex-A55 ones, clocked at up to 2.0 GHz. Our unit, as tested, has 8GB of RAM and 128GB of expandable storage.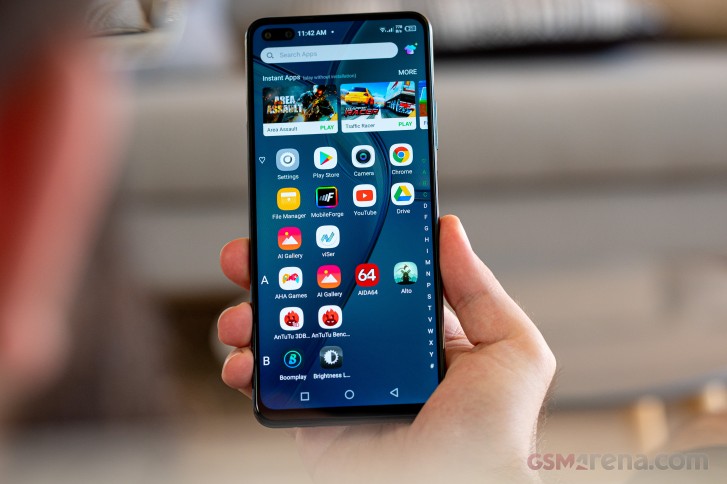 In the GPU department, we have a Mali-G76 MC4 pushing pixels on to a panel, with a native FullHD+ resolution of 1080 x 2460 pixels. While that does put the GPU in a bit of a strenuous situation, overall, the Helio G90T is one of the more potent chipsets available in the budget smartphone segment.
Naturally, we wouldn't pit the Infinix Zero 8 against flagship or even mid-range offers. Instead we've opted for a colorful selection of other recent budget chipsets, like the similar Helio G85, G80 and the P35 solutions from MediaTek. Also, competition like the Snapdragon 665, 720G, as well as some manufacturer-specific chips, like the Samsung Exynos 850 and the Kirin 810, by HiSilicon. All of these, attainable within the budget of the Infinix Zero 8.
GeekBench 5.1 (single-core)
Higher is better
Huawei P40 Lite
591
Xiaomi Redmi Note 9S
570
Realme 6
548
Infinix Zero 8
532
Redmi Note 8 Pro
493
Xiaomi Redmi 9
362
Xiaomi Redmi Note 9
361
Xiaomi Redmi Note 8
315
Motorola Moto G8 Plus
310
Infinix S5 Pro
187
Samsung Galaxy A21s
184
We kick things off with some pure-CPU numbers and GeekBench. The overall trend, set by these results, seems to apply to most of the other synthetic runs too.
Important observations include the fact that the Helio G90T, as integrated in the Infinix Zero 8, is performing to spec, mostly matching the results of the Realme 6 and Redmi Note 8 Pro, equipped with the same silicon.
Realme appears to be squeezing a bit more performance out of the CPU on average, but within a variance only noticeable in synthetic runs and not in real-world use.
GeekBench 5.1 (multi-core)
Higher is better
Huawei P40 Lite
1862
Xiaomi Redmi Note 9S
1785
Realme 6
1726
Infinix Zero 8
1663
Redmi Note 8 Pro
1622
Motorola Moto G8 Plus
1385
Xiaomi Redmi Note 8
1339
Xiaomi Redmi 9
1325
Xiaomi Redmi Note 9
1292
Samsung Galaxy A21s
1100
Infinix S5 Pro
1039
Both the Snapdragon 720G and the Kirin 810 appear to consistently outpace the Helio G90T. Conversely, the Snapdragon 665 seems to lag a bit behind it and, like common numbering logic suggests, so do the Helio G85, G80. The Exynos 850 seems to really fall behind in raw performance. However, it does have efficiency on its side, with its 8nm manufacturing process.
AnTuTu is a more compound benchmark, involving GPU runs and also taking into account memory. Even so, we can see the overall device positioning carried over. The Infinix Zero 8 is actually leading the G90T pack this time around and definitely holding its own.
AnTuTu 8
Higher is better
Huawei P40 Lite
325777
Realme 6
288931
Infinix Zero 8
282348
Redmi Note 8 Pro
279355
Xiaomi Redmi Note 9S
254000
Xiaomi Redmi 9
201829
Xiaomi Redmi Note 9
200414
Motorola Moto G8 Plus
168699
Xiaomi Redmi Note 8
161572
Infinix S5 Pro
117533
Samsung Galaxy A21s
107157
You don't really buy a budget handset with the intent of getting an ultimate gaming powerhouse. It is perfectly realistic to expect a smooth experience out of most modern Android games, short of the most demanding ones. Current titles are so well-optimized and seamlessly adapt things like rendering details, distance, effects and even resolution that with the respectable scores shown here by the Zero 8 and its Mali-G76 MC4 GPU, you can easily expect a smooth experience.
GFX 3.0 Manhattan (1080p offscreen)
Higher is better
Huawei P40 Lite
53
Realme 6
50
Infinix Zero 8
49
Redmi Note 8 Pro
48
Xiaomi Redmi Note 9S
42
Motorola Moto G8 Plus
19
Xiaomi Redmi Note 8
19
Samsung Galaxy A21s
16
Infinix S5 Pro
12
GFX 3.0 Manhattan (onscreen)
Higher is better
Huawei P40 Lite
49
Realme 6
45
Infinix Zero 8
42
Redmi Note 8 Pro
40
Xiaomi Redmi Note 9S
36
Samsung Galaxy A21s
28
Motorola Moto G8 Plus
18
Xiaomi Redmi Note 8
16
Infinix S5 Pro
11
Mind you, rendering at a FullHD+ resolution is still not exactly ideal for this caliber of chipset. HD offers a lot more headroom. You can see how that is working to aid the on-screen performance of the Samsung Galaxy A21s in these charts. Though even then, its Mali-G52 still falls short in the GPU department.
Luckily, you don't have to settle with a lower-resolution panel to render games at a less-stressful resolutions. Most titles will do that themselves and there are plenty of tools out there to achieve that effect too. Remember, there fps numbers are based on purely synthetic and unrealistic loads.
GFX 3.1 Manhattan (1080p offscreen)
Higher is better
Huawei P40 Lite
34
Realme 6
31
Infinix Zero 8
30
Xiaomi Redmi Note 9S
30
Redmi Note 8 Pro
29
Motorola Moto G8 Plus
13
Xiaomi Redmi Note 8
13
Samsung Galaxy A21s
9.4
Infinix S5 Pro
8.2
GFX 3.1 Manhattan (onscreen)
Higher is better
Huawei P40 Lite
30
Realme 6
27
Infinix Zero 8
26
Xiaomi Redmi Note 9S
26
Redmi Note 8 Pro
24
Samsung Galaxy A21s
19
Motorola Moto G8 Plus
12
Xiaomi Redmi Note 8
11
Infinix S5 Pro
7.3
GFX 3.1 Car scene (1080p offscreen)
Higher is better
Huawei P40 Lite
21
Infinix Zero 8
18
Xiaomi Redmi Note 9S
18
Realme 6
18
Redmi Note 8 Pro
18
Motorola Moto G8 Plus
7.1
Xiaomi Redmi Note 8
7
Samsung Galaxy A21s
6
Infinix S5 Pro
3.7
GFX 3.1 Car scene (onscreen)
Higher is better
Huawei P40 Lite
18
Realme 6
16
Infinix Zero 8
15
Xiaomi Redmi Note 9S
15
Redmi Note 8 Pro
14
Samsung Galaxy A21s
11
Motorola Moto G8 Plus
6.5
Xiaomi Redmi Note 8
5.9
Infinix S5 Pro
3.2
There's little point in ramping-up the benchmark run intensity on the Infinix Zero 8, beyond a pure curiosity. In the tough Aztek runs, with both OpenGL ES 3.1 and Vulkan APIs, the previous, slight fps lead the Snapdragon 720G and Kirin 810 seemed to have over the Helio G90T are lost in various overheads and system bottlenecks. Hence, there GPU setups really are quite comparable.
Aztek Vulkan High (onscreen)
Higher is better
Infinix Zero 8
10
Realme 6
10
Xiaomi Redmi Note 9S
9.9
Redmi Note 8 Pro
9.4
Huawei P40 Lite
8.6
Samsung Galaxy A21s
6.6
Motorola Moto G8 Plus
4.1
Infinix S5 Pro
1.8
Aztek OpenGL ES 3.1 High (onscreen)
Higher is better
Huawei P40 Lite
12
Infinix Zero 8
11
Realme 6
11
Xiaomi Redmi Note 9S
10
Redmi Note 8 Pro
10
Samsung Galaxy A21s
7.1
Motorola Moto G8 Plus
4.5
Infinix S5 Pro
2.3
As is usually the case, 3DMark's more granular scores offer a more clear-cut and well-organized way of grading raw performance. Again, the synthetic variances are there, but really slim and practically non-observable in real-world use.
3DMark SSE OpenGL ES 3.1 1440p
Higher is better
Huawei P40 Lite
2818
Realme 6
2570
Infinix Zero 8
2537
Xiaomi Redmi Note 9S
2494
Redmi Note 8 Pro
2363
Motorola Moto G8 Plus
1125
Samsung Galaxy A21s
888
Infinix S5 Pro
449
3DMark SSE Vulkan 1440p
Higher is better
Realme 6
2619
Huawei P40 Lite
2603
Infinix Zero 8
2556
Redmi Note 8 Pro
2447
Xiaomi Redmi Note 9S
2357
Motorola Moto G8 Plus
1037
Samsung Galaxy A21s
901
Infinix S5 Pro
614
All things considered, the Infinix Zero 8 is very adequately equipped for its price bracket. The MediaTek Helio G90T is a solid performer, that won't be topping any benchmark charts, but is still one of the better budget choices.
It is also great to see that Infinix has implemented the chip properly and is making full use of its potential. Mind you, that's despite the bloated software experience the custom XOS skin delivers. It is worth noting, however, that the Zero 8 gets fairly hot under load. It is advertised as having a 3D vapor chamber for cooling. If that is indeed the case, perhaps it needs some extra engineering work for future models.
Our suggestion for future improvements to the overall user experience would definitely be focused on cleaning up the UI and UX quite a bit. That way, the raw hardware performance can actually be translated to a snappy, smooth and less-cumbersome Android experience.