Full camera shootout
Apple iPhone 8 Plus vs. Samsung Galaxy Note8 full camera shootout
1x, 2x, the same, yet different
The camera setup of the Apple iPhone 8 Plus is fundamentally unchanged from the model that started it all last year. That is, the sensors are new and improved, Apple says, but the specs remain the same.
The iPhone 8 Plus has a couple of 12MP cameras. The primary one gets a 1/3" sensor with 1.22µm pixels behind a reasonably wide-angle 28mm-equivalent focal length lens with an f/1.8 aperture. This lens is optically stabilized.
However, the telephoto camera has no image stabilization. The aperture is smaller, at f/2.8, and the focal length is a 56mm-equivalent for a perfect 2x 'zoom'. Understandably, that means a smaller sensor - 1/3.6" with a pixel size of 1.0µm.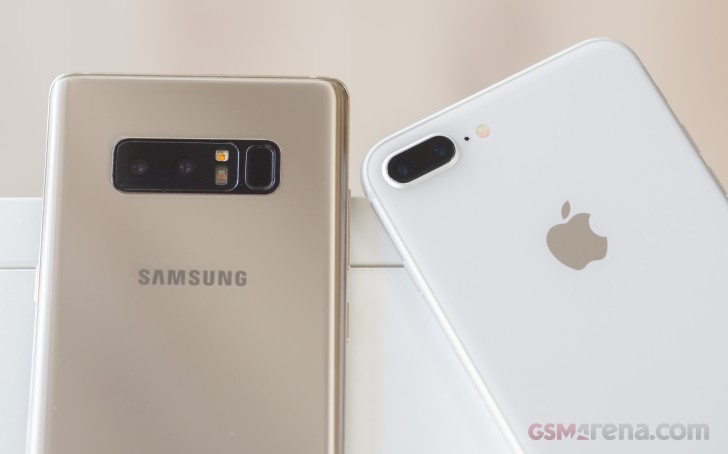 The Galaxy Note8 one-ups all of these numbers - okay, most of them. Its tele cam is a shorter 52mm-equivalent so that one probably counts as an iPhone win. The sensor is 1/3.6" with a 1.0µm pixel pitch - call that a tie. But the lens is brighter (f/2.4) and is also stabilized - beat that, iPhone.
The wide camera is also wider - 26mm focal length on the Note8 vs. the iPhone's 28mm, and also has a larger aperture, if only marginally so - f/1.7 vs. f/1.8. The Note8's sensor is bigger too - 1/2.55" vs. the iPhone's 1/3" and individual pixels are 1.4µm. They are also dual pixels - there's a phase detection agent at each and every one for fast and accurate autofocus.
Camera apps
The camera apps on both phones have benefited from years of refinement and should be immediately familiar to returning users of both brands.
That said, on the software side of things Apple has brought something new this generation - the HEIF format for still images that replaces JPEG as the native format for saving photos in iOS 11. HEVC is used for videos, but that's not really news - other makers like Meizu and Sony have been doing that for a while now.
Technically, HEIF photos should take up less storage space at the same quality. At this point, however, the original files are transferred only if you have macOS High Sierra. If not - you will get converted files - both pictures and video - in JPG and H.264 formats. The conversion is done in real-time while you are transferring the files without you even noticing.
It is, in fact, up to you to choose the format you prefer - if you don't like having your media stored in the new format, you can select Most Compatible from Settings instead of High Efficiency. This way no conversion will be done while transferring, but you will waste away storage on the phone itself.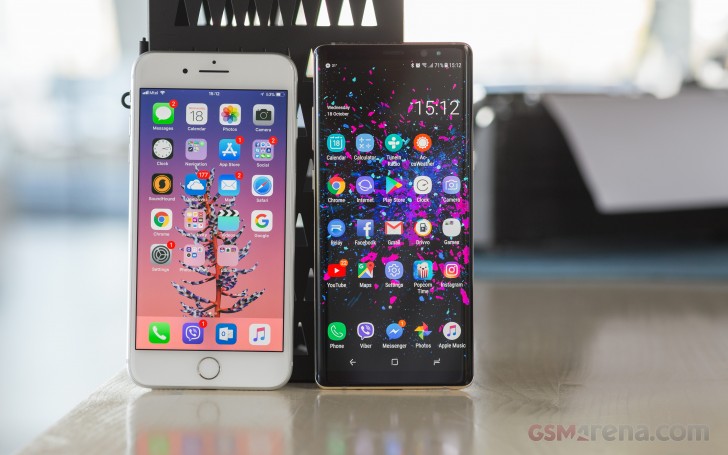 Format particulars aside, it's the familiar iPhone camera app we all know and love. All settings and shooting modes are laid out logically and the only setting we miss is a toggle between 1080p and 4K video recording, which instead of being accessible from the camera UI, requires you to dig deep into the phone's Settings menu.
Live photos are available, of course, and you can easily toggle them on or off right inside the viewfinder. There's an HDR switch too, and even if it doesn't cycle through the On/Off/Auto options, at least it's readily available in the viewfinder, unlike on the Note. Tapping on an object in the viewfinder also lets you dial in exposure compensation.
You change modes by side swipes, but why not a downward/upward swipe for switching between front and rear cams? At least the respective toggle is within easy reach as opposed to high up on the far end.
There's obviously a zoom button, which gets you directly into the telephoto camera and it shows the current camera zoom setting - '1x' when you're using the wide cam, '2x' when in telephoto.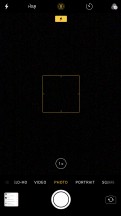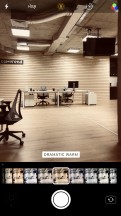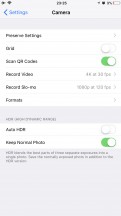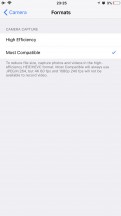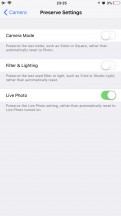 iPhone 8 Plus camera app: Viewfinder • Filters • Settings • Compatibility vs. Efficiency • Preserve settings
There are no format novelties on the Galaxy Note8 - it's sticking with good old JPEGs. One thing's very new in the interface, and we'd struggle to call it a welcome change - the HDR toggle is gone from the viewfinder and is now in settings instead - boo. Okay, we get it, Samsung wants us to shoot in HDR auto all the time, but we still prefer being able to switch it on a shot by shot basis. Instead, there's a Full view toggle - as if anyone ever wants to take 18.5:9 photos.
Samsung's toggle for switching between front and rear cameras is waaay up top, so you need to use both hands to go into selfie mode. Wait, no, the upward/downward swipe will do that for you - we really think this should be standard behavior in all camera apps.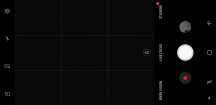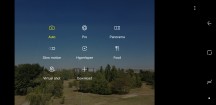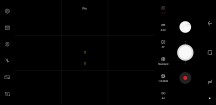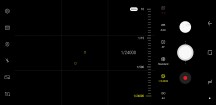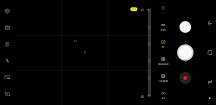 Galaxy Note8 camera app: Viewfinder • Modes • Settings • Pro mode
Samsung's latest camera app also has a shortcut to Bixby Vision, because... Bixby all the things. Another eyebrow raiser - stickers right there in the main camera app. Is it just us refusing to keep up with the times, or do these have no place outside of the social sharing clients?
One thing worth noting is that Samsung's '1x-2x' button has the exact opposite logic to the iPhone's - it displays the setting you'll get to when you tap it, so it shows '2x' when you're in wide-angle view, and '1x' when in telephoto.