Final words
Lenovo's Moto Z Force Droid took over for the Moto X Force (Droid Turbo 2 in the US) and has kept the same screen size as the standard Moto Z model. Whatever deal Verizon has struck with Motorola, obviously it's not one that they will be letting go of anytime soon.
Many might be upset that the Moto Z Force is not making a worldwide debut (at least for now). Even in previous years of Verizon's Droid exclusivity, there was always a worldwide version (e.g. Droid Turbo 2 = Moto X Force). So this is why we still hang on to the chance of it happening again. Or perhaps Lenovo is doing away with a shatterproof version of the Moto flagship for worldwide release, we'll see.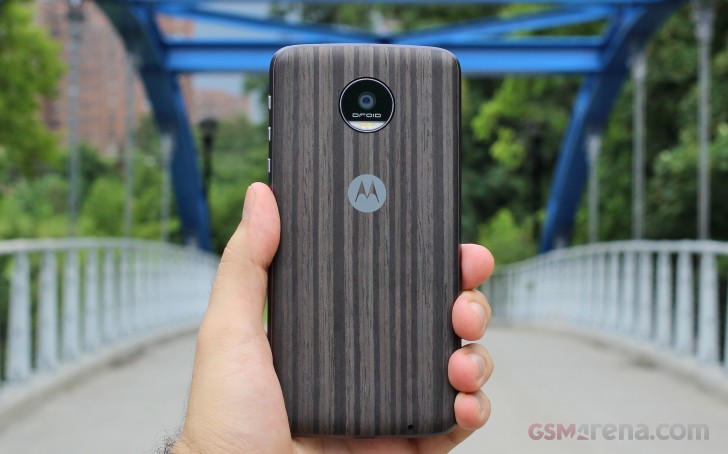 The way we see it, the Moto Z Force should have been Moto's global flagship. Well, we guess the Moto Z will be easier to market as the world's thinnest smartphone. And it's not the first time Motorola has one of those - it was back in 2006 when they launched the world's thinnest smartphone of the time, the Moto Q.
Lenovo Moto Z Force Droid key test findings:
The Moto Z Force is not as ergonomic as the Droid Turbo 2 (Moto X Force) was. Style shells make it easy to change up your look. Overall design is sturdy, yet minimalistic and 'to the point'.
The AMOLED screen is a nice touch, and there is no degradation of picture quality as a result of shatter proofing. Visibility in sunlight is good, but the screen's coating makes it a teeny bit more prone to hairline scratches
Moto Enhancements are excellent value-added features which barely impact battery life on standby. Moto Display and Moto Voice are a couple of our favorite features.
Battery scores were excellent with an overall endurance rating of 88h. Moto's 30W TurboPower adapter charges the Moto Z Force's massive battery at breakneck rates.
With the exception of some Verizon bloatware, the Moto Z's near-stock Android experience is well appreciated by many. Moto Enhancements add great value to the UI experience.
The Snapdragon 820 CPU is a firm choice. Likewise, 4GB of RAM is a healthy amount, so performance is bullet-proof. However, the phone does get quite warm under pressure.
Moto Mods are a great implementation of modular smartphone accessories. Although costly, the plus side is your Moto Mod investments are future-proof as they will work with the Moto Z's successor(s) next year.
The 21MP camera's performance is excellent in all lighting conditions, including low-light scenarios, as long as you have a steady hand.
The front-facing 5MP selfie camera performs quite well, even better than we anticipated. The front-facing LED flash illuminates the subject well in these low-light scenarios.
4K videos look great, details and colors are well represented. 1080p videos @ 30fps glitched on us in two occasions, forcing some sort of a HDR effect but then everything went to normal. 1080p videos filmed at 60fps are significantly degraded in quality when compared to 30fps videos.
Since the Moto Z Force is only available in the US, we're going to compare it to models available for the US market.
The most obvious choice to have to consider is the Moto Z Droid. Otherwise the exact same phone, the Moto Z Force has a larger battery, thicker profile, and higher resolution 21MP camera. The $100 premium over the Moto Z is easily justified with the much larger battery. Of course this does come at the expense of having a thicker and heavier phone. Motorola has given us this choice that we have been longing for a long time so you can now have your cake and eat it.
Because the Moto Z Force is shatter proof, we have to compare it to the Samsung Galaxy S7 active. The S7 active serves a very niche market: the power user who's rugged and (or) outdoorsy lifestyle doesn't mix well with delicate slabs of glass. The Moto Z can also fill areas of the same niche, although drop test videos have proved the S7 active to take a heavier beating than the Z Force.
The Galaxy S7 active has a few similarities with the Z Force: both are exclusive to a US carrier, both are shatterproof, and both are (at least) splash resistant. But the Galaxy S7 active hits more points better than the Moto Z Force: larger battery, MIL-spec ruggedness, IP68 water immersion protection (the Z Force is only splash resistant), and superior camera. Of course, you have to sign a service deal with AT&T to get that.
The next alternative is another 5.5-inch device, although, it's not a quad-HD display. The OnePlus 3 is a worthy competitor on the bang-for-buck sector, packing the same Snapdragon 820, a healthy 6GB of RAM, a great all-around camera, and a much lower cost at $399. The caveats are: no modularity (duh!), lower battery endurance, and the OnePlus 3 is not supported on Verizon if this is your carrier of choice.
The LG G5 is a great alternative as both smartphones have a Snapdragon 820 that make them tick. But the other reason is that the G5 also incorporates modular accessories as (an option) part of the product experience, and even though the modular concept is great, the execution could have been better. The Moto Z Force's software shines brighter than the G5's as a more consistent and familiar experience. Not to mention the benefit of a much better battery life.
The Galaxy S7 edge packs a beautiful, 5.5-inch, QuadHD, AMOLED screen into a more compact footprint. The Samsung Galaxy S7 edge matches the battery endurance, the performance, and the camera, and adds Samsung's suite of bells, whistles, and apps on top of that. TouchWiz might be a sore spot for some, but the Snapdragon 820 (or Exynos 8890) ensures an otherwise heavily skinned UI will run smoothly.
The iPhone 6S Plus is another 5.5-inch device with a great camera, solid battery life, and predictable software experience. If you do find yourself switching from an iPhone into Android territory, the Moto Force could be the right fit for you, accentuated with Moto Enhancements. If you decide to go with an iPhone instead, we recommend you wait a month or so more and get the new model at the current price.
The Moto Z Force is a phone for Android power-users who would rather experience Android as it was meant to be, Nexus style, but with a few extra features on top. Although you wouldn't get the quickest updates as you would on Nexus devices, the Moto Z Force offers much more than the pure Android experience as long as you are willing to make the tradeoff.