A little slow, but lots of detail
The Moto Z Force's camera is right in line with that of the Droid Turbo 2 in specs. The 21MP camera sensor in the Moto Z Force features a f/1.8 aperture, phase detection autofocus, laser-assisted focus for close range subjects, and 1.12-micron pixel size.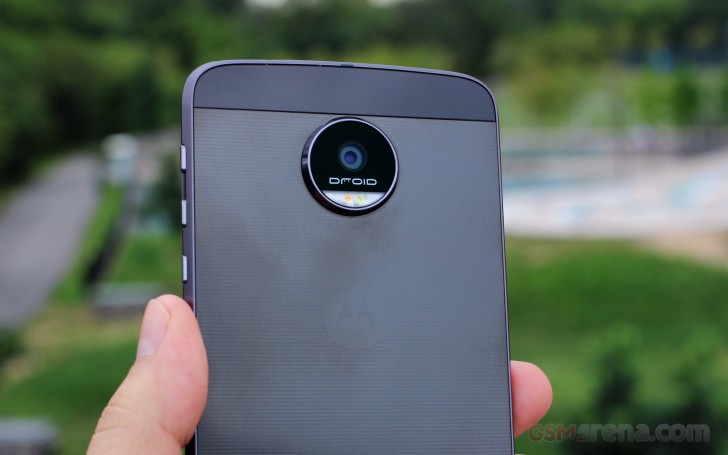 The Z Force comes with an increase in the aperture size from f/2.0 to f/1.8 compared to the Droid Turbo 2 (Moto X Force). However, the Moto Z Force took a half step back in pixel size. The Turbo 2 had pixels 1.4 microns in size, while the Z Force has 1.12 micron pixels.
The resulting photos are exceptionally good in all lighting conditions. With the exception of longer than normal shutter times in poor light and the occasionally clunky interface, the Moto Z Force left us satisfied with in the camera department.
Camera interface
Remember how minimal and simple and the Moto X's camera UI was? Well that's all changed for the most part. The camera UI has been revamped from the ground up. Lenovo took the style and feel of the Moto X's original camera UI and made a new UI based off of that. The result is a little disorienting, but not too bad.
There are many features in the camera including the native ability to scan barcodes and QR codes without needing to download 3rd party apps from the Play Store. There's also a Professional Mode which gives the user control over camera settings like shutter speed, manual focus, and ISO.
When you first start the camera, you'll have the option to choose whether you'd like to "tap anywhere" to take a photo use a dedicated on-screen shutter button. It's worth noting the volume button can be used as a shutter key as well.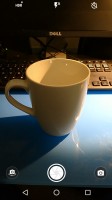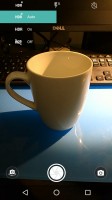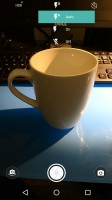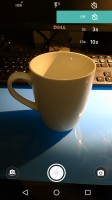 Standard viewfinder and controls
HDR, flash, and timer shortcuts can be found at the top (when in portrait) or left (when in landscape) and the shortcuts expand to show you more choices for that option.
The 5MP front-facing camera adds one extra control to this menu and that is for beauty mode. There are three options: auto, manual, or off. The manual option lets you move a slider like most other smartphones that offer a beauty mode which blends the skin tones to hide imperfections.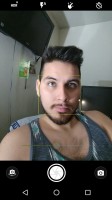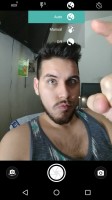 Selfie mode • Beauty mode options
To switch to another mode, you'll need to tap on the camera button next to the shutter button and choose the option. There is no longer a convenient shortcut to start recording video right away. You'll need to tap on this button and switch to the video mode.
Professional mode looks like many others we've seen before. You're given all the controls in an overlay over the viewfinder. There's also a small arrow under all the controls which conveniently expands them all at once.
We found the Moto Z Force to occasionally hiccup when it comes to taking photos. Sometimes the camera cannot focus on the subject automatically unless you manually tell it where to focus by tapping on the viewfinder.
Nevertheless, the resulting camera samples yielded excellent detail and color reproduction. The only downside to this camera is it requires a steady hand when it comes to photography in low light. What we mean is that, in order to keep the ISO down, the camera would intentionally lower the shutter speeds way below our comfortable handheld level.
Here are some comparison shots taken with the Moto Z Droid.
You'll notice the top row of sample photos is in 16:9 aspect ratio. This is because the Moto Z Force defaults the camera to a cropped sensor mode, reducing the total resolution output from 21MP (4:3) down to 16.1MP (16:9).
Otherwise, the Moto Z Force delivered great photos with plenty of details and well represented color. Skies are the right shade of blue and we see minimal noise throughout these photos. When taking photos in favorable lighting conditions, the camera feels snappy with shutter button speeds kept to a minimum.
The OIS built into the camera system does a wonderful job of eliminating camera blur in well-lit scenarios. A day trip with the Moto Z Force will yield bright and colorful photos with plenty of detail to spare.
While HDR images aren't meant to represent scenes with accurate colors, they are useful for bringing up detail from the shadows and reducing areas of overexposures in challenging scenes with strong light contrast. The Moto Z Force yielded very decent HDR performance. Colors are a bit too saturated for our taste, but the resulting photo will likely get many likes and comments on social media.
Once lighting starts to settle down, the camera's speed between shots takes a noticeable hit. A nice feature is the overlay message that pops up when taking a photo in low light, telling us to "Hold camera steady" indicating that the camera needs a little more time to take the photo than usual.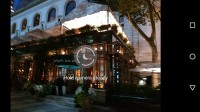 Message telling us to hold camera steady
Shots taken at night look excellent and the camera can capture more detail than you'd think. The last scene against the row of buildings was quite dark and we were surprised to see how well the shot came out. The only downside is you won't be able to catch great shots at night of moving cars or people. Your subject needs to be still, and you'll need a steady hand!
The Moto Z Force had trouble focusing on the second low-light shot of the train station. The camera did not know where to focus on and kept focus hunting back and forth. Once we tapped where we wanted to focus, the hunting stopped.
Taking a panorama photo works just as in many other devices: tap the shutter key and take a continuous pan of the scene in front of you. Strangely, the panorama mode didn't let us take a photo wider than about 100 degrees and the resolution is greatly reduced. The amount of time it takes for a panorama to process is about 10 seconds during which also takes place in the foreground. You can't take more pictures during this time.
The resulting images show poor level of details and do not blend scenes with drastically different exposures well. We would recommend that you find a third-party panorama-taking app in the Play Store.


Panoramic image with Moto Z Force
5MP Selfie camera with LED flash
The Moto Z Force carried on the front facing LED flash from last year's Moto X. The result is a selfie camera that performs rather well. This 5MP front facing camera, though not that high of a resolution, compliments the rear 21MP camera rather well.
In regular lighting, the camera shows plenty of detail and skin tones are on point. HDR brings an extra level of exposure and coloration, but its behavior is not that predictable. Colors are a little oversaturated when using HDR (just like the rear camera).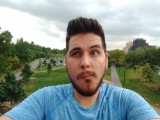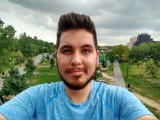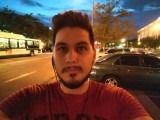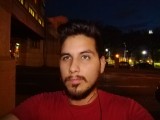 Selfie: • in regular lighting • HDR on • in low-light • with front flash
Selfies taken in low light look great in line with the other flagship offerings this year. The front facing LED flash is a great way to add some fill light. Though, depending on your environment and how dark it is, using the front facing flash as a light source might get you a dark exposure of your surroundings, which is expected with such a small light source, but hardly ideal from a user's perspective.
Video
Appropriately, the Moto Z is capable of recording video in 1080p @ up to 60fps and 4K @ 30 fps. However, the mode that produces the smoothest looking video is 1080p @ 30fps since it's both optically and digitally stabilized. Videos recorded in 60fps or 4K will be more shaky if you don't intend to use a tripod.
60fps videos have the same bitrate as videos taken with 30fps. Having in mind that these videos have twice as many frames, you can already guess that each of those frames will have a reduced quality to fit within the size limit. As a result, the 60fps videos come with a rather degraded quality. The standard 30fps video looks much better and sharper than the 60fps clip.
For some reason, both the Moto Z and Moto Z Force had an issue where the standard 1080p mode was recording strange-looking videos, as if we had activated the HDR mode. This only happened in 1080p video @ 30fps. You'll notice the video samples for the aforementioned video setting look strange compared to the other two. The glitch appeared to be fixed when we toggled HDR on, and then off.
Audio recording is set to a standard 128kbps with stereo channels and a 48kHz sample rate. Video rates for 4K resolution are at about 50Mbps while 1080p videos are captured at about 17Mbps.
As always, we've got some samples for you to watch from YouTube below, or you can download them with the following links: 1080p @ 30fps HDR (~30MB) / 1080p @ 60fps (~30MB)/ 2160p (4K) @ 30fps (~90MB) taken straight from the Moto Z Force.