Android 5.1, the Vibe way
Like other Lenovo phones, the Vibe Shot comes with a heavily customized version of Android called Vibe OS. This one is based on Android 5.1 Lollipop (the K3 Note we reviewed in October used 5.0 as a base). This fact puts it a step behind the phones with fast track updating, but Lenovo prioritizes its custom features over the things Google provides.
As with other devices hailing from the East, the Vibe Shot exhibits the style popular in the region - that is, no app drawer (every shortcut goes on the homescreen, mixed in with the widgets), a rich app package out of the box and certain quirks (e.g. the RAM cleaning button that's more placebo than useful).
When you first boot up the phone, it asks you to set up some secure unlock - PIN or Pattern - but you can disable that afterward if you like. There's no fingerprint reader here, though. Double-tap-to-wake is available though it's disabled by default.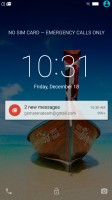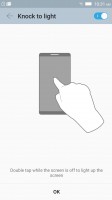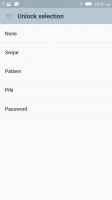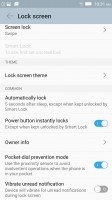 A standard Android lockscreen • Tap to wake • Lockscreen type • Additional settings
One interesting security feature is called Secure Zone - it allows you to create two virtual "zones," for example to keep your work and private life separate. Each zone can have its own selection of apps, accounts, and passwords. If a notification arrives in the currently inactive zone, it will show up with a red dot in the status bar. You need to switch zones to be able to view it (which means others can't without your permission, even if they have your phone).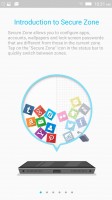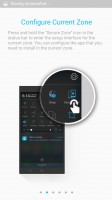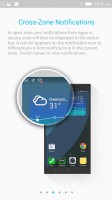 The Security Zone feature keeps your work and private lives separate
Lenovo goes a step further - your data is protected even from the apps themselves. App data and documents are kept separate between the zones though there's an OpenUserData folder that can be accessed from both zones. Data in the Secure Zone can only be accessed by Secure Zone apps. Call logs and messages are shared between the zones so that normal phone operation is unaffected.
Vibe OS features multi-user support and the guest account can be blocked from making calls.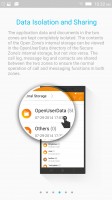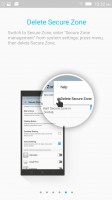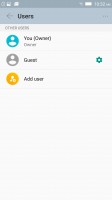 More on the Security Zones • How to disable Security Zone • Multi-user support
Anyway, the user interface is fully themeable. The default theme features minimalistic, colorful icons but there are several others pre-installed, even one called "Less is more" if you long for Material Design flatness. You can change individual Wallpapers, Lockscreen, and Sounds and can even switch between the Lenovo and the Lollipop app switcher styles.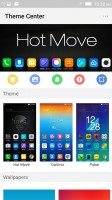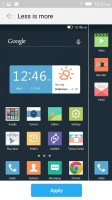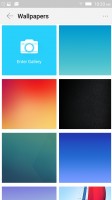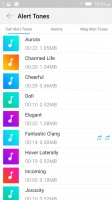 Themes quickly change the look of your Vibe Shot
The Lenovo option is more iOS than Android, featuring a horizontal row of thumbnails (3 in total). The other option, dubbed "Android L," shows a 3D Rolodex of thumbnails that just barely shows a fourth app.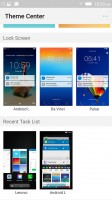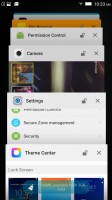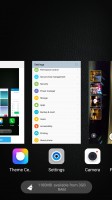 Choosing an app switcher style: from the Theme Center • Android L • Lenovo
The notification area is pretty standard Android - pull once for notifications, pull again for quick toggles. You can re-arrange toggles (including adding and removing some) and the screen brightness slider has an "Auto" toggle. You can even adjust the number of columns in which the toggles are arranged.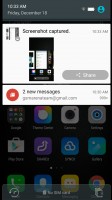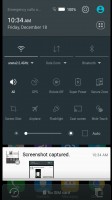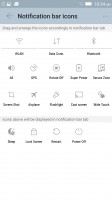 The notification area: one pull for notifications • two for toggles • customizing the toggles
The customization options of the status bar and notification center go deeper still, so power users can tweak things just the way they like them. An interesting addition is a button that opens the notification log - all notifications, even ones dismissed days ago are there.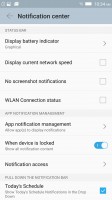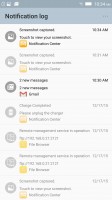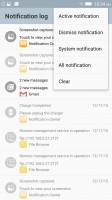 Even more customizations for the status bar • The Notification log
One tool to help one-handed use and multitasking is Wide touch. The name is rather non-descriptive, but what you get is a small, translucent button on the screen that opens a window of shortcuts when tapped.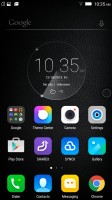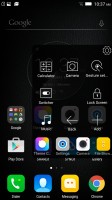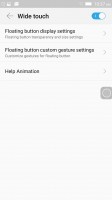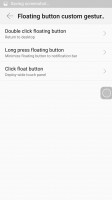 Wide touch: collapsed view • expanded view • settings
While not Marshmallow, the OS has a Permission Control center. It's disabled by default, but when you toggle it on you can browse what permission each app requires and which permissions are required by which apps. You can disable them individually or set to "Always ask." This functionality has been tried in Android for a while, but it took a very long time for Google to pull the trigger.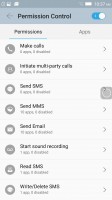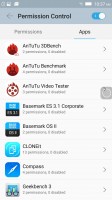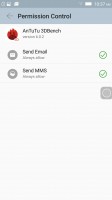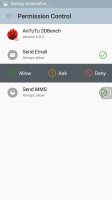 Permission Control: permission view • app view • changing permissions
One other non-standard feature is the Default write disk. This allows you to use the microSD as if it was the internal storage, including installing apps there. On stock Android, even writing regular files has become a chore so this is nice to see. In a few years, a fast, big microSD can replace the aging internal storage with ease.
One thing we're not thrilled about is that of the 32GB total storage, 6.6GB is occupied out of the box with some more going to the pre-installed apps.