Telephony and loudspeaker
The Lenovo Vibe Shot is a dual-SIM phone with dual-standby and the good news is that neither SIM takes up the spot of the microSD card.
The dialer has the Yellow Page feature, which finds the location and phone number of local businesses - hotels, restaurants and so on. It really speeds up the process of calling in a reservation.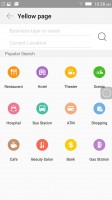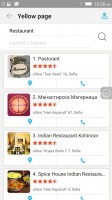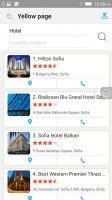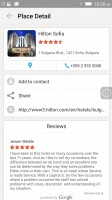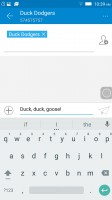 Yellow page: browsing for a business • picking a restaurant • checking out hotels • business info
The single loudspeaker on the Lenovo Vibe Shot scored an Average mark, beating the iPhone 6s and Xperia Z5 (and its dual-speakers). We've heard louder individual speakers, though.
You can enable Pocket mode, which uses the proximity sensor to detect when the phone is in your pocket and it boosts the loudspeaker volume temporarily.
| | | | | |
| --- | --- | --- | --- | --- |
| Speakerphone test | Voice, dB | Pink noise/ Music, dB | Ringing phone, dB | Overall score |
| Sony Xperia Z5 | 65.1 | 62.3 | 66.3 | Below Average |
| Apple iPhone 6s | 66.5 | 64.6 | 65.8 | Below Average |
| Huawei P8 | 66.7 | 66.0 | 68.5 | Average |
| Oppo R1x | 66.5 | 66.6 | 69.2 | Average |
| Lenovo Vibe Shot | 66.1 | 65.8 | 71.0 | Average |
| HTC One M9 | 65.2 | 64.6 | 76.1 | Average |
| Samsung Galaxy S6 | 68.1 | 66.3 | 73.7 | Good |
| Microsoft Lumia 950 | 71.9 | 73.0 | 77.2 | Very Good |
| OnePlus 2 | 75.7 | 73.5 | 80.7 | Excellent |
Text input
The Vibe Shot came with the standard Google Keyboard. It offers autocorrecting and gesture typing and you can pick different themes - dark and light in Material or Holo flavor. The option to adjust the height of the keyboard is not available, though.
Other apps
The Lenovo Vibe Shot comes with a richer app package than a Nexus would, though some of those apps provide functionality not present on stock Android.
SYNCit is one, it allows you to backup Contacts, SMS and Call log to the Lenovo cloud. If you don't want to set up an account, you can backup to the SD card.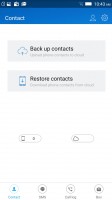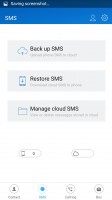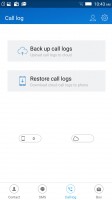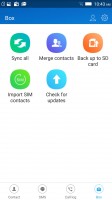 SYNCit integrates with the Lenovo cloud
CLONEit is similar though not technically pre-installed - the shortcut is there, but you still have to download the full app from the Play Store. Anyway, install the same app on another phone and you will be able to clone your contact, SMS and other data between the phones (useful when switching phones).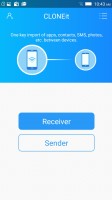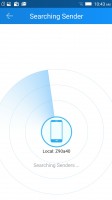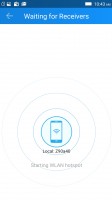 CLONEit facilitates changing phones
The File browser makes it easy to find files of a specific type (e.g. documents or photos), it will even handle ZIPs. Of course, you can browse the full folder structure of both the internal storage and the microSD.
A handy feature lets you wirelessly manage your files through your computer browser (as long as both are connected to the same network). This functionality is based on SwiFTP also available on the Play Store as FTP Server. It's better to use a proper FTP app, though, the browser offers only limited functionality.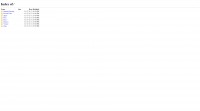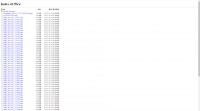 The browser is not the best tool for handling FTP
We already covered some of the custom features on the Vibe Shot, but there are some really powerful automation tools. For example, you can set the phone to automatically power off at night and power back on in the morning. This will put an end to late night calls and won't waste battery for standby as you sleep.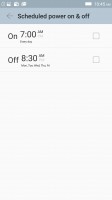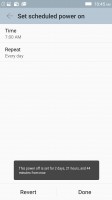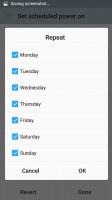 The Lenovo Vibe Shot can power off at night and wake up in the morning
Then there's the Smart scene feature. You can set up triggers - time, Wi-Fi, your class schedule - and have several actions performed automatically. Lenovo has already set up some useful scenes, like School, Office, Lunch, Meeting and so on.