A simple gallery
The Lenovo gallery is as simple as they come. It has two view modes - Album (that is folders) and Time. Thanks to the Cast screen option in the notification area you can easily throw your photos up on a large (Cast-compatible) screen. The slideshow option is also a tap away.
Additionally, you get basic editing tools - crop, rotate, plus some color effects and borders.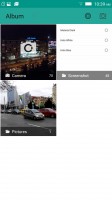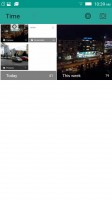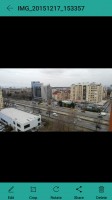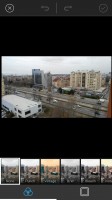 Gallery: Album view • Time view • simple editing • color effects
You can try spreading your photos with the SHAREit app though that requires the receiving device to have a copy of the app. On the plus side, it can cooperate with iOS and Windows Phone devices, Windows PCs too, on the downside basically none of them have SHAREit installed. The Vibe Shot lacks NFC so the regular tap to share of Android Beam doesn't work either.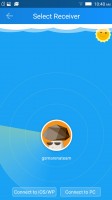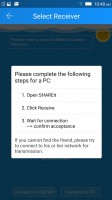 SHAREit only works if both devices have the app installed
Basic video player
The video app knows three ways of ordering your videos - Intelligent, Date or Name. We found no explanation of just how the Intelligent mode works, but you can always fall back on the search feature if all else fails.
The video player UI lets you create playlists for binge watching and you can easily snap a screenshot from the video. There's also a pop-up play mode, which lets you focus on something else while half paying attention to the video.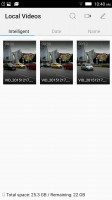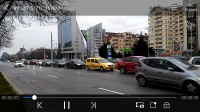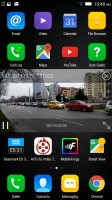 Video player: browsing files • play screen • pop up play
Video format support is a little spotty - AVI, MP4 and MKV files should work, but the player is picky when it comes to codecs. AVC works most of the time (though one video stuttered a bit), however, the modern HEVC standard is out. The chipset has hardware support for HEVC decoding, so if you have such files you can head to the Play Store for a third-party player.
Audio in AC3, DTS or FLAC format fail too, the safe bet is MP3 or AAC. There is no subtitle support either. Again, these issues are fixable by using a different app.
Google Play Music and FM Radio
Lenovo did not provide a custom music player (surprising since the K3 Note had one), but Play Music does a fine job. It lets you tap into Google's online music library - for streaming or for purchase - but it's just as home at playing songs stored on your phone. Indeed, you can browse only offline files if you want to avoid the distraction.
A 5-band equalizer is available with a number of presets (and a manual option), plus Bass boost and Surround sound (only if you have headphones plugged in).
In the Tools folder you'll find the Radio app. It can play through headphones or the loudspeaker (but you still need the headphones). The app also features broadcast recording (this may be regionally limited). There's no RDS, though, so you don't get the station names automatically.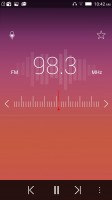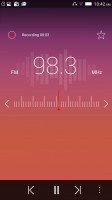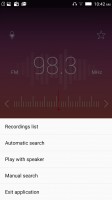 FM radio: playback • recording • options
Audio output is only decent
The Lenovo Vibe Shot showed good clarity in the first part of our audio quality test. When attached to an active external amplifier, the smartphone produced great scores, save for the shaky frequency response. It was also let down by its below average loudness, but we still give it a good mark here.
Plug in a pair of headphones and you get some extra intermodulation distortion. The stereo crosstalk climbs up an average amount while the volume remains disappointing. Overall, it's a poor showing here, although it should be enough to please less demanding users.
Here go the results so you can do your comparisons.
Test
Frequency response
Noise level
Dynamic range
THD
IMD + Noise
Stereo crosstalk
Lenovo Vibe Shot
+0.13, -0.79
-83.0
86.0
0.0030
0.013
-94.5
Lenovo Vibe Shot (headphones)
+0.05, -0.62
-82.9
81.8
0.019
0.371
-68.2
Huawei G8
+0.02, -0.08
-93.4
90.1
0.0028
0.012
-93.4
Huawei G8 (headphones)
+0.10, -0.03
-92.9
89.8
0.0048
0.071
-78.2
LG G4
+0.04, -0.07
-93.4
93.3
0.0021
0.050
-92.6
LG G4 (headphones)
+0.93, -0.13
-91.4
91.9
0.013
0.244
-50.4
Sony Xperia Z5
+0.01, -0.04
-95.5
89.5
0.0033
0.012
-94.8
Sony Xperia Z5 (headphones attached)
+0.22, -0.24
-95.1
89.5
0.0057
0.212
-59.8
Apple iPhone 6s
+0.03, -0.04
-93.5
93.5
0.0016
0.0075
-73.2
Apple iPhone 6s (headphones attached)
+0.10, -0.06
-93.8
93.9
0.0030
0.101
-68.2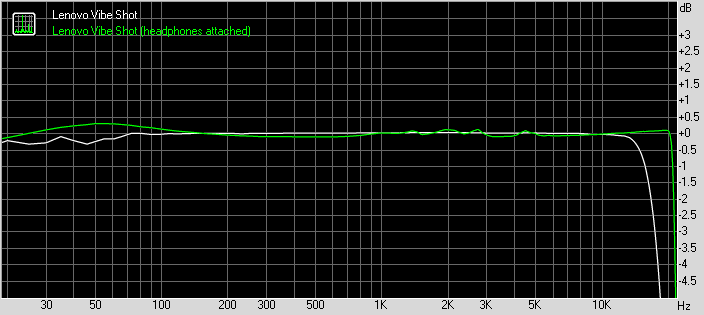 Lenovo Vibe Shot frequency response
You can learn more about the tested parameters and the whole testing process here.