Android 4.4.2 with LG's Optimus UI
LG has taken its time in bringing the G3 to market, and while that has given the competitors a step ahead, it also means the team has been hard at work making the Optimus-skinned Android 4.4.2 KitKat build their most robust to date. Besides stylish new minimalist icons and even more of LG's already extensive selection of transitions and animations, you have more in-house apps than you can shake a stick at.
Here's a quick video of the user interface in action:
The lockscreen hasn't seen much change since the Jelly Bean came around - by default, it features a dual clock with five shortcuts across the bottom. You also have the ability to add widgets by swiping to the right, and you can also double tap to wake the device at any time. You can enable more secure locks, including pattern, pin, password, or LG's own Knock Code that uses a series of taps to wake the device and unlock the screen.
Past it, you're greeted by the familiar Android homescreen. As on most droids, you can have multiple homescreens populated by a wide selection of apps shortcuts and widgets, and even folders. Like on the G2, the navigation buttons are virtual. Having the buttons on-screen ensures better response time and less chance of mechanical wear but also means you're effectively giving up part of your screen estate.
The background behind the buttons is transparent and they obediently move out the way when you're watching a video or image so it's not that bad. Plus, the G3 lets you customize either white or black color schemes, and even add quick shortcuts for Dual window, QSlide and QMemo+, and even the notification bar.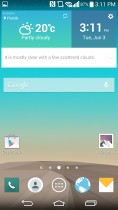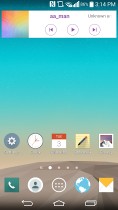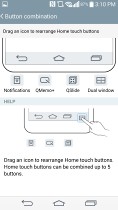 The Homescreen and navigation buttons customization
The leftmost homescreen pane of the LG G3 is reserved for a Smart Bulletin, which is a special space similar to HTC's BlinkFeed and Samsung's My Magazine (except not as robust). Smart Bulletin posts at-a-glance info from LG's Health app (more on that later) and Smart tips that highlight aspects of the phone's technology and usage.
It's fairly limited at the moment, but it'll hopefully be populated with more information from more sources after a future update from LG.
A pinch zoom on any homescreen lets you see them all at a glance, where you can also remove any or set default. To populate any of them, simply hold a finger on to a blank area, and drag an app or widget from the resulting screen.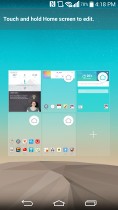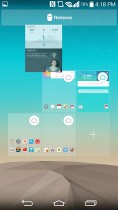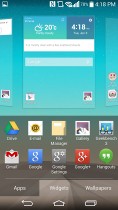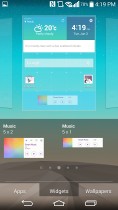 Homescreen overview • Adding a widget to a homescreen
The notification area is business as usual - a swipe down from the top bar displays a scrollable row of quick toggles, some sliders, and any notifications you may have. You can expand/collapse notifications with a two finger swipe, and dismiss them by swiping left or right.
Holding down on a toggle in the upper row will take you to the relevant option in the settings, where you can also edit which toggles and sliders are shown.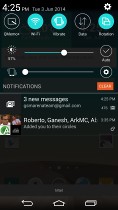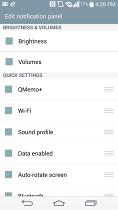 Notification area and Quick Settings
The app drawer also looks and acts the same. Aside from the usual alphabetical and chronological sorting of apps you can also rearrange the grid any way you see fit. Apps can be uninstalled directly in the app drawer, which is great for getting rid of bloatware (LG usually throws in a lot).
Getting to the recently-opened apps is done with the dedicated on-screen button. The interface shows a list of thumbnails for each app. You can swipe them away one by one, or use the close all option. There's also a shortcut to the special Dual window feature.
Dual window, a feature usually reserved for phablets, is available on the LG G3 - and welcome, considering the ample screen diagonal.
Compared to Samsung's identical Multi window feature, LG's offering has its upsides and downsides. Just like Multi window you can quickly drag apps to the top and bottom half of the screen, while some of the compatible ones are running, or start from you homescreen and pick the two apps together. On the upside, the G3 remembers recent selections for quicker access, and lets you split the screen anywhere you want rather than the middle, top 3rd, or bottom 3rd.
Besides Dual window, many apps have the ability to run in small resizable floating windows which LG has dubbed QSlide. QSlide applications can either be accessed from the notification area, or from within supported apps themselves by clicking the special shortcut icon. QSlide is more practical on tablet-sized displays than it is here, but it's still a neat trick to have.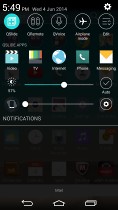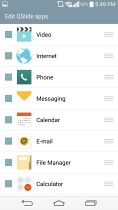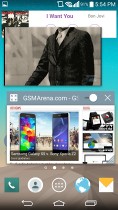 QSlide windows are another way to multitask
There's a somewhat hidden alternate homescreen mode called EasyHome, which provides a vastly simplified version of the homescreen interface. The dialer and contact/app shortcuts are all part of the main homescreen, while another secondary homescreen can contain more shortcuts. This is great for the elderly, children, or the not-so tech savvy, but it greatly reduces the number of available features.
Finally, LG lets you give out your device to other users, while giving you control over what they're allowed to access. This requires you to secure your device with either pattern, pin, password or Knock Code, with a unique pattern assigned to the guest account. Guest mode lets you pick which apps the user has access to, including a custom Guest gallery of photos and videos, and no access to the settings or multitasking features of the G3.