13MP OIS camera with 2160p video recording
One of LG's key marketing strategies for the G3 focused on the 13MP optically stabilized camera with laser-enhanced and phase detection autofocus. Not only does this result in faster and more accurate focus, according to LG, but you'll also be able to take brighter and clearer pictures even in dark scenes. To sweeten the pot even further, LG has thrown in optical image stabilization, dual tone flash, and 2160p video recording.
LG has intentionally stripped down the interface to house a bare minimum of on-screen controls. It's not as extreme as what Google did with the Nexus camera interface, but it is somewhat uncharacteristic from a maker that typically throws in camera features by the boatload. Still, all the shooting modes are easily organized in their own section.
You can touch the screen to focus on a specific element, and can even set it to automatically shoot once it does so.
Great image quality made even better with HDR
The 13MP shooter is one of the best we've seen in quite some time. The level of detail is very good across the frame, with accurate colors, exposure, and contrast. The untouched images provided by auto mode are some of the most accurate in terms of capturing the scene as it actually is, rather than overblowing the colors or contrast. There is no edge blur, either.
We do have a few criticisms when it comes to noise reduction, as looking at samples at full resolution reveals some of the finer details as having an oil painting effect. The dynamic range has a few issues too, with some underexposed shadows and overblown highlights in darker and lighter areas, respectively. But both of these are relatively minor issues, largely overshadowed by the great colors, contrast, and exposure.
We didn't notice any significant focus speed improvement brought about by the laser autofocus compared to other flagships, but all our samples were crisp and without any loss of detail, so it certainly didn't hurt having it.
HDR takes some already great samples and makes them even better. By snapping a couple of photos with different exposures and combining them into a single photo, the G3 is able to eliminate the issues it had with dynamic range, at a minor cost to the level of detail. The resulting image is among the best HDR jobs we've seen on a smartphone, while the great exposure and more vibrant colors handily outweigh any minor losses in fine detail.
The G3 is also capable of panorama shots, and are easy to make thanks to the OIS, with no resulting problems with the stitching. The quality is comparable to Auto shooting mode, as you won't be able to turn on HDR here.

LG G3 Panorama sample
Photo quality comparison
Here's how the LG G3 fares against the competition in our photo quality comparison tool. It's designed to provide the ultimate pixel-peeping experience where you can pit it against any of our wide range of tested smartphones.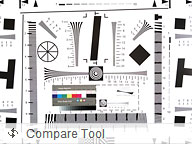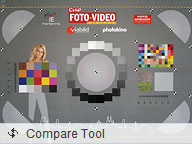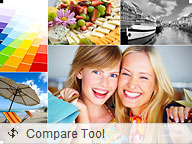 LG G3 in our photo compare tool
2160p video recording
The LG G3 is the latest in a growing list of flagships that offers 2160p video recording. It's able to do it at 30fps, while also being able to out 1080p@30fps, and 720p@120fps; the latter being its slow-motion video mode.
The 2160p videos captured by the LG G3 are of the same great quality we found with the still images: great exposure and contrast, accurate colors, and a high level of detail. The autofocus laser and OIS took care of any focus and stability issues, while the Snapdragon 801 processor had no problem churning out a solid 30fps during recording, with a matching 30Mbps bitrate to boot.
Audio bitrate was at 156Kbps, with stereo recording at 48kHz. It sounds like LG has added a noise filter to suppress background hums, but also make certain frequencies sound a bit off.
1080p videos are much the same in terms of colors and exposure, although obviously can't stack up to 2160p in terms of resolved detail. They are useful, however, if you want to save on space, as just a 15 second 2160p clip comes in are around 55MB.
The only real chink in the G3's armor when it comes to camera quality is in the 720p slow-motion videos. While they do provide 120fps which you can watch at up to 4x slow motion on the device itself, the resolved detail is so poor that it's unlikely this feature will be used much. It most certainly seems like it's upscaled to 720p from a much lower resolution, and we're surprised that LG would tarnish an otherwise stellar camera package with such an unfinished feature.
Here you can download the 2160p@30fps (0:15s, 55.7MB), 1080p@30fps(0:15s, 37.4MB), 720p@120fps(0:11s, 32.8MB) camera samples directly from the device.
Video quality comparison
In the video comparison tool you can face the LG G3 off against any of the many smartphone camcorders we've tested over the years.