Conclusion
The phone that opened the season of flagship debuts and the one that makes it a full circle. If done right, a full circle in this business is a level up on an ascending spiral. It looks like LG did it right, to find themselves perched at the top in terms of screen resolution. Then again, Sony of course will tell you that a QHD screen can't buy you love.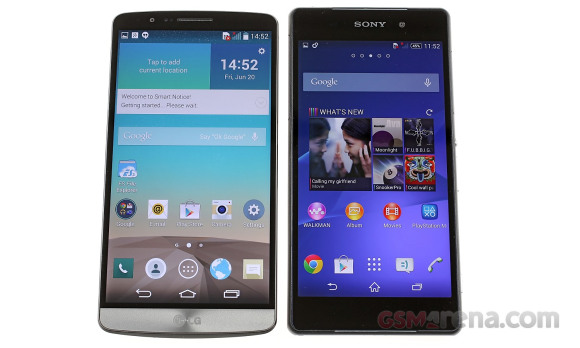 It's not who you trust. It's what you want in a phone. Sony and LG obviously have different takes on Android, phone design, imaging. They even differ on the value-added apps and services. That's what these articles are for. You should know better by now than to expect us to declare a winner. We try to help you instead make the most of the choice you're given. We compare, we look for the tradeoffs you'll be making.
A QHD display is a luxury, the ultimate bragging right. The best screen to enjoy high-res content on - of which we'll only be having more and more. The overall system speed is a casualty, as you can see in the benchmarks we ran. Battery life is another.
The Xperia Z2 has by far the better battery backup - but the LG G3 has a user-replaceable battery. This means you can double your battery life in places where a power outlet is a luxury. Then again - if you're likely to find yourself in such a place, wouldn't you be better off with a waterproof device?
The LG G3 has no water and dust resistance rating - which is a major disadvantage against an IP-certified rival. It's a rival too that's one of the hottest looking pieces of hardware around. Yet, the LG G3 can stand as an equal - one of the select few, which don't give plastic a bad name. And those insanely slim bezels.
The LG G3 is the better cameraphone - a great feat considering it's competing against a bigger sensor and more raw resolution. Things like OIS and phase-detect auto-focus do make a difference after all - but not if slow-mo videos are a must. And the Xperia Z2's 1080p videos at 60fps are quite good actually.
The Xperia Z2 bets on a clean, almost vanilla user interface, which is fast but offers little customization and fewer extra features beyond pure Android. The camera quality is questionable and the shooting modes are confusing, though.
The highly-customizable Optimus UI on the LG G3 is loaded with extras such as Guest Mode, Smart Bulletin and the Dual Window mode. Sony has a response to some of them but the G3 has the richer software package overall.
It's worth noting too that while they were busy putting together one of the first QHD screens on a smartphone, LG had the time - and good sense - to fix the things that needed fixing in the previous generation. Expandable storage and a user-replaceable battery in a better looking body are a major win in our books.
Sony took a more conservative approach this time around and, although there were fewer things for them to address, some may've felt a slight disappointment. Yet, with a reduced interval between launches, Sony is the one to watch for the next big flagship announcement.
Needless to say, this is to be continued. There'll be more battles like this and hopefully we'll be around to help you make up your mind. As for the winners and losers, the one that has the answer is you.