User interface
The LG G3 and Sony Xperia Z2 both offer Android 4.4.2 KitKat out of the box with a number of software tweaks by each parent company. As usual, Sony's modifications are lighter while LG has modded the stock Android head to toe as usual.
The LG G3 has the company's proprietary Knock Code feature that lets you get straight into the homescreen via a series of taps on certain places on the screen - even when the screen is off. Otherwise, the other standard unlock methods as well as lockscreen widgets and shortcuts are available on both devices.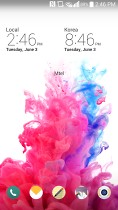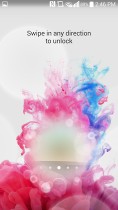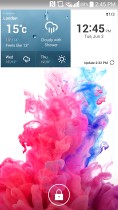 The G3 lockscreen is fairly standard
Sony stayed closer to the vanilla lockscreen, the only real change is the camera shortcut at the bottom. The Xperia Z2 lockscreen supports widgets (one per pane).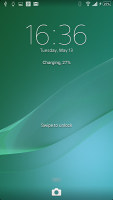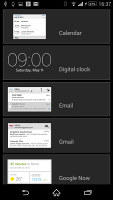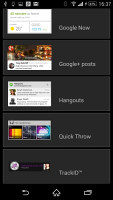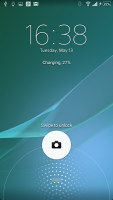 Near-stock lockscreen on the Xperia Z2
The leftmost homescreen pane of the LG G3 is reserved for the so-called Smart Bulletin, which is a special space similar Samsung's My Magazine (except not as robust). Smart Bulletin posts at-a-glance info from LG's Health app and Smart tips that highlight aspects of the phone's technology and usage, but nothing else beyond that.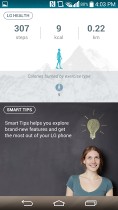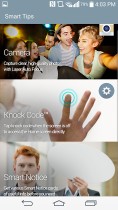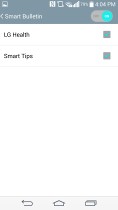 LG's Smart Bulletin is very limited
Sony has Socialife, which is an app instead. It merges Facebook and Twitter accounts with news sources, but doesn't take up an entire homescreen pane.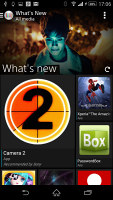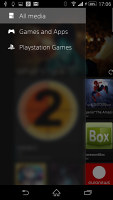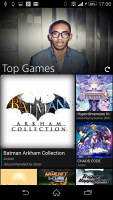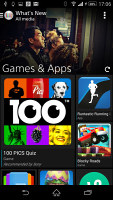 What's new is Sony's answer to Samsung's My Magazine, HTC's Blinkfeed and LG's Smart Bulletin
The Sony home screen, just like the lockscreen, is also very vanilla - you start with 5 and you can add or remove panes. One Sony addition is Themes, which pack a wallpaper and matching color highlights for UI elements.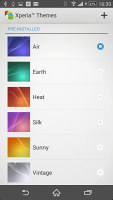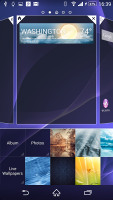 Themes make for quick and easy customization
LG's notification area is more customizable. You can remove the brightness and volume sliders, or any of the toggles in the topmost row.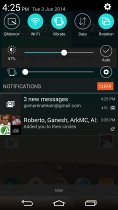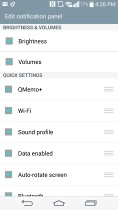 LG's notification area with Quick Settings
Sony's notification area looks more stock but Sony did put tabs on it to separate the notifications from the toggles. The toggles themselves include some Sony add-ons like the Stamina mode.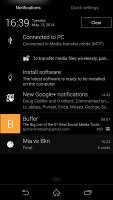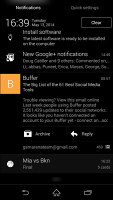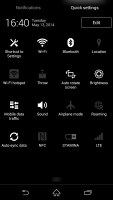 Xperia's cleaner notification area differs only slightly from vanilla Android
LG provides a private mode called Guest mode, which lets you pick apps the guest has access to, including a custom Guest gallery of photos and videos, while restricting access to the settings or multitasking features of the G3.
LG can also run split screen apps with their own Dual window feature, which offers identical capabilities to Samsung's latest Galaxies.
Sony has its own multitasking feature, Small Apps. Instead of splitting the screen, Small apps live in small windows that can be moved around or minimized to a tiny icon. Like Dual Window, you need an app that specifically supports the multitasking feature, but Sony's solution can turn widgets into Small apps.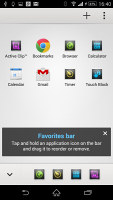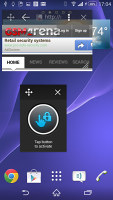 Small apps put helpful tools in floating windows
The two approaches are not really compatible. LG's approach assumes both apps are equal, while Sony's has one main app and one utility app.
Winner: LG G3. We know the Optimus UI has its vocal detractors, but no one can deny its wealth of features and a good deal of those are pretty helpful in your day-to-day operations. Dual Window is more elaborate than Small apps, too.