Multimedia
The multimedia performance of the LG Pop is a good match for the LG Cookie and Renoir, sometimes even faster. The internal memory of 50MB is an exception - just as it was on the Cookie. But with support for 16GB memory cards no one will actually care about the miserly 50MB of inbuilt storage.
File browsing is generally fast but when you have a memory card inserted, each time you open the file browser it needs to refresh the image thumbnails. Not much of a problem if you have a small picture gallery, but when photos start piling up, it could get annoying. But that's a common issue for all current LG handsets.
The LG GD510 Pop file manager includes separate factory-preset folders for different file content. However, unlike some previous generation LG handsets (and those include even some pretty expensive ones) it has no problem handling user-created folders and the files in them.
Image gallery
LG have vastly improved their image gallery with the latest generation of touchscreen phones and now it offers a really nice touch experience. Flipping through images feels natural and fluid and will please even discerning users.
You can check your photos straight in the file manager or you can start the dedicated gallery where larger thumbnails are available. Still, the viewer for single images is one and the same for both methods.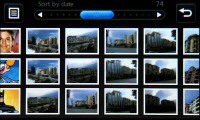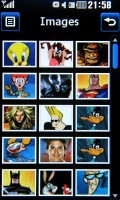 You can view photos inside the file manager or go for the dedicated Gallery application
You can browse images in portrait or landscape mode depending on which gallery you're using. The actual Gallery application is available only in landscape mode, while the file manager is only portrait-oriented. It's quite an unusual decision given the LG Pop is equipped with an accelerometer. Zooming (up to 6x) is generally fast.
Regardless of the lack of accelerometer control while browsing the galleries, everything works just fine when viewing single images. They are rotated automatically as you turn the handset.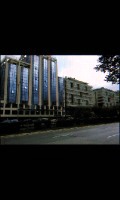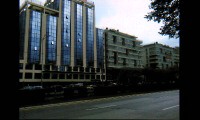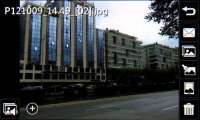 Images can be browsed in portrait or landscape mode, normal or fullscreen view
LG GD510 also features the same image editor as the Renoir and Cookie with its wide range of options. First off, you get a creative part that allows finger drawing on images, text typing, clipart watermarking, face morphing, selective colorization, and selective color boosting.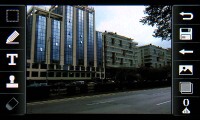 An image editor is also available
Then you have tools for basic image treatment such as rotate, resize and mirror, as well as more advanced photo editing options such as levels, brightness, contrast, color, hue and saturation, sharpness, blur. Red-eye removal is also available. And finally, you can add color effects such as black & white, sepia, negative, glow, etc.
Overall, despite the rich features of the editor, we think it scores low on usability. The different options are inconsistently spread across various menus.
Music player is good enough
The LG GD510 Pop has a really nice music player and if you wonder what nice really means, we guess better than the Renoir pretty much says it all. The layout is intact and the looks aren't too different but some nice functionality has been added. In fact you will get the same updated music player in the LG Prada 2. Now, LG could've put the S-Class music player, but we are still happy with this one too.
There is a nice Album Art visualization and lots of equalizer presets, which LG touch phones (save for the S-Class line) used to not have up until the Cookie.
With the LG Pop music player you can filter tracks as with any other modern music player - by artist, album, genre, and recently played. There's also a track rating system, which should help with track sorting as well. User-created playlists are also an option.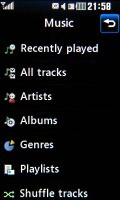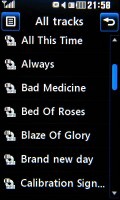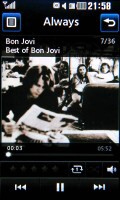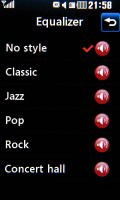 The music player looks and does well • Equalizer presets
Naturally, the music player can run in the background. You can control the music straight on the home screen with the dedicated mini player widget.
Video player is a letdown, no surprise
Now this is the one part where the modest Pop is no match for the Renoir. Due to the lack of DivX and XviD support, videos are less of treat compared to the cameraphone flagship of the house. There is also YouTube integration, offering direct video uploads.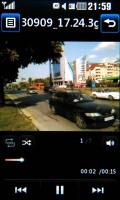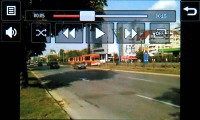 The video player lacks DivX and XviD support
Videos can run in both portrait and landscape mode. Alternating the two modes is as easy as flipping the phone to its side.
A nice feature allows you to take screenshots of a running video and there is also a built-in video editor that can do a number of modifications on the source video.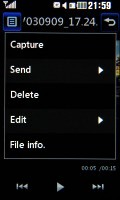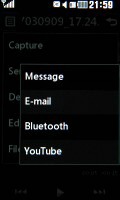 Capture and upload to YouTube options
FM radio has RDS
The LG GD510 Pop comes with an FM radio and you can enjoy it on either earphones or on the loudspeaker. In either case you've got to have the earphones plugged in as they serve as an antenna.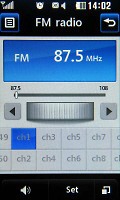 We like the old school skin of the FM radio
The radio stores up to 50 stations and there is support for receiving two-line radio station info over RDS.
Much like with the music player, when you minimize the FM radio you can control it using the home screen widget.