That's a nice camera you have there
The LG GD510 Pop sports a 3 megapixel fixed focus snapper with a maximum image resolution of 2048 x 1536 pixels. It has no flash of any kind, so night photography is not really an option.
Placing the camera lens in the very top corner at the back is somewhat unpractical since your support finger often gets in the way when shooting. But with a handset this slim taking a photo with one hand is also an option.
The LG Pop camera interface is a combination between S-Class and the old LG UI. You can access all camera settings via the left column bar in the viewfinder. There you get virtual buttons for zooming, exposure, shooting mode (single/multiple), full screen/full image plus an advanced settings key. This left toolbar auto hides when not used and you need to tap on the screen to bring it back on.
On the right hand-side of the LG Pop screen is another bar with a virtual shutter key, that also slides up and down to switch between still camera and camcorder. Alongside are the exit and gallery buttons.
This toolbar is fixed and is actually not part of the viewfinder - that's the way to get around the difference between the wide aspect ratio of the screen and the standard 4:3 aspect image sensor. If you don't like that you can opt for the full screen view, where a part of the image does get cropped but you see the center bit in more detail.
The LG Pop image quality is one of the best parts about the camera. Now, since there is no autofocus, we are obviously not talking closeups here but the rest of the photos turn out pretty good.
The images produced by the LG Pop have more than enough detail and noise levels are easily tolerable. There is no over sharpening either. The colors are vibrant and accurate.
The only noticeable problem with the image processing routine is poor representation of the foliage, but it's something we can live with. The camera did exceed our expectations anyway. Check out the camera samples.
Synthetic resolution
We also snapped our resolution chart with the LG GD510 Pop. You can check out what that test is all about here.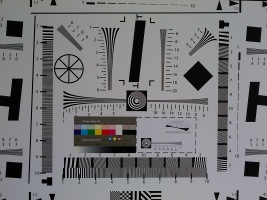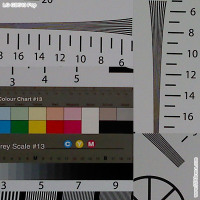 LG GD510 Pop resolution chart photo • 100% crops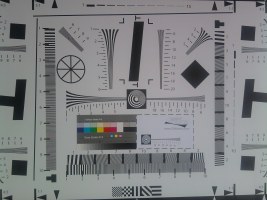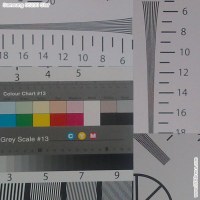 Samsung S5230 Star resolution chart photo • 100% crops
Video recording
As far as video recording is concerned, the handset captures video in up to QVGA resolution at 15 fps. With enough handsets around shooting WVGA@30fps this is hardly a commendable achievement by today's standards.
As we see it, the video recording is only good for MMS purposes, so we won't be publishing a video sample from this one.
Connectivity is hardly up to speed
It's been a surprisingly good overall performance so far but we knew all along the inevitable compromises to keep the Pop's price tag low would eventually shine through. Its connectivity package has none of the high speed wireless data transfer carriers - 3G and Wi-Fi.
It still packs quad-band GSM/GPRS/EDGE support and the other connectivity options include Bluetooth 2.1 with A2DP and USB v2.0.
There are four available USB connection modes on the LG Pop including Mass Storage, which makes both the internal memory and memory card appear as removable drives on your PC.
You can also receive calls when connected in this mode but an incoming call interrupts the connection to the internal memory.
Web browsing is relatively ok
The LG GD510 Pop has a generally nice web browser, with good touch response and a decent amount of features. Zooming and scrolling is fast enough and you can drag pages around with your finger much like you would on every other touch-enabled device.
You can browse web pages with or without the controls visible. A tap on the screen brings back the controls. Zooming in and out is quite intuitive too - a press and hold on a section of a web page will zoom in so it fits on the screen from side to side.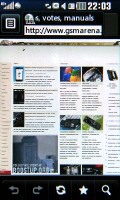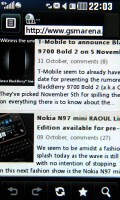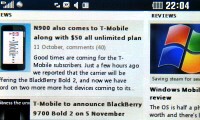 The web browser is really user friendly but lacks Flash support
Flipping the screen landscape is automatic thanks top the built-in accelerometer and it makes browsing even more enjoyable.
If all that is not enough, the browser can work with up to two separate tabs and it can save web pages to be viewed offline. You can also search web pages for specific text strings.
Much like on the recent LG touch phones, the web browser history is quite conveniently displayed as a line of webpage screenshots - you can flip through them and just pick the one you want to open again.
Unfortunately, desktop YouTube watching is a no-go, as the browser lacks full Flash support. You can however go for the streaming mobile version of YouTube at m.youtube.com.