Organizer is dully covered
LG GD510 Pop has a decent set of time-management applications. It's obviously not pitched at business people and its target audience should be quite happy with the features offered.
The Calendar is pretty straightforward, offering monthly, weekly and daily view modes and decently finger-optimized browsing. When you touch on a date, a pop-up appears so you can see what's under the tip of your finger.
You can choose which day should be the first day of the week by default (options are Monday or Sunday). You can also choose the default view - weekly or monthly. Adding one of the three category events (appointment, anniversary, birthday) is as simple as it gets. The LG GD510 Pop can store up to 500 calendar events.
There's a separate To-Do application and it also has room for up to 500 tasks. A Memo feature allows storing some notes (up to 100). Another organizing app is the Date Finder, which can instantly tell you what day of the week any given date will be.
Finally, you can backup your calendar events and to-do's on the memory card and restore them later on if needed.
The Alarm clock has 5 alarm slots available. Each of them can have its own title, trigger time and repeat pattern (snooze time can also be customized), as well as tone and memo.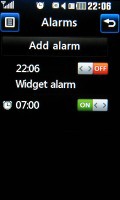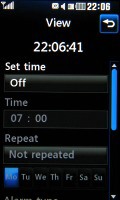 The alarms have a number of customizable options
The other organizing applications on the Pop are calculator, unit converter, stopwatch, world clock and voice recorder.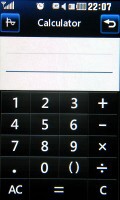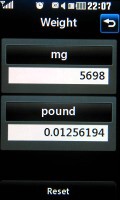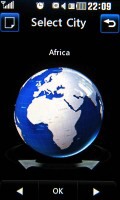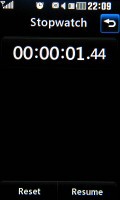 Some of the other time-managing applications
Getting to the applications is easy
The LG GD510 Pop also offers office document viewing. As we managed to confirm, the viewer supports DOC, XLS and PDF files. The phone couldn't handle PowerPoint files however.
Scrolling and zooming in documents is very fast and fluid, except on extremely close zoom levels. This seems to be the case with most LG handsets in fact but we don't think it's that important. No one actually needs to zoom in that close. Text searching is also available.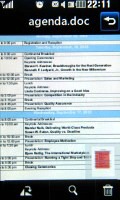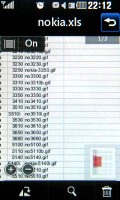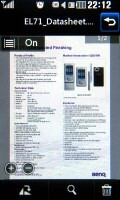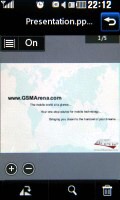 Viewing office documents is available out of the box
You can even view your documents in landscape mode. However the viewer doesn't switch to it automatically when you tilt the handset. Instead you have to press the onscreen virtual key.
In most cases reading your documents in this mode is much more comfortable and natural. The LG Pop doesn't have support for editing documents but let's be honest - no one actually expected it to.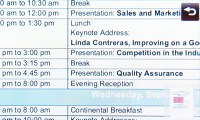 Viewing files in landscape mode is also available
There is also a drawing app where you can draw and save your art.
The Banner app offers various layouts to display some text on the screen and can be used as a screensaver.
The Weight Tracker and Running Mate are meant to help you watch your weight and get exercise, calculating some useful numbers as allowed fats, BMI, speed of your runs, etc.
Mellow Candle and Mind Selector are nothing but pastime gimmicks. Mellow Candle give you a selection of candels, which you can blow off by physically blowing into the phone's microphone. Mind Selector on the other hand is like the a virtual coin flipping - you can check a random Yes/No answer to your ideas or dilemmas.
Finally, the Sound Tuner gives you a collection of ambient sounds featuring twenty different sounds - from natural to urban.