LG at IFA 2014
IFA 2014: LG G3 Stylus, Bello, Fino and G Watch R hands-on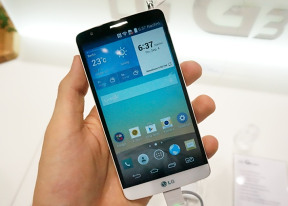 LG G3 Stylus
The LG G3 Stylus takes after the flagship, but the similarities are skin-deep - the internals are completely different. Despite using the popular high-end G3 design with metal chassis and brushed aluminum-like plastic rear, the G3 Stylus is a much more affordable midrange smartphone.
The G3 Stylus packs a 5.5" IPS display of qHD resolution, and while the colors are good, the low 200ppi takes its toll. You can see the individual pixels, the contrast is below average and the brightness is low as well, while with those viewing angles you wouldn't have to worry about your privacy.
The entire front is mostly occupied by the massive display with on-screen controls. The rear panel has LG's innovative control deck below the 13MP camera - a Power/Lock button set within the volume keys.
The plastic stylus, don't get fooled by its metallic looks, is tucked into a compartment at the top of the LG G3 Stylus. It's very easy to pull out, really light and very thin. The G3 Stylus' screen doesn't feature a separate pressure-sensitive digitizer to detect the stylus, in fact it's a regular fancier capacitive pointer that will work on any other capacitive display. It doesn't provide the solid feel the Samsung's S-Pen does, and it has a lot to learn from Samsung's Note exclusive apps. Then again, the LG G3 Stylus isn't a device of such magnitude.
The LG G3 Stylus runs on Android 4.4.2 KitKat with the latest LG launcher, including proprietary features such as the Knock Code, Dual Window, Gesture Shot, Touch & Shoot, among others.
The lower resolution display paired with the quad-core 1.3GHz processor and 1GB of RAM provides a snappy experience. The 8GB of inbuilt storage, if not enough for you, can be expanded via a microSD slot placed below the rear cover.
The LG G3 Stylus is expected to launch by the end of September.