LG at IFA 2014
IFA 2014: LG G3 Stylus, Bello, Fino and G Watch R hands-on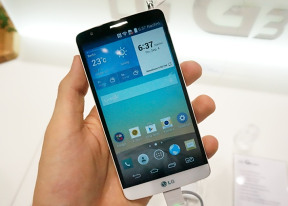 LG G Watch R
Smartwatches are all the rage here at IFA 2014 with Asus, Samsung and Sony splashing big and, keen to get a piece, LG has shown its first rounded smartwatch - the G Watch R.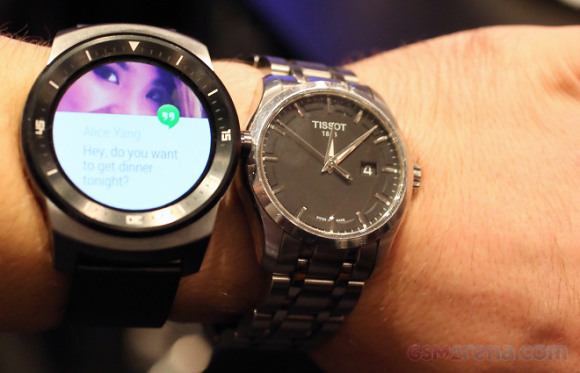 It has a round watch face complete with a 1.3" POLED (plastic organic light-emitting diode) display, a Snapdragon 400 chipset and a battery that will reportedly last a day and a half to two days set to always on.
The 1.3" display has a resolution of 320 x 320px and a resulting density of 245ppi. There's a Snapdragon 400 chipset with 512MB of RAM and IP67 certification for water resistance and dust proofing. The LG G Watch R is powered by a 410mAh battery.
The watch comes in two color schemes - with a silver and black steel trim around the display. The watch feels very light for its robust looks. The side-mounted button has a half press and full press functionality - half press shows the homescreen while full press brings up the settings menu. Under the home button lies a microphone for voice commands.
The watch itself feels very nice and is crafted to precision. The calf-leather strap is a standard 22mm, meaning you can replace it with a third party strap.
The display itself has the great characteristics of OLED technology with deep blacks, great contrast, very good viewing angles and punchy saturated colors. It's quite power-efficient too. The resolution is more than adequate on the LG G Watch R, especially when you're viewing the display at an arms length. OLED is also good outdoors thanks to its low reflectivity but it remains to be seen how the G Watch R will fare.
LG has made 9 watch faces for the G Watch R but we're guessing more will make it to the device sooner or later. We like the designs - all of them are pretty classy and sophisticated. The LG G Watch R will default to its watch face within 5 seconds of non-use.
On the bottom of the LG G Watch R there is a heartrate sensor as well, which is always in contact with your skin.
Overall, the LG G Watch R is one of the best smartwatches we've seen so far. It looks great and is made with attention to detail.