LG at IFA 2014
IFA 2014: LG G3 Stylus, Bello, Fino and G Watch R hands-on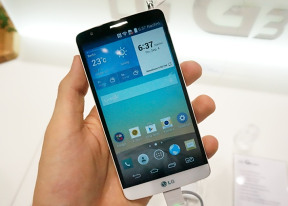 LG L Bello
The LG L Bello is the bigger 5" smartphone of the new affordable pair. It looks a lot like the LG G3 and G3 Stylus over at the back with the plastic there mimicking a brushed aluminum plate. But don't be fooled, there is no metal on the L Bello - everything is made entirely of plastic.
The LG G Bello features a 5" IPS display of FWVGA resolution (that's 480 x 854px), which isn't a great achievement at an underwhelming 196ppi. Unlike the G3 Stylus, whose name has a premium ring to it, we didn't have high expectations for the LG L Bello. The colors are good, while the contrast and brightness levels are just average.
The LG L Bello also has its hardware control deck at the back, below the 8MP rear camera. You can use the Lock key at the back, or you can knock on the display for lock/unlock if you like. The cool Knock Code is available on the LG G Bello, too.
The LG L Bello runs on a quad-core 1.3GHz processor with 1GB of RAM, enough to perfectly handle the snappy Android 4.4.2 KitKat OS. It also offers 8GB of internal storage, expandable via a microSD card slot hidden below the rear cover.
LG L Bello should launch worldwide any moment now.
LG L Fino
The LG L Fino is the smallest smartphone LG brought to IFA. It features a 4.5" IPS display of WVGA resolution, resulting in 207ppi. It has a quad-core processor too, clocked at 1.2GHz and paired with 1GB of RAM. The Android version is again KitKat and it looks well-behaved on such an affordable device.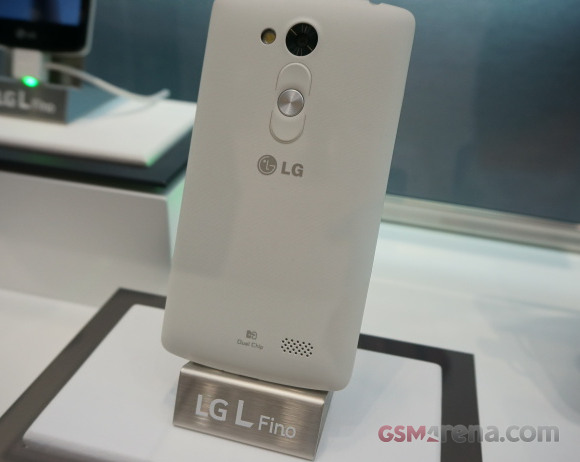 The LG L Fino is made entirely of plastic, with quite cheap-looking glossy rear cover that is prone to fingerprints and not so easy to clean.
the LG L Fino's control deck is also on the back, just below its 8MP camera lens. It doesn't look as cool as the controls on the LG G3, G3 Stylus or L Bello, but it does the same job. Plus, the proprietary tap to unlock and Knock Code are available as well.
The LG L Fino has the smallest battery among the three smartphones - a 1,900mAh unit compared to the 2,540mAh of the L Bello and the 3,000mAh of the G Stylus. Still, it should be enough for a 4.5" device.
Finally, the LG L Fino comes with 4GB of inbuilt storage, expandable via a microSD slot. It should launch any moment now (if it hasn't already) in various markets.