Portrait of a high-flyer
LG KC910 Renoir review: Portrait of a high-flyer

Phonebook is the usual good quality stuff
The phonebook capacity offered by the LG Renoir is up to 1000 contacts (2000 on the Pixon), each with its own set of details. You can organize your contacts into caller groups, and you can also assign them a personal picture and a ringtone.
There is a bunch of available fields for each contact on your list - you start off with twelve fields, but once you enter a number, an additional number field becomes available. The same goes for email, etc.
You can also add a note to a contact and when you enter the birthday field, you can also have the phone save the date as a reminder to the calendar (unlike the Pixon).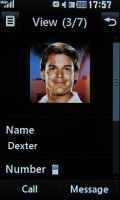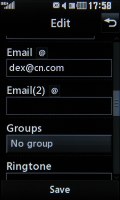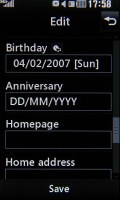 Viewing a contact • editing a contact
Scrolling the contacts list is fluid and friendly. In fact, LG have done a great job with scrolling throughout the user interface so it's almost as enjoyable as on the iPhone. By the way, scrolling is equally nice on the Samsung Pixon.
If you don't want to go through all the contacts for reaching those which start with "Z" for example, you can either use the search box at the top or you can drag the side scrollbar, which allows you to jump letters alphabetically (just as on the Pixon).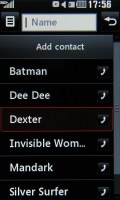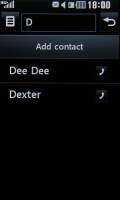 The contacts list • there's a search box on top
You can opt for displaying the SIM and phone contacts separately, as well as together in a single list.
Excellent telephony
LG Renoir handles phone calls trouble-free, as you have every right to expect. The phone dialer works with an on-screen numeric keypad - the QWERTY one is quite naturally not available.
There is Smart Dialing, which the competing Samsung Pixon doesn't have, and Speed dial is supported. When you hit a key, which has been assigned, you get hinted of the contact in question.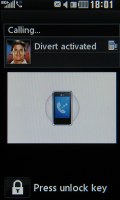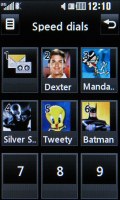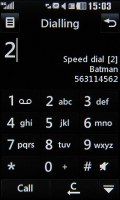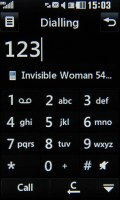 Dialing Dexter • the Speed dial screen • the Speed Dial hint • Smart Dialing is on board
As with any LG handset - the green receiver key takes you to the list of all calls. You can access them from the main menu too, but unlike the previous LG handsets, you won't find call time counters and the web data counter here. Those are moved to the Call settings menu.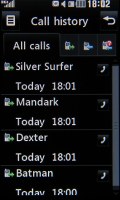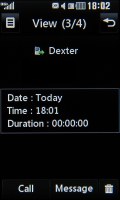 The All Calls list • viewing a specific call details
The LG Renoir scored a Good mark in our loudspeaker performance test. While it is somewhat louder when using its music player, you may miss a call or two in noisy streets.
Here is how the Renoir stacks against some other handsets we've tested. More info on our test can be found here.
| | | | | |
| --- | --- | --- | --- | --- |
| Speakerphone test | Voice, dB | Pink noise/ Music, dB | Ringing phone, dB | Overall score |
| Apple iPhone 3G | 66.1 | 62.1 | 71.7 | Below Average |
| LG KC910 Renoir | 71.9 | 65.6 | 72.0 | Good |
| Samsung F480 Tocco | 66.3 | 66.6 | 75.7 | Good |
| LG KU990 Viewty | 72.0 | 68.8 | 77.8 | Good |
| Samsung M8800 Pixon | 75.7 | 69.6 | 82.1 | Very Good |
| HTC Touch HD | 77.7 | 73.7 | 76.7 | Excellent |
Messaging is intuitive
The LG Renoir supports sending and receiving SMS, MMS, and email messages. Much like the Viewty, SMS and MMS share the same editor.
For typing you can use either the multi-tap alphanumeric keyboard, or you can rotate the Renoir and go for the landscape QWERTY one. There is touch feedback either way, and typing seems accurate even if the QWERTY keyboard is a little crammed up leaving buttons quite small. The Samsung Pixon QWERTY keyboard is a bit more spacey.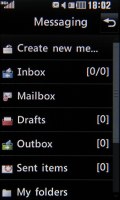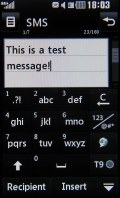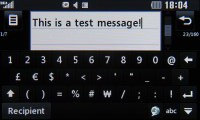 The messaging menu • creating an SMS • toggling between multi-tap and QWERTY is easy
There is also handwriting recognition (three types of it actually) if you feel like using the stylus dongle supplied with the handset.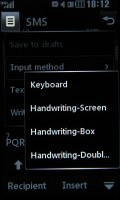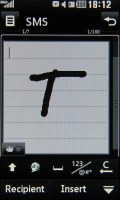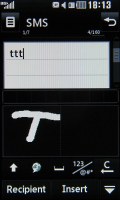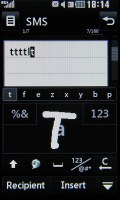 There are three types of handwriting recognition and all work quite well
When it comes to emails, the LG Renoir deals with them hasslefree. Setting up an email account is a breeze thanks to the clever setup scheme. For a Gmail account for example, all we had to do was fill in the account and password fields - the connection settings were retrieved automatically.
In case you have to setup your email account manually, there is a host of settings that you need to enter. Both POP3 and IMAP4 protocols are supported. You can set the handset to auto retrieve new mail at a preset interval with a dedicated setting for roaming. The email client supports SSL too.
The maximum attachment size for outgoing mail is now 2MB instead of the 300KB in previous models, but the maximum size of incoming mail attachments is still 300KB. The sending limit of 2MB would allow most 8 megapixel images from the camera to be sent via email but the 300KB limit on incoming emails is quite impractical. The Samsung Pixon for example, will accept up to 5MB.
Quite naturally, archive files such as ZIP or RAR are not among the supported file types for attachments, but still you can save those to the phone memory when you receive them. MS Office and PDF files can be opened and previewed directly inside the email client.
Once you've downloaded your messages, you can use the search feature to find specific emails or you can sort them by various filters such as date, sender, priority, read/unread, subject, size, etc. There is also an option for setting multiple emails as "Read".