Portrait of a high-flyer
LG KC910 Renoir review: Portrait of a high-flyer

Superb multimedia performance
LG Renoir comes with 100MB of internal memory much like the Viewty and of course it's expandable via the microSD memory card slot. Hot-swapping a memory card is easy. We can also confirm that 8GB microSD cards worked fine on our unit. Some users claim that 16GB cards are handled trouble-free too, but we haven't tested that out.
File browsing is generally fast but when you have a memory card inserted, each time you open the file browser it needs to refresh the image thumbnails. If you have a lot of images it can really get annoying, as the whole thing will take up to a good 5 seconds. Other than that there are no noticeable lags in file browsing.
Another drawback is that no matter what file sorting you opt for (date, type, name), the files on the memory card always get listed first. While that doesn't sound like a big deal, it should have been up to the user to decide, not software engineers.
The LG Renoir file manager appears as the My stuff item in the menu. It includes separate factory-preset folders for different file content. The Renoir had no problem reading custom folders off the memory card, unlike some midrange LG phones.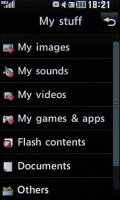 The file manager • peeking in the Documents folder
Image gallery
LG have vastly improved their image gallery with the LG Renoir and now it offers a great touch experience. Flicking through images feels so natural, this may as well be the first time we see a manufacturer get it fluid enough to compete with the Apple iPhone.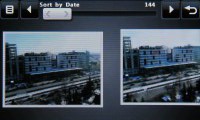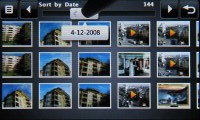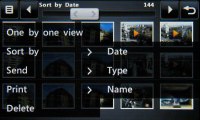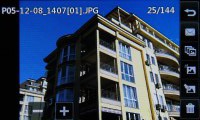 Flicking through the image gallery
You can check your photos straight from the file manager or you can start the dedicated gallery where larger thumbnails are available. Still, the viewer for single images is one and the same for both methods.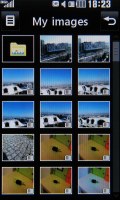 Viewing photos from the file manager
You can browse images in portrait or landscape mode just by changing the orientation of the handset itself. Unfortunately, zooming on an image is a bit slow and works in quite small steps.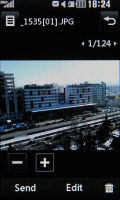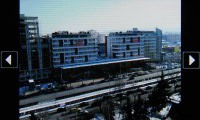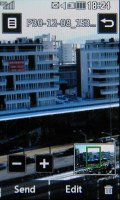 Browsing images is effortless in both portrait and landscape • zooming in
LG Renoir also has an image editor, which offers a wide range of options. First off, you get a creative part that allows finger drawing on images, text typing, clipart watermarking, face morphing, selective colorization, and selective color boosting.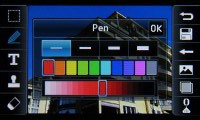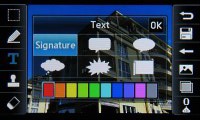 The "creative" part of the Image editor
Then you have options for basic image treatment tools such as rotate, resize and mirror, as well as more advanced photo editing options such as levels, brightness, contrast, color, hue and saturation, sharpness, blur. Red-eye removal is also available.
And finally, you can add color effects such as black & white, sepia, negative, glow, etc. An extra feature to the image editor is Face beautify, which softens skin and enhances skin tones. However, it doesn't really function as well as claimed, and we had several instances of enhancements being applied to only parts of the subject's face resulting in rather ugly transitions.
Another enhancement that's not available in the feature-rich editor but can be applied in the file browser (strange, isn't it), is the Smart Light enhancement, pioneered on the LG Viewty, which ups the exposure of photos taken in dim light.
Overall, despite the rich features of the editor, we think it scores low on usability. The different options are inconsistently spread through various menus. Nevertheless, we highly doubt that most users will edit photos on their mobiles anyway.
Music player
The Renoir has the same Music player as LG Viewty. You can filter tracks as with any other up to date music player - by artist, album, genre, and recently played. User-created playlists are also an option.
Naturally, the music player can run in the background. If you want you can control the music straight on the home screen with the dedicated widget.
There are still no equalizer settings, but there is Dolby for Mobile sound enhancement, which does seem to make a difference.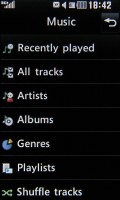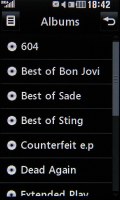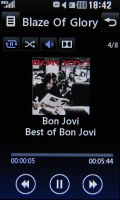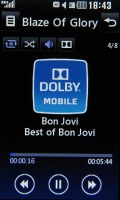 The music player is excellent and there is now Dolby sound enhancement but still no equalizer presets
When it comes to visualizations, the music player offers a choice of either Album art or random animations.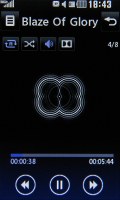 One of the generic animated graphics of the music player
Unfortunately, we couldn't run our usual audio quality test on the Renoir, since some technical glitch rendered our unit impossible to analyze. Perhaps, we'll be able to update as soon as we get hold of another unit.
FM radio
The Renoir comes with FM radio and you can enjoy it on either earphones or through the loudspeaker. In either case you've got to have the earphones plugged in as they serve as an antenna.
The radio stores up to 50 stations and there is support for receiving two-line radio station info over RDS.
Much like with the music player, when the FM radio is running in the background you can control it using the home screen widget.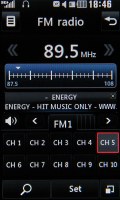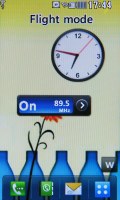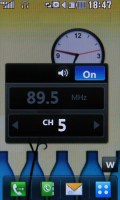 FM radio has 50 stations worth of memory slots • you can control it straight from the home screen too
Video player
The LG Renoir video player is among the most attractive features of the handset due to the still not so common DivX and XviD support.
It successfully played every DivX and XviD movie we threw at it. In comparison, the Samsung Pixon, which also has DivX and XviD support, didn't manage to play all of the test videos due to unsupported resolution or bitrate.
Thanks to the widescreen display, wide aspect videos are a treat in fullscreen landscape mode. The semi-transparent control overlays disappear in a few seconds so they don't get in the way.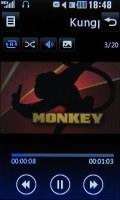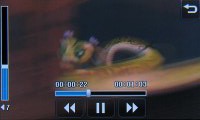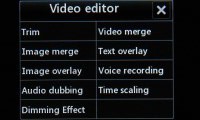 Video player: portrait and landscape mode • there is an elaborate video editor too
As an additional feature you can take screenshots from the video you're watching, and you can also upload any video directly to YouTube.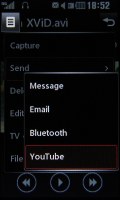 The YouTube video upload feature is to be found only in the video player
Unfortunately, the much promoted Dolby for Mobile sound enhancement is not available to videos - you can make use of that in the music player only.
Videos can also be streamed to an external display thanks to the TV out port but, as usual, the TV out cable is sold separately.
Online video
The Renoir comes with YouTube integration alright. You can upload videos to YouTube directly from the handset. Bear in mind that the option is available only in the video player, and not in the file manager.
Unfortunately, the LG Renoir web browser doesn't have Flash support, so watching YouTube videos from the desktop version of the web site is a no-go. The same holds true for the Samsung Pixon too.
The only way to watch your favorite videos is via the mobile version of YouTube.com where videos get streamed in 3GP format over the RTSP protocol. If that's more mumbo-jumbo than you can handle, here's what it means.
The mobile version of YouTube found at m.youtube.com gets you access to the same videos as the desktop version, however they are of inferior in quality so that they can be played over the wireless carrier network - EDGE or UMTS.
Strange as it may seem, the LG Renoir would allow you to watch streaming media (of any type) only over that EDGE or UMTS connection, so in essence - you cannot watch the streaming mobile YouTube videos over Wi-Fi. A real bummer, we know.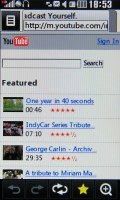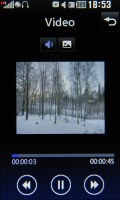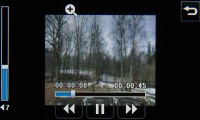 Watching streaming YouTube content, unfortunately not over Wi-Fi
And since we've noticed a lot of users not realizing this fact, here's a tip for you - to watch streaming videos (such as YouTube) you first need to setup the streaming settings of the phone to use the same internet profile as your mobile web browser. The place you do that is in Settings tab>Connectivity> Streaming settings.
In case you have no Internet profile setup at all, you need to define an access point (enter the carrier settings) and then you'd have to create an Internet profile that uses this access point. After you're done, just go and setup the Streaming options to use that same Internet profile. You can use the same one for the web browser, too.
Well, that should be enough to get you started.