Portrait of a high-flyer
LG KC910 Renoir review: Portrait of a high-flyer

Connectivity is in the fast lane
The LG Renoir features quad-band GSM/GPRS/EDGE support plus dual-band HSDPA 7.2Mbps - or at least that's what the manufacturer claims. There seems to be a lot of commotion about the supposed quad-band support of the Renoir. Many users (especially in the US) order the device online only to find that the shipped product is tri-band (stated right on the very box).
So far there's no official statement on the matter by LG, so we guess this discrepancy has something to do with some regional versions of the Renoir not being quad-band.
The other connectivity options of the Renoir include Bluetooth 2.0 with A2DP support for channeling music to a stereo Bluetooth headset.
USB Mass Storage mode is also on board. Much like the Viewty, when you connect the Renoir to a computer you only have the memory card appearing as a removable drive, and the internal memory is not accessible.
In order to access it, you'll need to install the proprietary LG PC Suite that's also used for syncing your handset PIM details with the computer.
The very same USB port is also used for pairing the handset with a TV set if you have the optional TV cable.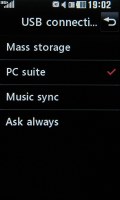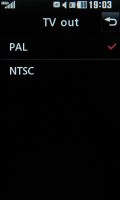 Picking up USB connectivity and TV-out modes
Finally, you can also plug in the headphones stereo adapter supplied in the retail package. The adapter ends on a 3.5mm audio jack so your favorite headphones are compatible with the Renoir.
Web browsing is good enough
The Renoir has a generally nice web browser, which seems more responsive than the one on the Samsung Pixon. Scrolling is fast enough and you can drag pages around with your finger much like you would on an iPhone.
You can browse web pages with or without controls visible. A tap on the screen brings back the controls.
Zooming in and out is quite intuitive too - a longer hold on a section of a web page will zoom in so it fits on the screen from side to side.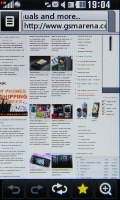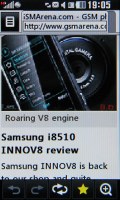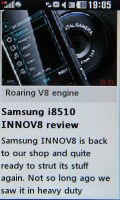 Opening GSMArena.com in normal and fullscreen mode mode
Flipping the screen landscape is automatic thanks top the built-in accelerometer and it makes browsing even more enjoyable.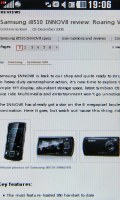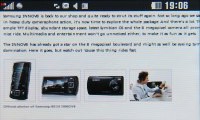 The landscape mode is fullscreen by default
If all that is not enough, the browser can work with up to two separate tabs and it can save web pages to be viewed offline. You can also search web pages for specific text strings.
Interestingly the web browser history is quite conveniently displayed as a line of webpage screenshots - you can flick through them and just pick the one you want to open again.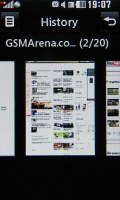 The web browser history is nice to work with - you can flick through all the pages you've visited
Unfortunately, desktop YouTube watching is a no-go, as the browser lacks full Flash support. But, as we already pointed out in the multimedia section of this review, you can go for the mobile version of YouTube found at m.youtube.com once you setup your streaming settings.
We also got to point out that the free Opera Mini web browser that we installed additionally on the Renoir is noticeably faster at loading web pages and is more responsive to your touch.
Heavy duty organizer
The Calendar is pretty straightforward, it offers a monthly and a weekly view, and you can browse dates with your finger. When you touch on a date, a pop-up appears so you can see what's under the tip of your finger.
Just as the Viewty, you can choose which day should be the first day of the week by default. You can also choose the default view - weekly or monthly. Adding an event is made really simple. You can have up to 500 calendar events (300 on the Pixon).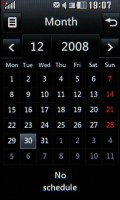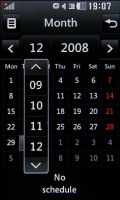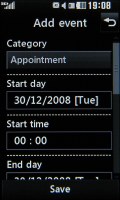 The month view • changing dates is simple • adding an event
There's a separate To-Do application and it also stores up to 500 tasks. There is a Memo feature that allows storing some notes (up to 50). Another organizing app is the Date Finder - it's simple stuff like "Let's see what date will it be five days from now!"
Additionally, you can backup your calendar events and to-do's on the memory card, and restore them later on if necessary.
The Alarm clock has 5 alarm slots available. The LG Renoir also offers a Calculator, Unit converter, World clock and a Voice recorder. Once you record a voice note, you can send it via MMS, email or Bluetooth.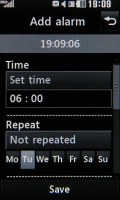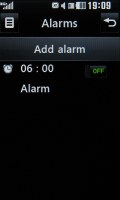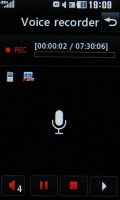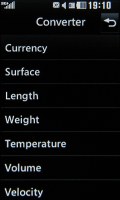 Alarms list • setting up an alarm • the voice recorder • the unit converter