Good music player
The music player of LG KF510 performs nicely. It sorts tracks by three different criteria - artist, album and genre. You can also create your own playlist if you like. The player also has nice visualization with equalizer bars interacting with the current track.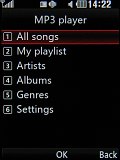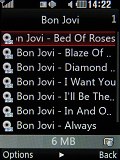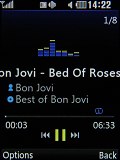 Music player offers nice visualization
There are as many as 10 equalizer presets on LG KF510. Unluckily, neither can they be modified, nor new ones created.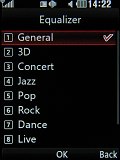 Some of the available equalizer presets
In case the preloaded tracks on your LG KF510 are no longer entertaining, you can turn the radio on. The FM radio interface is rather simplified and generally very easy to work with. There is an auto scan feature that locates every radio station in your area and offers to save it. We would have appreciated RDS but it's not an option with the KF510.
The video player was one of the most disappointing parts of LG KF510. It had no support for mpeg video clips, which was quite a bad surprise to us. The handset can only play 3gp videos, which are currently used only in MMS messages.
Update: As users inform us, the retail version of LG KF510 is able to play MPEG4 videos, so as it seems LG have managed to fix that.
Videos can be played fullscreen with the labels of the selection keys hidden to make the whole display usable. With the nice user interface, it is a real pity the format support is so limited. If LG come round to fixing that in the retail version it would make a huge difference.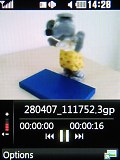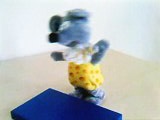 Video player was largely disappointing
File manager is a real downer, still better than KF600
File management in LG KF510 is terrible. It is not as bad as the LG KF600, which could hardly handle any user-created folders but is still annoying enough. Basically you will need to place every file in its designated folder if you want to use it.
With the KF510 we had various results when we misplaced some files. Once it did reorder the whole memory card, putting every file in a directory suiting its type. While this might not sound bad at first, as those files are still usable, it made a real mess of our memory card folder structure. The files were all heaped in a single folder and we could hardly sort them properly when we put the card in a card-reader to work with on a pc.
At least, the fact that the memory card is hot-swappable improves the situation. It is easier to correct any mistakes you have made uploading files to your memory card. We do however think that users shouldn't be forced to do that at all.
Pleasing gallery
The gallery of LG KF510 really scores a point for the handset. It is accessed through the My stuff icon in the main menu and offers two view modes. The thumbnail view can show 9 thumbs at a time, while the list view can fit only 7 items on the screen. No wonder we preferred the first one, is there?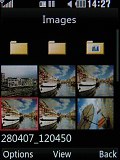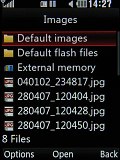 The two available gallery view modes
Single pictures can be viewed in both landscape and portrait mode and can also be displayed fullscreen. You can also zoom in to see further detail. Be warned that the first zooming step is a little slow. However the following zoom steps complete in an instant and panning is also very fast. Here might just be the place to mention that as a whole the multimedia performance of LG KF510 is really satisfying in terms of speed.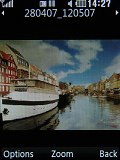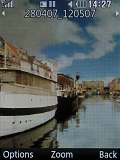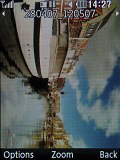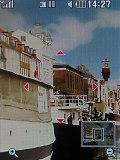 Three view modes are available when looking at a single picture • Zooming in on a photo
The touch pad is also enhancing the gallery experience greatly. When you zoom in on a picture you can use it for quick panning and it really works great. Sweeping your thumb across will move the selection grid quickly, while single taps will pan and scroll in small steps. It might not be as good as the InteractPad on KF600, which also displayed a mini-map of the picture, but is more than adequate.
The final extras of the gallery include picture sorting (by name, date or type) and slide show, along with deleting multiple files at a time. Truth be told, we aren't particularly fond of the slide show capabilities of LG handsets at this point.