Messenger wears Prada
LG KF900 Prada review: Messenger wears Prada

Amazing messaging, not so email client
The Prada supports sending and receiving SMS, MMS, and email messages. Much like the Viewty and Renoir, SMS and MMS share the same editor but the Prada lacks certain features such as the onscreen QWERTY (you do have a hardware one to compensate).
For typing you can use either the virtual multi-tap alphanumeric keyboard, or you can rotate the Prada and use the hardware QWERTY. As you might guess, typing with the QWERTY keyboard is very fast and easy and we highly recommend it. The buttons are bigger than on the XPERIA and much more comfortable.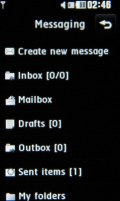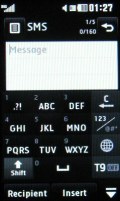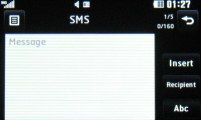 The messaging menu • creating an SMS
The only input methods missing here are handwriting recognition and an on-screen QWERTY keyboard, but we can't imagine anyone would need them with these great physical keys.
When it comes to emails, the LG Prada deals with them hassle free. Setting up an email account (one or more) is a breeze thanks to the clever setup scheme. For a Gmail account for example, all we had to do was fill in the account and password fields - the connection settings were retrieved automatically.
In case you have to setup your email account manually, there are a host of settings that you are able to enter. You can set the handset to auto retrieve new mail at a preset interval with a dedicated setting for roaming. Both POP3 and IMAP4 protocols are supported and the email client supports SSL too.
Unfortunately, there is no option for configuring the sending limit and the default size is 1MB, meaning you can't even send most of the images taken with its five-megapixel camera. The size limit on the LG Renoir is 2MB, easily enough to send any images taken with its 8 megapixel camera.
Quite naturally, archive files such as ZIP or RAR are not among the supported file types for attachments, but still you can save those to the phone memory when you receive them. MS Office and PDF files can be opened and viewed directly inside the email client.
Once you've downloaded your messages, you can use the search feature to find specific emails or you can sort them by various filters such as date, sender, priority, read/unread, subject, size, etc. There is also an option for setting multiple emails as "Read".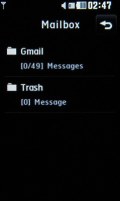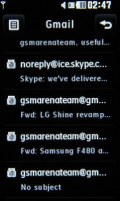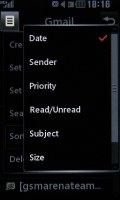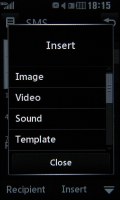 Email inbox • sorting mail • attaching some files
The multimedia performance is good
The LG Prada 2 comes with 60MB of internal memory and of course it's expandable via the microSD memory card slot. Hot-swapping a memory card is easy. We can also confirm that 8GB and 16GB microSD cards worked fine on our unit.
File browsing is generally fast but when you have a memory card inserted, each time you open the file browser it refreshes the image thumbnails automatically. If you have a lot of images (800+ in our case) it can really get annoying as the whole thing can take up to a good 15-20 seconds to load.
Another bad impression is left when the half or nearly full memory cards holds a variety of different files. Then, opening the memory card or even listing files in the main folders may take more than 20-30 seconds.
If you don't use external memory or the card isn't full, you won't notice any serious lag while file browsing.
Another drawback is that no matter what file sorting you opt for (date, type, name), the files on the memory card always get listed first. While that doesn't sound like a big deal, it should have been up to the user to decide, not software engineers.
The LG KF900 Prada file manager appears as the My Stuff item in the menu. It includes separate factory-preset folders for different file content. The Prada had no problem reading custom folders off the memory card, unlike some midrange LG phones.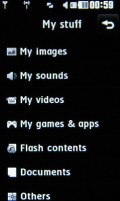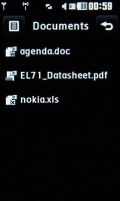 The file manager • peeking in the Documents folder
Image gallery - just like the iPhone one
LG have vastly improved their image gallery with the LG Renoir and that holds true for the new Prada phone as well. It offers a great touch experience and flicking through images feels so natural that it's the first time we've seen a phone handle picture-viewing as smoothly as the Apple iPhone.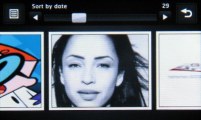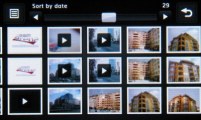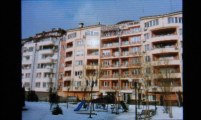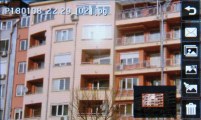 Flicking through the image gallery
You can browse images in portrait or landscape mode just by changing the orientation of the handset itself. Zooming images is easy because of the multi-touch support. It only takes a pinch (much like on the Apple iPhone) to zoom in on a photo. The reverse gesture zooms out. You can see it demonstrated in the short video we've posted on page 3.
Unfortunately sometimes the software completely misinterprets your gesture - small zoom levels are taken for high or the vice-versa. This is a problem that persists in the browser too.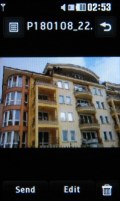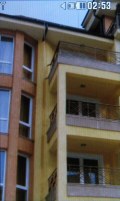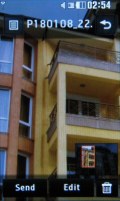 Browsing images is effortless • zooming in
LG KF900 Prada also has an image editor that offers a wide range of options. First off, you get a creative part that allows finger drawing on images, text typing, clipart watermarking, face morphing, selective colorization, and selective color boosting.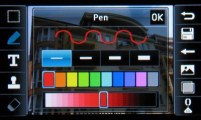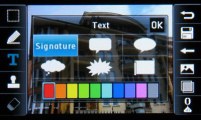 The "creative" part of the Image editor
Then you have options for basic image treatment tools such as rotate, resize and mirror, as well as more advanced photo editing options such as levels, brightness, contrast, color, hue and saturation, sharpness and blur. Red-eye removal is also available.
And finally, you can add color effects such as black & white, sepia, negative, glow, etc. An extra feature to the image editor is Face beautify, which softens skin and enhances skin tones. However, it doesn't really function as well as claimed, and we had several instances of enhancements being applied to only parts of the subject's face resulting in rather ugly contrasts.
Another enhancement that's not available in the feature-rich editor but can be applied in the file browser (strange, isn't it?), is an enhancement pioneered on the LG Viewty called Smart Light, which ups the exposure of photos taken in dim light.
Overall, despite the rich features of the editor, we think it scores low on usability since the different options are inconsistently spread through various menus. Nevertheless, we highly doubt that most users will edit photos on their mobiles anyway.