Social integration
There are no dedicated Facebook, Twitter or MySpace apps preinstalled. There is also no dedicated one-stop facility, like in previous Gingerbread versions of the OS with the Social+ widget. The L7 does come with the Google+ and Messenger apps, so you're covered right off the bat. Google+ lets you view trending profiles, as well as feeds from all your circles, while the messenger app lets you quickly chat with any of your Google+ contacts.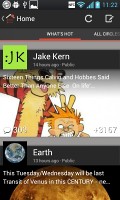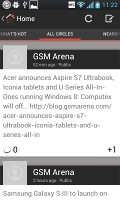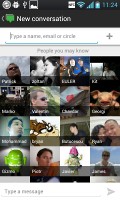 The Google+ and messenger apps
Of course, while they do not come with the phone, you can always download the official Facebook and Twitter apps from the app marketplace.
The Google Play market
The Google Play app market, previously known as the Android Market, lets you download various apps for your device. Upon launch of the Market app you're greeted with the tiled interface of the Featured window. A swipe to the right takes you to the Categories view.
Swiping to the left takes you through Top Paid, Top Free, Top Grossing, Top New Paid, Top New Free and Trending (the ones with growing popularity). New sections are available such as Staff Picks, Editor's Choice and more.
Downloads are easy and won't take more than a couple of seconds. Before you agree to download an app, the Market will show you what features the app requires access to (e.g. Internet connectivity, access to the file system, etc.). You can also see if updates are available for your currently installed apps by going to My Apps in the contextual menu.
The LG SmartWorld app store is also on board. It's similar to the SamsungApps market - there you can find lots of free content and promotions exclusive for LG users.
Google Maps and Navigation (where available)
The LG Optimus L7 managed to get a GPS lock in about two minutes without A-GPS. A-GPS can speed up the lock (but it involves data traffic). Cell-ID and Wi-Fi positioning are also available if all you need is a rough location, but they need a data connection too.
Google Maps is a standard part of the Android package and we've covered it many times before. It offers voice-guided navigation in certain countries and falls back to a list of instructions elsewhere. You can plan routes, search for nearby POI and go into the always cool Street View.
The latest version uses vector maps, which are very data efficient and easy to cache. The app will reroute you if you get off course, even without a data connection.
3D buildings are shown for some of the bigger cities and you can use two-finger camera tilt and rotate to get a better view of the area.