A good web browser, but no real Flash support
Ever since Gingerbread, the Android browser has been one of the best available on a mobile device. On a large screen, like the 4.3" unit of the L7, one would expect pretty good browsing experience, but the single-core chipset really drags it down.
The user interface is completely minimalist (it's the Google way). All you get on the screen is an address bar on top and a control bar at the bottom (with options hidden by default). The address bar is placed on top of the page, so scrolling down moves it out of view. The bottom control bar houses the back and forward keys, zoom shortcut, and the new window and bookmarks keys.
The browser offers the ability to save a cached copy of any page you're currently browsing onto your phone. If you choose a website and go to 'save for offline reading', you can then open it from the Saved section of your bookmarks, even when you're no longer connected to the internet. This is great for long articles, as you can save them for those times when you don't have web access.
The Optimus L7 supports double tap zoom and pinch zoom. There's text reflow too - it adjusts the columns of text to fit the screen width. If you've pinched to zoom in, you need to double tap the screen to make the browser reflow the text.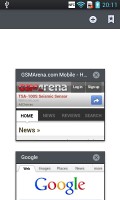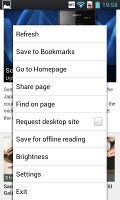 The tabs browser • Additional browser settings
The bookmark list shows a thumbnail of the bookmarked page and you also get a history section in addition to the Saved pages list.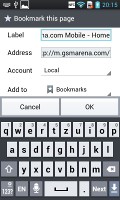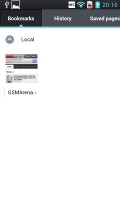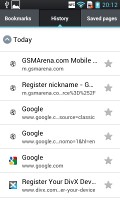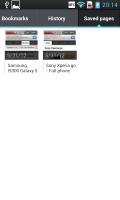 Creating a book mark* The History section • Saved pages for offline reading
The browsing experience is decent, but the lag is really too much at times. The 4.3" WVGA screen offers plenty of room even for elaborate web pages, but if you aren't of the patient kind you might want to take your business elsewhere . Text remains crisp regardless of zoom level, although we ran into a bug where the browser would squish certain paragraphs in anticipation of a zoomed view.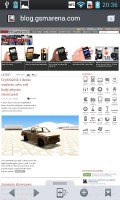 The browser sometimes formats text incorrectly
The browser displays Flash-based ads without a hitch. Flash-enabled games and non-YouTube videos are a different story, however, as they simply will not run. Even installing the official Flash plugin from the Play Store did not help - LG have not implemented full Flash support either because the 1Ghz processor will not run it smoothly, or they simply couldn't figure out how to do it in ICS. This might be fixed with an upcoming Android update, but knowing LG's track record in that area, we won't hold our breath.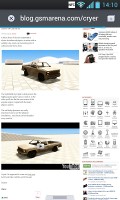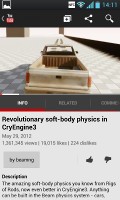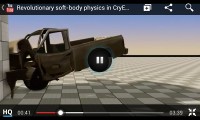 YouTube videos show up, but only open in the separate YouTube app