Gallery has no changes
The LG Prada 3.0 uses the standard Android gallery. The gallery automatically locates the images and videos no matter where they are stored. It also boasts cool 3D effects and transitions, which we find rather attractive.
Images and videos placed in different folders appear in different sub-galleries that automatically get the name of the folder, which is very convenient - just like a file manager.
The different albums appear as piles of photos, which fall in neat grids once selected.
Alternatively, you photos can be organized by date with the help of a button in the top right corner, which switches between grid and timeline view. In grid view, there's a date slider, which can also be used to find photos taken on a certain date.
The pinch zooming is also available but you can also use double tap or even the +/- virtual buttons.
There are tons of options for a picture - you can crop or rotate it directly in the gallery. The Send feature offers quick sharing via Facebook, Twitter, Picasa, Email apps, SmartShate app or Bluetooth.
The Gallery app displays the images in full resolution unlike many droids. Zooming and panning is fast and smooth and there's absolutely no lag in doing it.
Eye-candy music player
The music looks familiar but got the new black and white treatment as well. It can do the usual filtering by album and artist and you have alphabet search and regular search for finding songs quicker.
Flipping the phone on its side reveals a cool 3D wall of all the albums you have in your music collection. Tap on an album and you'll see a list of all songs from it. There's an alphabet scroll at the bottom of the screen to make finding albums faster.
The Now playing interface places a big album art image in the center with controls above and below it.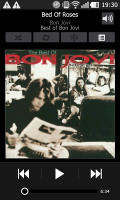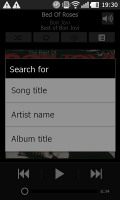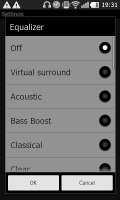 The Now Playing screen • Equalizers
Swiping the album art left or right is the easiest way to skip a song or go back to the previous one.
A press and hold on the album art will bring up a menu to search - for the title, the artist or the album title. After that you can pick where to search - your music collection, YouTube or a general Internet search.
There are equalizer presets available including a Virtual surround option, which works even without headphones, but the effect doesn't do much without them.
Also when you're playing a song it gets displayed in the notification area. You can also pause and change tracks.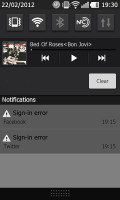 The music controls in the notification area
FM Radio, but no RDS
If you get tired of your music collection, there's an FM radio in the LG Prada 3.0. It can play over the headphones or the loudspeaker, but the headphones need to be plugged-in either way (they act as an antenna). There is no RDS support though.
One of the best video players up to date
The video player has a fairly simple interface - it's just a list of all the videos on the devices. There's an alphabet scroll to help users locate videos faster but that's about it. You can of course play videos from the Gallery if you prefer its folder-centric organization.
The interface during playback is nothing overcomplicated either - there's the scrubber (you can change it to a thumbnail bar) to skip to some part of the video along with the play/pause button and next and previous buttons.
Two more buttons are available on the screen - one toggles cropping (i.e. fit video to screen, or crop it to fill the entire screen) and the other activates the Virtual surround.
The LG Prada 3.0 handled just about every video file we threw at it - the usual 3GP and MP4 stuff along with MKV, WMV and AVIs using DivX and XviD. All 1080p videos we threw at it were not a problem either.
Subtitles worked fine too, with settings for color, font and size. You can toggle subtitles on and off, but there's no option to manually point to a subtitles file, so the subtitle filename has to match the video filename. We tried a few type of non-English and non-Latin subtitles and they were all handled properly. Good job, LG!
Audio output is great for the most part
The LG Prada 3.0 is a high-end smartphone and as such it would have no excuse, had it failed to impress in our audio quality test. Luckily that wasn't the case and the fashion-minded device did quite well in most parts of the test. It's not the best we have seen, but it's good enough for everybody, but the most demanding audiophiles.
When connected to an active external amplifier, the LG Prada 3.0 got some pretty impressive scores for dynamic range, distortion levels, stereo crosstalk and signal-to-noise ratio. Its frequency response is spot on for the most part with only a small drop to be noticed in the extremely high frequencies.
The most unpleasant effect of connecting a pair of headphones to the Prada 3.0 is the huge increase in stereo crosstalk. Its really among the worst performances we have seen in that aspect, but the rest of the readings remain great, so overall it's not too terrible.
Check out the table and see for yourself.
| | | | | | | |
| --- | --- | --- | --- | --- | --- | --- |
| Test | Frequency response | Noise level | Dynamic range | THD | IMD + Noise | Stereo crosstalk |
| LG Prada 3.0 | +0.11, -1.06 | -85.5 | 84.2 | 0.014 | 0.023 | -83.3 |
| LG Prada 3.0 (headphones attached) | +0.11, -1.06 | -84.5 | 83.8 | 0.011 | 0.021 | -32.3 |
| LG Optimus Black P970 | +0.21, -3.07 | -64.5 | 65.6 | 0.046 | 0.202 | -66.8 |
| LG Optimus Black P970 (headphones attached) | +0.22,-2.96 | -63.0 | 63.4 | 0.058 | 0.258 | -48.3 |
| LG Optimus 2X | +0.01, -0.03 | -90.1 | 90.1 | 0.011 | 0.016 | -89.2 |
| LG Optimus 2X (headphones attached) | +0.14,-0.04 | -89.8 | 89.9 | 0.0098 | 0.111 | -35.1 |
| Samsung I9100 Galaxy S II | +0.04, -0.09 | -91.4 | 91.9 | 0.0042 | 0.066 | -89.7 |
| Samsung I9100 Galaxy S II (headphones attached) | +1.05, -0.22 | -90.0 | 90.2 | 0.013 | 0.647 | -49.4 |
| HTC Sensation (headphones attached) | +0.71, -0.15 | -89.1 | 90.1 | 0.019 | 0.522 | -70.6 |
| HTC Sensation | +0.05, -0.34 | -90.2 | 90.2 | 0.012 | 0.021 | -91.1 |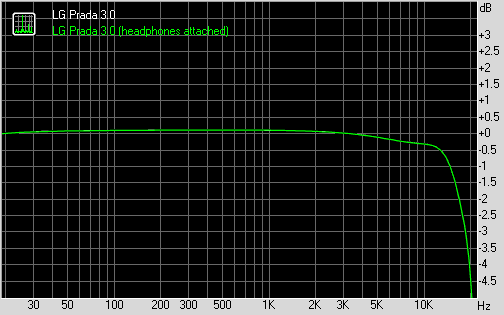 LG Prada 3.0 frequency response
You can learn more about the whole testing process here.