Very good web browser
The Android browser is one of the best available on a mobile device - put it on a beautiful screen, like the Prada's 4.3 NOVA one and it provides flawless experience.
The user interface is completely minimalistic (it's the Google way). All you get on the screen is an address bar on top and a control bar at the bottom (with hide options). The address bar is placed on top of the page, so scrolling down moves it out of view.
The bottom control bar houses the back and forward keys, windows shortcut, add new window and the hide key.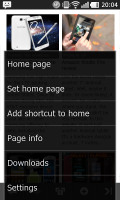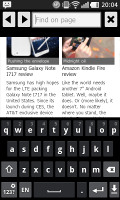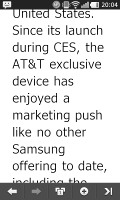 Additional browser settings • Find on page • Text reflow
The Prada 3.0 browser offers a handy option to bookmark a page in a quick section called Read it later. If you choose a website to go in Read it later, you can then open it from the Read later section and it will disappear from the list. The thing works just like the bookmarks, but remove the bookmark after you've opened it.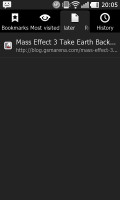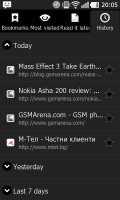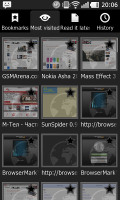 Read it later section • history • most visited
RSS, text selection and find on page are also available from the advanced menu.
The Prada 3.0 supports double tap zoom and pinch zoom. There's text reflow too - it adjusts the columns of text to fit the screen width. If you've zoomed in using pinch zoom, you need to double tap the screen to make the browser reflow the text.
The bookmark list shows a thumbnail of the bookmarked page and you also get a "most visited" list in addition to the history and the Read it later section.
The whole browsing experience is excellent - there's almost no lagging and the 4.3" WVGA screen offers plenty of room even for complex web pages. Text remains crisp regardless of zoom level.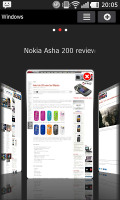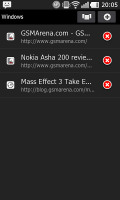 Multiple windows are supported
The Prada 3.0 browser is Flash-enabled and everything ran very smoothly - from desktop (720p) YouTube (and other video sharing sites) to touch-oriented Flash games.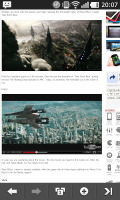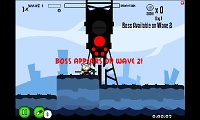 Playing 720p Flash videos and Flash games - an easy job for the Prada 3.0
Organizer has everything
The LG Prada 3.0 comes with the usual set of organizing apps and there's a preloaded document viewer and editor.
The app in question is Polaris Office and it's one of the most feature advanced mobile editors we've seen. You can of course view documents - Word, Excel and PowerPoint documents and PDF files too.
Editing offers almost a full set of options - text style, justification, paragraph formatting, bullets, even creating tables. If you're editing an Excel file, you get a formula wizard, resize rows/columns, border style, merge cells and so on. Even creating a full PowerPoint presentation is possible.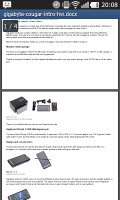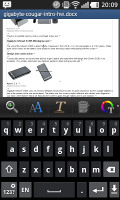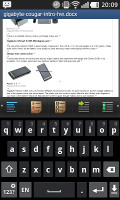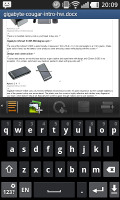 The office editor offers lots of options
You can do practically anything with the app - it's better than the other mobile editors we've tested, even better than the Windows Phone 7 one (which had many editing limitations).
The app doubles as a file manager and also integrates with Box.net.
The calendar has four different types of view - daily, weekly, monthly and agenda. Adding a new event is quick and easy, and you can also set an alarm to act as a reminder.
The LG Prada 3.0 features an alarm clock application, which allows a lot of alarms to be set, each with its own start time and repeat pattern. The Timer, World Clock and Stopwatch features are also part of this app.
The organizer package also includes a voice recorder, which might be pretty useful for making audio notes and a nicely touch-optimized calculator.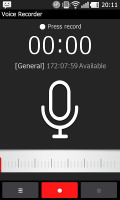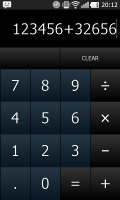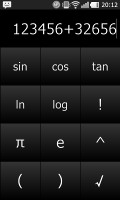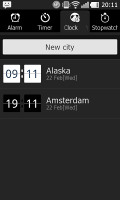 The Voice recorder • Calculator • World Clock
The Rich Note app allows you to take notes and add media to them (images, audio, location). It supports drawing too.
There are also weather, news and finance apps.
An Image Editor is also pre-installed.
The familiar Desk Home and Car Home apps are here as well. The first one speaks for itself - it offers a nice flipping watch, gallery slideshow and calendar, while the Car Home has a bunch of useful shortcuts in case you dock the phone in your car.