Gallery and file browser
The Meizu MX packs a gallery that looks similar to the vanilla Android gallery, but it's actually a custom-made app. It stacks images from folders just like the regular app, but this is about where similarities end.
Inside the folders, images are arranged in a rectangular grid. You can share or delete multiple images by picking them one by one from a Cover flow-like interface or the usual way just picking them from the grid.
The gallery offers a dedicated brightness setting and slideshow options. Zooming is done as usual by double tapping and pinching. Everything works smoothly thanks to the powerful chipset and the high-res screen does a good job, provided you don't look at it from an angle.
A cool way to navigate across a folder while looking at individual images is to tap somewhere outside the image, which reveals a line of thumbnails at the bottom of the screen. You can tap thumbnails or even slide your finger over them - the Meizu MX will switch images as fast as you can slide your fingers.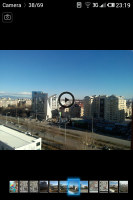 Scrubbing quickly through all photos
The Meizu MX came with a very good file browser preinstalled. It lets you browse the contents of the built-in memory and offers features such as copy, paste and delete for multiple files. Sharing files over Bluetooth or email is also easy as are batch operations with multiple files and folders.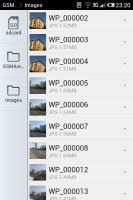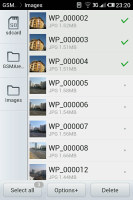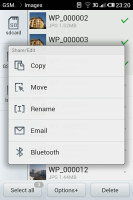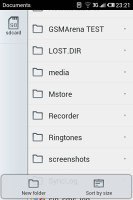 The file manager is very capable
The file browser also handled opening and extracting ZIP files, which can come in handy.
Video player with excellent codec support
The Meizu MX comes with a dedicated Video app, but it expects videos to be placed in a certain folder. You can use the file browser to get videos to play from elsewhere - it offers thumbnails and everything so we used it all the time instead of the Video app.
Once you get into the player, things really start to look up. The player handled all the DivX, XviD and H.264 files we threw at it played trouble-free (in .AVI, .MKV and .MP4 containers) and resolution didn't matter either - 1080p videos played without a problem.
You also get a lot of nice options - a dedicated brightness setting for the video player and zoom mode (fit width of the screen or fit height). You can also switch audio streams and turn on subtitles.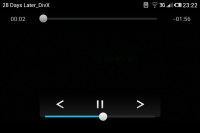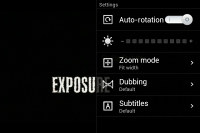 Playing a video • A lot of settings are available
Too bad you can't load subtitles manually though. On the upside, the name of the subtitles file doesn't have to be exactly the same as the video file for it to work (as is most often the case), the player will find all similar files.
With the MHL connectivity, the Meizu MX turns into a very capable video player. Even without it, at 4" big and with 960x640 resolution you can enjoy 720p videos comfortably - though the 3:2 aspect ratio of the screen will require some cropping if you want to use all the pixels.
Anyway, the only thing we didn't like about the video player is that the volume slider is placed right under the playback controls. It's an iOS thing and might be confusing to people who expect it to be a scrubber (you can do that too, that slider is on top).
Music player looks like it belongs in iOS
Just like the video player, the music player can only find tracks located in a specific folder. You can open folders too, it just takes several extra clicks and you music collection isn't consolidated into one library as you would expect.
Anyway, tracks are sorted into several categories like Recently added, Favorites, by album (but not by artist) or you can just look at all songs.
The Now playing interface features the album art at the center with track info above it along with repeat and shuffle controls, and the playback controls and volume slider below the album art. Again, this is a volume slider, if you want to scrub through the song you need to tap above the album art to reveal that slider.
If you don't have album art, the Meizu MX can search for one automatically or you can go to the equalizer visualization by swiping left. This visualization also does a karaoke-style display of the song's lyrics. A swipe to the right brings you to the current playlist.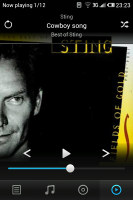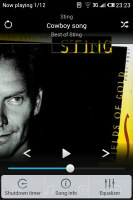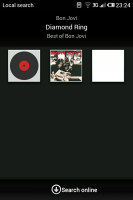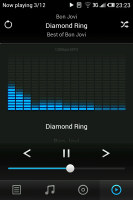 The Now playing interface • Fetching album art automatically • Equalizer visualization and the karaoke-style lyrics
There's an equalizer you can use to tune the sound too. It features several presets, which you can edit manually if they're not to your liking.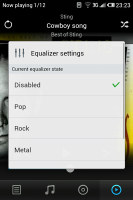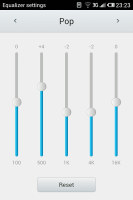 Picking an equalizer preset and editing it
Don't forget that you also get music player controls in the control panel invoked by the Menu key and also on the lockscreen.
The music player also has a shutdown timer which can turn it off in 5-60 minutes and it will even let you manually edit the ID3 tags (that's where artist, album and so on info is stored).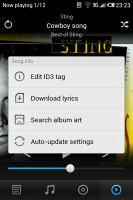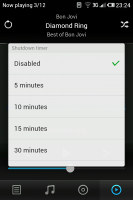 You can manually edit ID3 tags • There's a shutdown timer
Audio quality has its ups and downs
The Meizu MX went off to an impressive start in our audio quality test. When attached to an active external amplifier, the smartphone got excellent scores and its performance showed no weak spots whatsoever. It was only average in loudness, but that wasn't enough to ruin an otherwise flawless performance.
Unfortunately, things weren't as good in the second part of our test. When we plugged in a pair of headphones, plenty of distortion appeared in the Meizu MX output. Both the total harmonic distortion and intermodulation distortion readings dropped to poor and so did stereo crosstalk. The other elements of the performance remained excellent and the volume was one of the highest we have seen, but the overall performance still remained pretty mediocre here.
And here go the results so you can see for yourselves.
| | | | | | | |
| --- | --- | --- | --- | --- | --- | --- |
| Test | Frequency response | Noise level | Dynamic range | THD | IMD + Noise | Stereo crosstalk |
| Meizu MX | +0.03, -0.04 | -90.6 | 90.5 | 0.022 | 0.022 | -89.5 |
| Meizu MX (headphones attached) | +0.04, -0.04 | -90.8 | 90.8 | 0.954 | 0.991 | -52.7 |
| Samsung I9100 Galaxy S II | +0.04, -0.09 | -91.4 | 91.9 | 0.0042 | 0.066 | -89.7 |
| Samsung I9100 Galaxy S II (headphones attached) | +1.05, -0.22 | -90.0 | 90.2 | 0.013 | 0.647 | -49.4 |
| HTC Sensation (headphones attached) | +0.71, -0.15 | -89.1 | 90.1 | 0.019 | 0.522 | -70.6 |
| HTC Sensation | +0.05, -0.34 | -90.2 | 90.2 | 0.012 | 0.021 | -91.1 |
| Sony Ericsson XPERIA Arc S | +0.11, -0.10 | -89.3 | 89.3 | 0.014 | 0.038 | -90.2 |
| Sony Ericsson XPERIA Arc S (headphones attached) | +0.41, -0.12 | -88.8 | 88.8 | 0.174 | 0.319 | -46.6 |
| Apple iPhone 4S | +0.02, -0.11 | -91.2 | 91.2 | 0.0020 | 0.012 | -93.0 |
| Apple iPhone 4S (headphones attached) | +0.05, -0.10 | -91.3 | 91.3 | 0.0068 | 0.071 | -66.7 |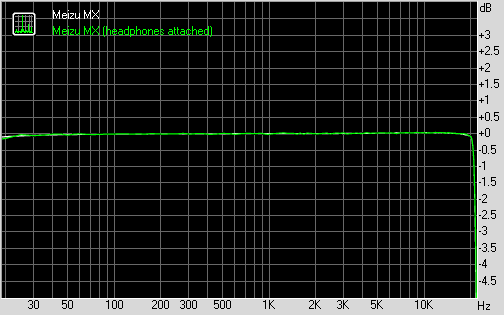 Meizu MX frequency response
You can learn more about the whole testing process here.