Redesigned web browser is great
The web browser plays a central role in the Meizu MX 4-core as evidenced by its shortcut's position - the middle shortcut in the dock at the bottom of the homescreen, which is usually where the app drawer shortcut goes (or the dialer shortcut).
The user interface of the browser has been completely redesigned (compared to vanilla Android) and we found a couple of things we really liked about it. The back end is the same as on all Androids, so you can expect the same level of compatibility and speed you're used to.
Anyway, the browser interface dedicates almost the entire screen to the web page, save for the status bar on top. To bring out more controls, you tap the Menu key.
The controls include the standard stuff - address bar on top and several buttons at the bottom (new tab, close tab, bookmarks,etc.). Above those controls is a line of thumbnails of all the tabs. You can switch tabs or close them from here. It's one of the best tab management solution we've seen on a mobile browser yet.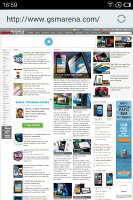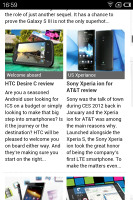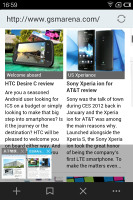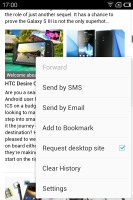 The browser has a very capable custom interface
The browser supports double tap and pinch zooming. It's really fast and fluid too. There are also goodies like text reflow or sharing an URL over email or SMS.
The browser came without Flash preinstalled, but we installed it manually from the Play Store and it worked. 1080p YouTube videos played fine without any lag or visual artifacts. We tested the dual-core MX after the update and it did a splendid job with the full HD videos as well. Flash games played without a hitch, too.
Meizu also supports HTML5 videos, which are the future of mobile video streaming, so we can't really give the browser anything but a great mark
The organizer covers the basics
The Meizu MX 4-core features a calendar that supports multiple online accounts. It offers monthly, weekly, daily and agenda views and is pretty straightforward to work with. Creating a new event lets you set which calendar to store it in, along with a reminder.
Moving on, we have the Clock app that will handle multiple alarms with custom repeat times, ringtones, snooze time and labels. There are also a stopwatch and timer integrated within the Clock app.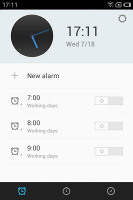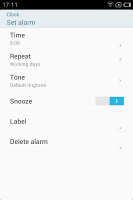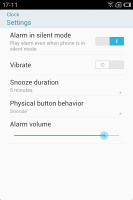 You can set multiple alarms with different repeat patterns
The Notes app offers four different colors for the background of a note, which will be helpful if you want to organize them into several categories. There's a widget accompanying the Notes app, which displays the most recent notes and offers a quick shortcut for creating new ones.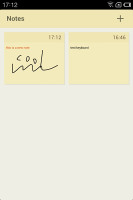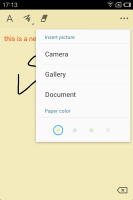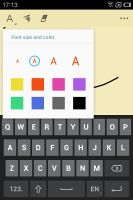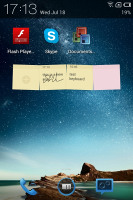 The Notes app helps you stay organized with different colors • The Notes widget
The Recorder app rounds off the organizer functionality of the phone. It offers the option to record calls, which some might find useful.
A calculator app is also on board.