Documents To Go comes free of charge
If you look through the homescreens, you won't find a document viewer app but if you try to open an Office document from the file browser, you will be prompted to download the free version of Documents to Go off the Meizu Store. It can create, edit .DOC, .XLS and .PPT (both Office 2003 and 2007 files) and read PDFs.
The app works very fast in both zooming and panning. It lacks functionality like searching inside the document though.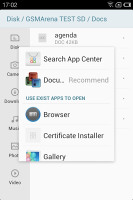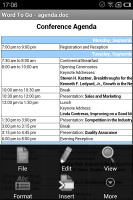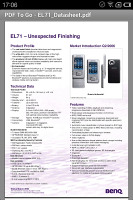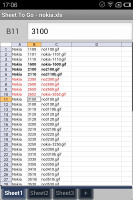 Viewing documents on the Meizu MX 4-core
Google Maps
The Meizu MX 4-core comes with a GPS receiver, which took less than a minute and a half to get satellite lock from a cold start. You can use the A-GPS functionality to get near instantaneous locks or the network positioning if you only need a rough idea of your location.
The latest available version of the Maps is 6.9 and offers all the extras you may need, including voice-guided navigation and offline maps caching for supported areas.
If you don't live in one of the supported countries the best you can do is plan a route in advance and keep an eye on your current location during travel.
Street view is, as usual, a part of the standard package - it gives you a panoramic view of every bit of road in the covered areas. With the compass mode enabled, it feels like a virtual tour of the place.
Google Play and Meizu's own App Center
The Google Play app market, previously known as the Android Market, lets you download various apps for your device. Upon launch of the Market app you're greeted with the tiled interface of the Featured window. A swipe to the right takes you to the Categories view.
Swiping to the left takes you through Top Paid, Top Free, Top Grossing, Top New Paid, Top New Free and Trending (the ones with growing popularity). New sections are available such as Staff Picks, Editor's Choice and more.
Downloads are easy and apps install by themselves once they are complete. Before you agree to download an app, the Market will show you what features the app requires access to (e.g. Internet connectivity, access to the file system, etc.). You can also see if updates are available for your currently installed apps by going to My Apps in the contextual menu.
Google Play is not available in China, so Meizu is providing an alternative app store (App Center) with both free and paid apps and games. It's unable to offer the variety of the Android official repository, so it will be of little use to international owners.