More photos of the Samsung Galaxy S10 leak revealing a crypto currency wallet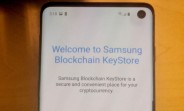 More photos of the Samsung Galaxy S10 have surfaced, this time showing off a new feature. The Galaxy S10 in these images shows a Samsung Blockchain KeyStore where you can presumably store supported cryptocurrencies.
The Galaxy S10 in these images have a single camera in the display cutout, so we're likely seeing the regular Galaxy S10 variant in the pictures below.
Here we can peek at some of the messages in the wallet setup page. The welcome screen for the Samsung Blockchain KeyStore describes it as "a secure and convenient place for your cryptocurrency." You'll be able to "Import an existing wallet" or "Create a new wallet". In its current and probably unfinished state, the app shows Ethereum (ETH) as the only supported cryptocurrency.
The latest rumor prices the highest tier Galaxy S10+ at £1,600 for 12GB + 1TB with the base Lite model starting at £780 and the medium sized S10 starting at £930 for 6GB + 128GB. The largest model will have a dual front-facing camera cut out of the display. The latest rumors says the Galaxy S10 will support reverse wireless charging akin to the Huawei Mate 20 Pro.
The Samsung Galaxy S10 and likely the Galaxy F (Fold) are going to be announced at the next Samsung Unpacked event set to take place on February 20 in San Fransisco. There will be three different sizes and up to five different variants including a version compatible with 5G networks.
c
Lmao so because of that they are not number 1, bro you funny af, nowadays everybody copies one another, i never said samsung was number 1, there's not such number 1 in the smartphone industry anymore, all of them a great in their own way, i said beca...
B
Look at the size of that punchole. Yikes.