The Atrix reloaded
Motorola Atrix HD review: The Atrix reloaded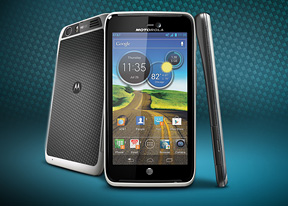 8MP Camera
The Motorola Atrix HD is equipped with an 8MP camera which takes photos with a maximum resolution of 3264x2448 pixels. It's accompanied by a single-LED flash to help out in low-light situations.
The camera UI is simple. On the right side of the viewfinder there's the virtual shutter key flanked by the front/back and photo/video toggles. On the left, there's the gallery shortcut that displays the thumbnail of the last photo taken (with a counter of remaining photos next to it) and the digital zoom slider.
Finally, there's a retractable row of shortcuts at the bottom - those include effects, scenes, shooting mode, exposure adjustment and flash control (on, off, auto).
From Modes, you can choose single shot, multi-shot (4MP photos), panorama or self-timer. Scenes offer things like Sport, Macro or an Auto mode that decides what's best without your explicit input. There's an option to geotag photos - that info can be stripped automatically when sharing photos.
There's a widescreen option that produces 16:9 photos. With it, both the viewfinder and the gallery images fit the screen aspect perfectly in full screen mode. However, the 16:9 aspect ratio means the photos turn out at roughly three quarters of the original resolution at about 6MP.
The pictures which the Atrix HD captures offer a good amount of detail. Colors look slightly off, but generally pleasing. The dynamic range is rather limited and we also noticed higher than average noise in areas with shadows. Check out the samples below.
FullHD video camera
The Motorola Atrix HD shoots 1080p videos at 30fps. The user interface looks identical to that of the still camera although some options have been changed. The Scenes option from the still camera has been replaced by Audio Scenes.
You have Stereo, Wind Reduction, Concert, Balanced and Front Facing audio scenes, which use the two microphones to adapt the audio to the specific situation. You still have the effects and exposure options and you can enable video stabilization.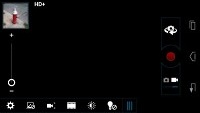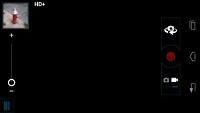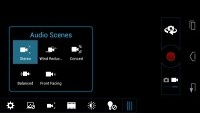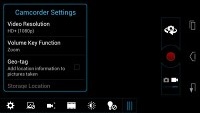 The camcorder interface
Videos are stored in .MP4 files with bitrate hovering at 15Mbps. The sound that goes along with the video is stereo (128Kbps bitrate, 44.1kHz sampling rate).
Videos captured by the Atrix HD came out with decent amount of detail and nice colors, though we've seen better. Much like with the still camera, the videos suffered from limited dynamic range. There was also visible fringing on some occasions.
Here are a couple of samples captured with the Atrix HD.
And here goes an untouched 1080p video clip.