The Atrix reloaded
Motorola Atrix HD review: The Atrix reloaded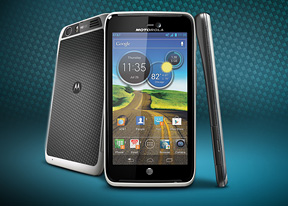 Connectivity has you covered
Like a proper top shelf Android smartphone, the Motorola Atrix HD checks just about every box on the connectivity list. It offers quad-band GSM/GPRS/EDGE and quad-band HSDPA potentially reaching speeds of up to 21 Mbps HSDPA, and 5.76 HSUPA.
Naturally, AT&T's superb LTE network connectivity is also on board. Where available, it is a pleasure to use.
The local wireless connectivity features include dual-band Wi-Fi a/b/g/n (with DLNA support) and Bluetooth 4.0 with LE. The mobile hotspot functionality is enabled too.
As for wired connectivity, there's a microUSB port and a microHDMI port. Using an appropriate HDMI cable (not included in the retail box), you can hook up the Atrix HD to an HDTV.
The Motorola Atrix HD comes with a MOTOPRINT app that makes it easy to connect to a printer on the local Wi-Fi network and print all sorts of Office docs, PDFs, emails, calendar entries and contact info. All you have to do is find the printer (there is an automatic search, manual search, search in the homegroup and other options).
Curiously, the smartphone does not support NFC or connectivity to Motorola's lapdocks.
Good web browser
In case you don't want to take the leap to Google's own Chrome browser for Android, the Motorola Atrix HD comes with a stock ICS browser on board.
The browser UI is quite minimalistic - you get the URL bar with a tabs shortcut and the "more" button which brings up several more options. They include Refresh, Forward, Save to bookmarks, Share page, Find on page, full settings and a couple of more - Request desktop site (no more hunting for that "Desktop" option buried at the bottom of the site) and Save for offline reading.
The full settings menu includes some really interesting options. For example, you can set your search provider to be Yahoo or Bing, you can adjust text size and the level of which double tap will zoom in.
Then there's the Inverted screen rendering option, which turns the web page black and white (with white backgrounds becoming black). You can tweak this effect using the Contrast slider. This option is under the Accessibility menu and makes pages easier to read.
When searching for something, if the browser is confident you'll click on a certain search result (and with Google's algorithms there's a good chance you will), it will start preloading that page right away so that it opens faster if you do click it.
Incognito mode is on board too - it's not a global setting, but lets you open individual Incognito tabs, which we find to be the more convenient solution.
Speaking of tabs, the tab switching interface looks exactly like the recent apps list. You can even close tabs by swiping them off the screen.
The browser (still) supports Flash and, thanks to all that computing power inside, you can even watch embedded 1080p videos straight within the web browser. Paying Flash games is great too.
Top notch organizer
Quickoffice is an excellent app that has support for viewing several file types - Word, Excel, PowerPoint and PDF. It can also edit and create new .DOC, .XLS and .PPT files (both 2003 and 2007 versions are supported). You have plenty of formatting options, inserting images, Excel formulas and so on.
The calendar has four views - Daily, Weekly, Monthly and Agenda. The app can easily handle several online calendars as well as the local calendar.
You can add multiple reminders for each event and search through all events.
The Clock app defaults to a desk clock mode that looks a lot like the lockscreen. The best part here is that you can tap to turn the light almost all the way down - with only the time staying on the display just bright enough to see it (it's much easier to see in the dark). This is a very power-efficient mode and you can actually use the phone as a desk clock without worrying about killing the battery.
The usual alarm functionality is still present - you can set multiple alarms, each with its own repeat pattern, ringtone and label.
The good old calculator is here too - it has big keys and you can swipe to the left to bring up the advanced functions (trigonometry, square root, brackets, etc.).
There's a file manager on board as well - it can browse both the internal 16GB memory and the microSD card. Also, there's support for browsing shared folders on the Wi-Fi network you're connected.
Finally, there's a really clever app called Smart Actions - it allows you to create automatic actions triggered by different conditions you set. You can have the phone do various things (e.g. disable background sync, change screen brightness, display a notification to remind you of something, etc.). There are several sample actions that are useful in various situations but you can create your own from scratch too.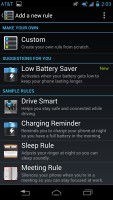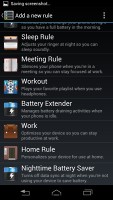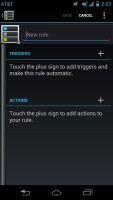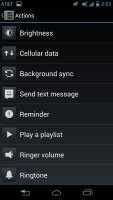 Smart Actions is a neat feature
Google Maps
Google Maps is a standard part of the Android package and we've covered it many times before. It offers voice-guided navigation in certain countries and falls back to a list of instructions elsewhere.
3D buildings are shown for some of the bigger cities and you can use two-finger camera tilt and rotate to get a better view of the area.
Google Maps uses vector maps, which are very data efficient. The latest version has an easy to use interface for caching maps - you just choose "Make available offline from the menu" and pan/zoom around until the desired area is in view (there's an indicator showing how much storage caching that area will take). You can later view cached areas and delete ones you no longer need.
Note that there's a limit to the size of the area you can cache - you can't just make all of Europe available offline, not even a whole country. We managed to fit New York and some surrounding area before Maps told us the area is too big. Also, there's no address search in the cached maps and you can only cache map data in supported regions of the world.
You can plan routes, search for nearby POI and go into the always cool Street View. The app will reroute you if you get off course, even without a data connection.
Google Play store
The Google Play store features several scrollable tabs - categories, featured, top paid, top free, top grossing, top new paid, top new free and trending. Apps usually have several screenshots (some even offer a demo video) so you can get an idea of what the app looks like before installing it. You can also check out comments and ratings, as well as the number of downloads and so on, to help you decide if the app is worth it.
Along with applications and video games, you can also access and purchase movies, music, books and magazines (where available).
Vehicle mode
The Motorola Atrix HD offers vehicle mode as well. Used when attaching the phone to a car dock, it changes the screen's layout to landscape and offers large and easy to access buttons for the most commonly used features such as telephony, maps, music, etc. You can customize several shortcuts as well.