Vanilla Android 8.0 with a few Moto mods
Not that kind of MotoMods, though - we're talking software mods. Laying the foundation is Android 8.0 Oreo, in mostly stock form. Here's a taste.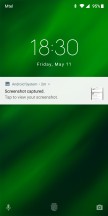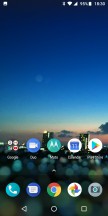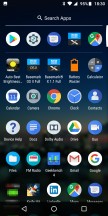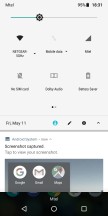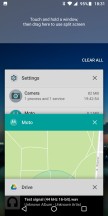 Lockscreen • Homescreen • App drawer • Quick toggles/notifications • Task switcher
As we've seen on previous Motos, the Moto G6S Plus' fingerprint scanner can be used in several ways. The obvious one is to wake/unlock the phone - it is always-on, very fast and quite reliable. For unlocking, you can alternatively use face unlock - or 'trusted face' as it's called in stock Android.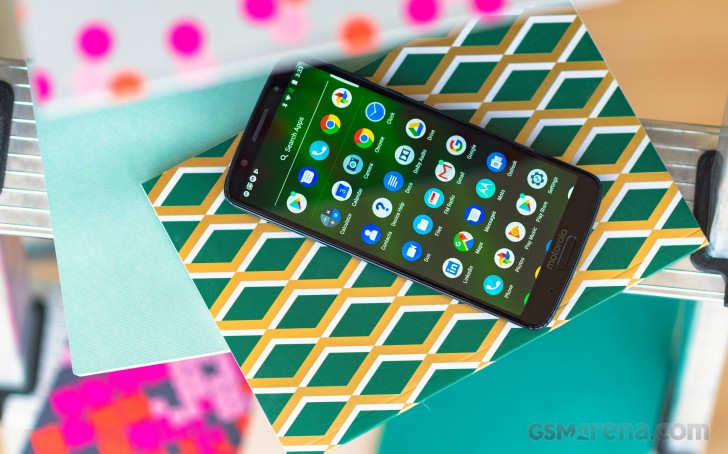 Anyway, back to the fingerprint sensor. For navigation purposes, as part of Moto Actions, it can fully replace the on-screen nav bar - tap to go Home, swipe left to go Back or swipe right to switch between recent apps. Gestures get detected pretty accurately, though you may find the left-right mechanics a little counterintuitive if you switch hands often. You can reverse the swiping directions if you so wish.
Pressing-and-holding the sensor for a short time will lock the screen, while a longer press will summon the Google Assistant. These two overlap and mastering them does take some time, but it's ultimately a great way to do away with the on-screen navigation bar in case it's not your thing.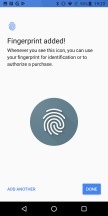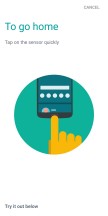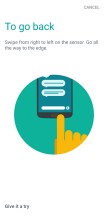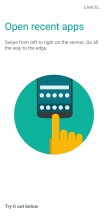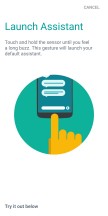 Registering a fingerprint • One button navigation
Moto Display is another long-standing proprietary feature that's being continuously refined. It's sort of like an always-on display, giving you notification at a glance, only it's not always on. It only lights up just when a new notification comes up or if you wave your hand in front of the phone's fact. On this screen, you can act upon the notifications, ignore or straight-up dismiss them. There's not much in the way of customization the way you can change the Samsung Galaxy's always on display - the implementation is more like Pixel 2's.
Also part of Moto Display is Night Display - the phone will display warmer colors to filter out the blue light that's known to mess up your sleep according to research.
In the Moto actions category, you'll find gestures like 'pick up to stop ringing', which most phones have, but a couple that are unique to Moto include "chop twice for flashlight", and "twist for quick capture".
As for multimedia, it's all in the hands of Google and its default apps. Google Photos is in charge of gallery-related tasks and video playback, while Google Play Music is the audio player. There's an FM radio too, with RDS and recording capability.
What is custom is the system-wide Dolby Audio sound control with presets for movies, music, games, and voice, plus two custom slots. The Intelligent Equalizer will adapt to the content, and you can bias it in three different ways, plus you can also tweak a 10-band EQ yourself.
Synthetic benchmarks
The Moto G6 Plus runs on the Qualcomm Snapdragon 630 chipset, a mid-tier SoC manufactured on a 14nm process. Inside it, there's an octa-core 2.2 GHz Cortex-A53 CPU and the Adreno 508 GPU. The handset is available with either 4GB or 6GB of RAM, and the unit we have for review is the base version.
GeekBench is on top of our benchmarks list and here the Moto G6 Plus doesn't surprise. It's just that the Snapdragon 625/630 are such a proven commodity that the differences between devices with these chips tend to be marginal. Now, the Redmi Note 5 Pro, for example, utilizes the Snapdragon 636, and a Kryo 260 core has more oomph than the G6 Plus' Cortex-A53. It's the same with the Zenfone Max Pro ZB601L. The chart-toppers in this test are generally more expensive, but it's good to know what's available in the higher price tier, performance-wise.
GeekBench 4.1 (single-core)
Higher is better
Samsung Galaxy A8 (2018)
1532
Oppo F7
1531
Oppo R15
1520
ASUS ZenFone Max Pro
1340
Xiaomi Redmi Note 5 Pro
1327
Huawei P20 Lite
938
Huawei Mate 10 Lite
913
Huawei Honor 7X
904
Motorola Moto G6 Plus
882
Nokia 6 (2018)
882
Xiaomi Mi A1
877
Xiaomi Redmi 5 Plus
874
HTC U11 Life
873
Motorola Moto X4
866
Sony Xperia XA2 Ultra
866
Sony Xperia XA2
865
Asus Zenfone 4 ZE554KL
858
Motorola Moto G5S Plus
848
The multi-core test doesn't rank the phones in a radically different way, with the exception of the Galaxy A8 (2018) sliding down the chart. The Moto G6 Plus puts out the usual figures - it can't perform above its pay grade, but it's also good to see that Motorola didn't goof something up.
GeekBench 4.1 (multi-core)
Higher is better
Oppo F7
5901
Oppo R15
5806
ASUS ZenFone Max Pro
4910
Xiaomi Redmi Note 5 Pro
4696
Samsung Galaxy A8 (2018)
4418
Motorola Moto G5S Plus
4331
Xiaomi Redmi 5 Plus
4309
Xiaomi Mi A1
4292
Nokia 6 (2018)
4225
Sony Xperia XA2
4215
Sony Xperia XA2 Ultra
4198
Motorola Moto G6 Plus
4160
Asus Zenfone 4 ZE554KL
4145
HTC U11 Life
4140
Motorola Moto X4
4136
Huawei P20 Lite
3756
Huawei Mate 10 Lite
3603
Huawei Honor 7X
3535
A bit more of the same segmentation is seen in Antutu, where the Moto G6 Plus is on par with its S630 peers - the Xperia XA2 Ultra and Nokia 6 (2018). None of them are able to catch up with the S636-packing Zenfone and Redmi, not to mention the P60-equipped Oppos.
AnTuTu 7
Higher is better
Oppo R15
140161
Oppo F7
139414
ASUS ZenFone Max Pro
115509
Xiaomi Redmi Note 5 Pro
107737
Nokia 6 (2018)
90918
Motorola Moto G6 Plus
90263
Sony Xperia XA2 Ultra
89110
Huawei P20 Lite
87431
Asus Zenfone 4 ZE554KL
86978
Huawei Honor 7X
67636
Ready for some predictable fps numbers from GFXBench? Here they come. In this test, however, the tiers change somewhat - the S625 now lags behind, while the S630 phones score as much as the S636 ones. That's because the 508 and 509 Adrenos are a close match, while the 506 isn't quite up there.
GFX 3.1 Manhattan (1080p offscreen)
Higher is better
Oppo F7
12
ASUS ZenFone Max Pro
10
Nokia 6 (2018)
9.9
Samsung Galaxy A8 (2018)
9.9
Motorola Moto G6 Plus
9.8
Motorola Moto X4
9.8
Sony Xperia XA2 Ultra
9.7
Asus Zenfone 4 ZE554KL
9.7
Sony Xperia XA2
9.6
HTC U11 Life
9.6
Xiaomi Redmi 5 Plus
6.5
Motorola Moto G5S Plus
6.4
Xiaomi Mi A1
6.4
Huawei P20 Lite
5.1
Huawei Mate 10 Lite
4.8
Huawei Honor 7X
4.8
GFX 3.1 Manhattan (onscreen)
Higher is better
Oppo F7
11
Motorola Moto X4
11
Sony Xperia XA2
10
Sony Xperia XA2 Ultra
10
Nokia 6 (2018)
10
Asus Zenfone 4 ZE554KL
9.7
ASUS ZenFone Max Pro
9.7
HTC U11 Life
9.6
Motorola Moto G6 Plus
9.3
Samsung Galaxy A8 (2018)
8.7
Motorola Moto G5S Plus
6.9
Xiaomi Mi A1
6.3
Xiaomi Redmi 5 Plus
6.2
Huawei P20 Lite
4.9
Huawei Honor 7X
4.7
Huawei Mate 10 Lite
4.6
All in all, the Moto G6 Plus delivers the goods in the performance department. The Snapdragon 630 is not spectacular performance-wise, but it's good enough, and unlike the older 625, the 630 has a GPU that doesn't choke when faced with a 1080p display.