Camera performance
The Moto Z3's camera hardware is unchanged from the Z2. There are dual camera sensors: one is a 12MP sensor with an aperture of f/2.0 and 1.25 micron pixels. The other sensor is a monochrome one with both phase-detection and laser-assisted autofocus. Despite having a second camera, the Moto Z3 can't do 2X zoom.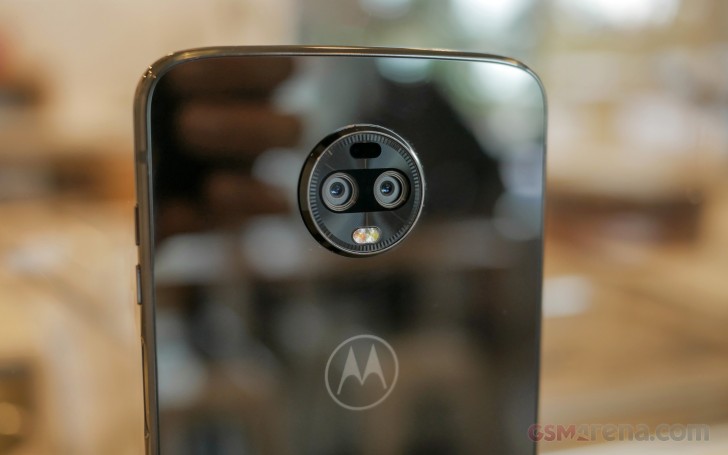 Like the Z2, the Z3 has a fully monochrome mode for those scenes with very high contrasts. The second camera can also be used to shoot portrait photos with a synthesized bokeh. These are the only two things the second camera can do.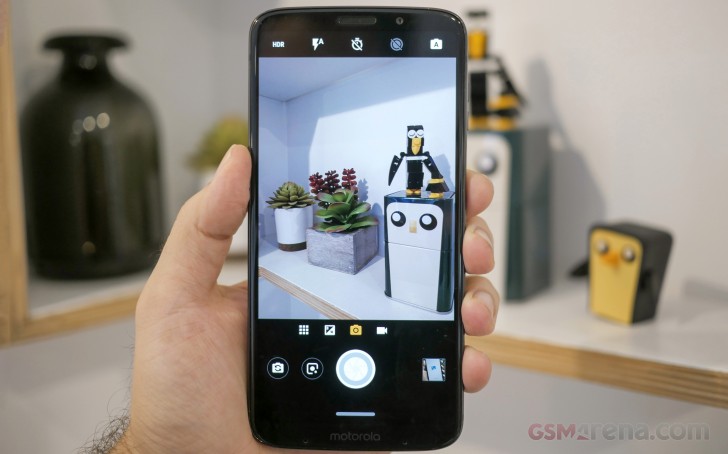 Despite the hardware being the same between the Z2 and Z3, the camera app has been revamped with a new interface and shooting mode features. There's a new cinemagraph mode that makes it easy to create GIFs that only move in a focused area. There's also a new color splash mode for shooting photos and emphasizing a single color.
The interface has some toggles on one side of the viewfinder, and the other has the shutter button, gallery shortcut, a Google Lens shortcut, camera toggle to switch between the front and rear, and three camera icons: camera, video, and a grid that shows you all the available shooting modes.
When choosing monochrome mode, for instance, we like that the last used mode temporarily appears next to the camera mode so you can access it quickly the next time you launch the camera. There's also a dedicated video viewfinder, which is always appreciated.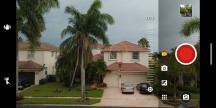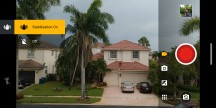 Video viewfinder • Stabilizer toggle
We're also glad to see there's a Manual camera mode. It can be easily accessed by switching the toggle from "A" to "M", right from the viewfinder. In this mode, you can manually set the white balance, focus, ISO, shutter speed, and exposure compensation to your liking. We just wish there was a way to access the manual controls while shooting in monochrome.
Image quality
The Moto Z2 wasn't a terrible camera, in fact. It was a huge improvement over the first-generation Moto Z. Since we're looking at the exact same camera hardware here, we're not expecting it to be much better. With that said, let's take a look at some samples.
Resolved details are generally good, particularly in sunlight. Even if the clouds roll in, pictures still look great but the amount of details are noticeably reduced when you zoom in on the pixels. Colors are pretty good and dynamic range is average.
In some of the photos taken indoors, we notice some light noise throughout some solid color areas. As for dynamic range, it's generally good. If we want to nitpick even further, there is some amount of banding and pixelating when the camera tries to capture straight lines like in the multi-colored buildings.
HDR does help with dynamic range. Unlike other smartphone makers, namely HTC - leaving HDR On vs HDR Auto won't make a difference. HDR Auto will enable HDR where it finds it appropriate while HDR On will take all photos in HDR mode. We'd leave this one in Auto ourselves.
HDR mode does a great job of leveling out exposure between in the shadows while suppressing highlights. Don't expect HDR to fix the lighting in all situations, though. Our best HDR samples were wherever the sun was casting shadows on the scene.
If the sunlight is far too strong or you find that HDR isn't helping the image, a monochrome photo will yield far better dynamic range and detail. Editing a black and white image for exposure is also much easier to do without the noise that it usually brings there are no colors to preserve.
Not many smartphone makers include a totally monochrome camera to shoot with and photographers will appreciate the possibilities of shooting with this camera.
Portraits taken on the Z3 are pretty good.
Hair is the biggest enemy of all these dual cameras that shoot artificial bokeh. We have to say that the Moto Z3 isn't terrible - it's pretty good at finding the subject and going around it. Of course if you zoom in, you can see the defects.
The only strange thing we found is that the person needs to be pretty close to the camera in order for the portrait to work. If you're more than about 3 feet from the camera (about 0.9m), the camera can't take a portrait. Usually other phones might crop the image when switching to portrait mode - the Moto Z3 doesn't crop.
8MP selfie camera
There's an 8MP front-facing camera on the Z3 and although the camera is the same one from the Z2, the dedicated dual LED flash for the front camera is no longer here. Motorola must have decided to remove it to make room for the taller 18:9 display. In its place, they now offer an on-screen flash feature.





Selfie HDR: Off • On • Off • On
The selfie camera was pretty good. Selfies are well exposed and the fixed focus is well calibrated. You can also see a pretty good amount of details from what's behind the person taking the selfie.
There is also a portrait selfie mode, which makes the bokeh with a single lens so the subject detection is a bit less accurate. The selfies still look great with the blur effect. It didn't play very nice with Ricky's hair swoosh, though.



Selfie camera portrait samples
Video
The Z3 records in up to 4K video at 30 fps. There is also 60fps video at 1080p resolution. We recorded all the samples handheld so the stabilization option was turned on in all these samples. You can actually see the stabilization struggle a bit in 4k, but it's nothing compared to actually shooting with the stabilization switched off.
Details look good and noise is apparent, but not a huge issue. Dynamic range is also pretty good while colors and contrast are well represented.
1080p videos looked okay - details and colors were fine. Here you can see that the camera does crop in quite a bit due to the stabilization being enabled. Otherwise, noise is kept to a minimum and dynamic range was good. Colors are pretty spot-on as well.
We'd steer away from shooting 60fps video hand-held. Otherwise, they don't look bad. We just wish there was a bit more sharpness and that the stabilization feature wasn't so janky in 60fps.
You can, of course, download untouched video samples, the way they came out of the Moto Z3 - 2160p at 30 fps (11s, 69MB), 1080p at 60 fps (12s, 26MB) and 1080p at 30 fps (14s, 36MB).