Phonebook
The Motorola RAZR i comes with the standard Ice Cream Sandwich phonebook. Motorola hasn't done much in terms of customization here, but this isn't necessary a bad thing. The phonebook is divided into three tabs - Groups, People and Favorites.
The People tab is in the middle and is the default one. It displays a list of all contacts. They are listed with their name and a picture on the left. They can be sorted by first or last name and displayed with their last name first.
The other two tabs in the phonebook are Groups and Favorites. Groups are listed by service (e.g. your Gmail account) while favorites are a listed as a grid of large contact photos, which is really thumbs friendly.
There's a permanent scroll bar available that you can grab and drag to jump straight to contacts starting with a certain letter. Regular search is there, too.
Tapping on a contact reveals all details available. In true ICS fashion, there's a large contact picture on top. You can mark the contact as a favorite by tapping on the star on the top right.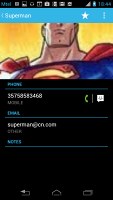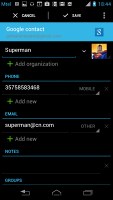 Editing a contact is a straightforward process
Next to it is the menu button from which you can edit the contact, join it with a duplicate one or set it a special ringtone. There's plenty of contact information you can assign to each contact and it still remains neatly organized.
You have all the types listed (numbers, email addresses, etc) and there's also a plus sign below a category - tapping it adds another item of that type. Pressing the X sign right next to it deletes the unneeded field.
Overall, the phonebook covers all the basics, but lacks the bells and whistles of the more enhanced and feature-rich likes of TouchWiz and SenseUI. In any case, it gets the job done.
Telephony with a smart dialing twist
The in-call quality of the Motorola RAZR i was top notch with a crisp and loud sound. Reception was also problem-free and we didn't suffer dropped calls though in areas of very poor coverage the sound would occasionally break up.
Smart Dial is available and works as advertised - it searches names and numbers simultaneously. Only one contact is shown (with contact photo) and you can tap the down arrow to view the rest (the number above the arrow indicates how many contacts have matched your query).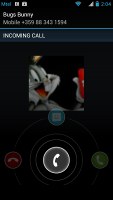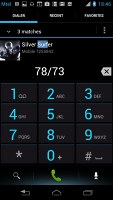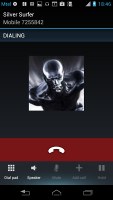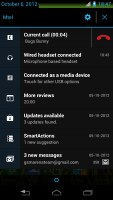 Receiving a call • Smart dialing is neat • calling Silver Surfer • Calls in notifications
Thanks to the proximity sensor, your screen will automatically turn off during a call. The available options during a call include taking a note, using the keypad, muting, holding the call or adding another call to this conversation.
The recent calls tab is straightforward in terms of functionality. The favorites tab is neat, as it allows you to dial the contacts with a single tap.
We also ran our traditional loudspeaker test on the RAZR i. It scored a good all-round mark, meaning more often than not you'll hear it, save for the noisiest environments. More info on our loudspeaker test as well as other results can be found here.
| | | | | |
| --- | --- | --- | --- | --- |
| Speakerphone test | Voice, dB | Pink noise/ Music, dB | Ringing phone, dB | Overal score |
| Apple iPhone 5 | 66.8 | 66.1 | 67.7 | Below Average |
| HTC One S | 65.1 | 64.6 | 76.7 | Average |
| HTC One X | 65.1 | 66.0 | 75.8 | Average |
| LG Optimus 4X HD | 68.7 | 66.6 | 79.3 | Good |
| Samsung I9300 Galaxy S III | 75.1 | 66.5 | 75.0 | Good |
| Motorola RAZR i XT890 | 76.0 | 71.6 | 68.7 | Good |
| Samsung Note II N7100 | 70.0 | 66.6 | 80.5 | Good |
| Motorola RAZR XT910 | 74.7 | 66.6 | 82.1 | Very Good |
| HTC Desire | 76.6 | 75.7 | 84.6 | Excellent |
Standard Android messaging
Text messaging is a standard ICS operation. All SMS/MMS communication is organized into threads - each thread consists of all messages between you and one of your contacts. You can select multiple threads to mass delete them.
Each thread is organized like an IM chat session, the latest message at the bottom. You can manage individual messages (forward, copy, delete) and even lock them (to prevent deletion). You can use search to find a specific message in all conversations.
You can add multimedia (photos, videos, sounds, etc.), which will convert the message to an MMS. If you need multiple slides or multiple attachments, you can go to a full-blown MMS editor as well.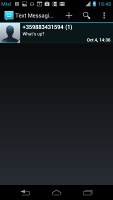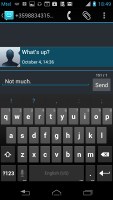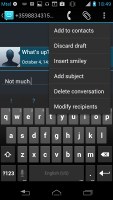 Text messaging holds no surprises • Built-in emoticons
The compose box covers about a fifth of the screen in portrait mode or about a third in landscape. A tap-and-hold on the text box gives you access to functions such as cut, copy and paste. You are free to paste the copied text across applications like email, notes, chats, etc. and vice versa.
Text input on the RAZR i boils down to the standard Android Ice Cream Sandwich QWERTY keyboard. Texting takes a bit of getting used to in portrait mode, which is understandable given the small screen size. Still, it's enough to get the job done and things get a little better if you flip the phone to landscape mode.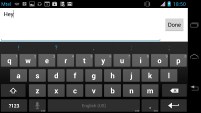 Standard Android Ice Cream Sandwich keyboard
Moving on to email, the Gmail app supports batch operations, which allow multiple emails to be archived, labeled or deleted. The default app supports multiple Gmail accounts, but there's no unified inbox.
A cool feature in Gmail is that you can swipe left or right to move between messages in your inbox.
There is also a generic email app for all your other email accounts and it can handle multiple POP or IMAP inboxes. You have access to the messages in the original folders that are created online and messages are displayed as usual, or you can switch to a Gmail-like conversation view.
The Motorola RAZR i also features a combined inbox, which brings together all your mail in a single folder. This can be quite handy if you have lots of accounts and you just want to check if there is a new message needing your attention.
Email sorting is enabled (in either ascending or descending order) by date, subject, sender, priority and size. The currently applied filter is displayed in the top right corner of the display.
Motorola has also implemented email list gestures allowing you to mark an email as read with a simple swipe to the left. Additionally, you can assign custom actions to the swipe, in case the default one doesn't suit your needs.