Connectivity has almost everything
The Motorola RAZR MAXX comes with a rich connectivity set. It offers quad-band GSM/GPRS/EDGE and quad-band HSDPA potentially reaching speeds of up to 14.4 Mbps HSDPA and 5.76 HSUPA.
The local wireless connectivity features include Wi-Fi b/g/n (with DLNA support) and Bluetooth 4.0 with LE. The mobile hotspot functionality is enabled on the RAZR MAXX too. Wi-Fi hotspot functionality is available, but the phone can also share its Internet connection over USB or Bluetooth.
As for wired connectivity, there's a microUSB port and a microHDMI port. Using an appropriate HDMI cable (not included in the retail box), you can hook up the MAXX to an HDTV. The microHDMI port also comes into play with the docks, but more on that later.
The Motorola RAZR MAXX comes with a MotoPrint app that serves easy printer connections over the local Wi-Fi network for printing all sorts of Office docs, PDFs, emails, photos, calendar entries and contact info. All you have to do is find the printer (there is an automatic search, manual search, search in the homegroup among other options).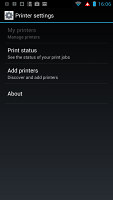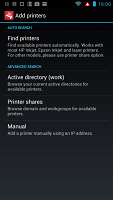 The MotoPrint app makes printing documents from your phone very simple.
Motorola have included an extra application - MotoCast. It allows you to access files stored on your computer (you can choose which folders) over the Internet. That means that everywhere you have a data connection, you can grab a file from your computer. It also allows you to access the files through any web browser by navigating it to MyMotoCast.com. That's a good app for the forgetful type.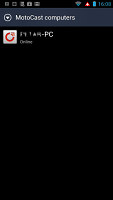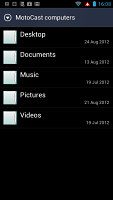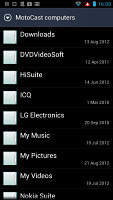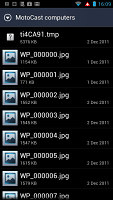 MotoCast running on the Motorola RAZR and browsing shared files on a computer
Another pre-installed app is Citrix Receiver. It's a desktop virtualization app - basically, it gives you access to full blown virtual PC running Windows and you can launch the desktop versions of Word, Excel and various other apps. Receiver also helps you keep your documents synced.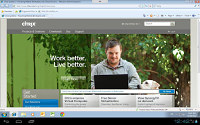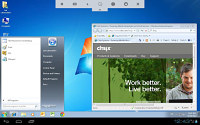 Citrix Receiver (note: these are promo screenshots, not from the device)
Citrix Receiver is the kind of thing that will really help road warriors who have one of the docks (more on it below) - if your company's IT department sets up things nicely, you can hook up your RAZR MAXX to a monitor, keyboard and mouse (or use the lapdock) and get a full desktop experience.
Citrix Receiver is free at the market, but the virtual PC service is paid.
Another preinstalled tool for business people on the go is the GoToMeeting app - it enables web conferencing, with video chat with up to 25 people with whom you can share your screen and presentations.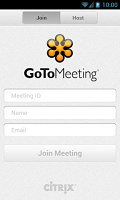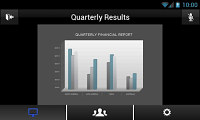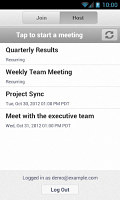 GoToMeeting (note: these are promo screenshots, not from the device)
The Lapdock and HD dock options
Several Motorola phones can be hooked up to Moto's advanced docks and the RAZR MAXX is one of them.
The Lapdock 500 Pro turns the RAZR into a 14" Android running netbook with a full-size QWERTY keyboard and a big touchpad. It features a video call camera above the screen, an Ethernet port (you read that right), a VGA port to connect to projectors, two USB host ports and an SD card slot (that's SD, not microSD).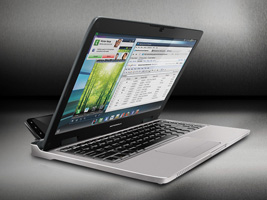 Motorola RAZR with the Lapdock 500 Pro
And that's not all - the Webtop app provides an interface much better suited to the laptop form-factor than the standard Android UI. It uses windows to make it more familiar, an app shortcut dock at the bottom (a lot like a Mac) and a desktop-grade Firefox browser (not the mobile version).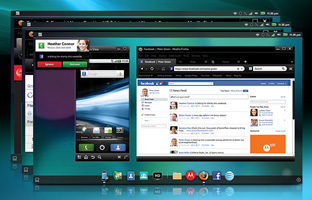 Webtop gives you a more familiar laptop experience than vanilla Android UI can offer
There are two more docks - the HD Station and the HD Dock. They both charge your phone, let you conveniently connect external speakers, pair with your HDTV (or monitor with a HDMI port) and use the desktop Firefox app.
The difference is that the HD Station also features 3 USB ports, which you can use to hook up a keyboard,mouse and external storage too.
ICS browser in the post-Flash era
The Motorola RAZR MAXX gets to enjoy the excellent ICS browser after the update. This browser has a streamlined interface, incognito browsing and other cool features.
The browser chrome is quite minimalistic; all you get is the URL bar with a tabs shortcut. Hitting the Menu key makes more options available: Refresh, Forward, Save to bookmarks, Share page, Find on page, full settings and a couple of more - Request desktop site (no more hunting for that "Desktop" option buried at the bottom of the site) and Save for offline reading.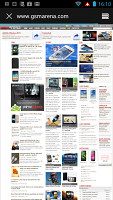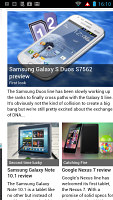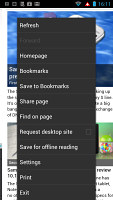 The web browser was redesigned
The full settings menu includes some really interesting options. For example, you can set your search engine to Yahoo or Bing, you can adjust text size and the level of which double tap will zoom in.
The browser borrows several features from its desktop counterpart. For example, when searching for something, if the browser is confident you'll click on a certain search result, it will start preloading that page right away so that it opens faster if you do click it. You can set this feature to work over Wi-Fi only to save on data.
The other trick is Incognito mode - there's no global setting, but you can open Incognito tabs.
Speaking of tabs, the tab switching interface looks exactly like the Recent apps list. You can even close tabs by swiping them off the screen.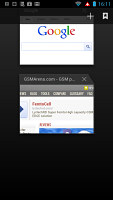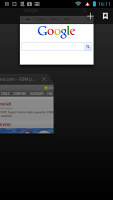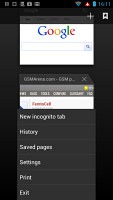 Switching tabs works the same way as switching apps does • Incognito tabs
Quick controls (available from the Labs settings) reveal five controls (New tab, Tabs, URL, Bookmarks, More) when you slide your finger in from the side. Those really improve the browser experience. Another cool feature from Labs is Full screen, which squeezes out a little more screen real estate by hiding the status bar.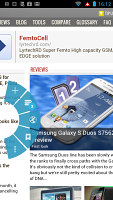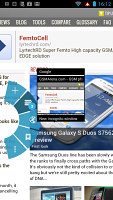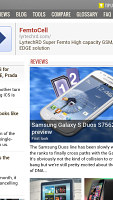 The Quick controls • Fullscreen mode from the Labs settings
Flash is no longer pre-installed and you can't get it from the Play Store either. It will work if you find the APK and install it, but many sites have gone the HTML5 way so there's less and less reason to install Flash. You might still need it though, for sites that still use Flash navigation and if you're a fan of touch-based Flash games.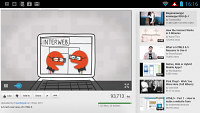 YouTube HTML5 videos play, but the interface is buggy
YouTube automatically switches to HTML5 video and the Motorola RAZR MAXX could play 1080p video smoothly. YouTube's interface was a little buggy though.