Software
The Nokia 2 runs Android 7.1.1 Nougat. Oreo has been promised - a jump straight to v8.1, too. With that, the entry-level Nokia will get a much needed Android Go performance boost, or at least in theory it should. But there's no time frame for the update, so let's not get ahead of ourselves.
Much like the other members of the new Nokia roster, the Nokia 2's take on Android stays close to Google's own. The one customization is the blue theming of the stock icons. The lockscreen is as standard as they come, while the app drawer is the pull-up one introduced with Nougat on the original Pixel. There's face unlock, or rather 'trusted face', which, to reiterate, is a built-in Android feature.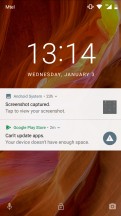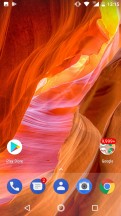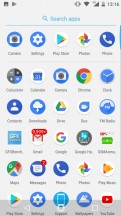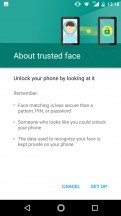 Lockscreen • Homescreen • App drawer • Trusted face
There are a couple of basic gestures like flip to mute, and a double press on the power button will launch the camera from any screen. There is, actually, multi-window! Yes, it does come as standard with Nougat, but the Nokia 2 struggles dealing with one app at a time, so it's quite impressive that it can at all display two side by side. Well, it somehow manages.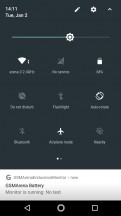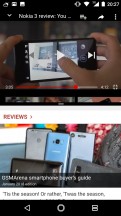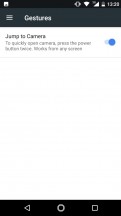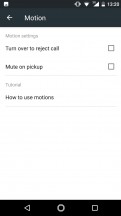 Quick toggles • Multi window • Gestures
As for multimedia, it's all in the hands of Google and its default apps. Google Photos is in charge of gallery-related tasks and video playback, while Google Play Music is the audio player. There's an FM radio too.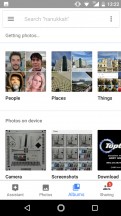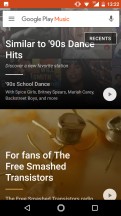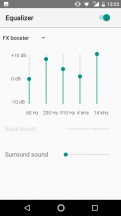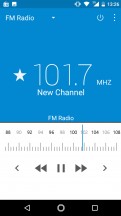 Google Photos • Google Play Music • Equalizer • FM radio
Performance
The Nokia 2 is powered by the Snapdragon 212 chipset, though 'powered' might be too strong a word for a Snapdragon that is anything but snappy. A modest quad-core CPU relying on dated Cortex-A7 cores clocked at 1.3GHz is paired with just a single gig of RAM. Similar configurations can be found on smartwatches.
Storage is a rather crippling 8GB, too - no microSD app installs can convincingly make up for that, though yes, the Nokia 2 can do it. We frown upon 16GB phones, and 8GB is just too little. For example, after a walk around the park for gathering some photo samples - no more than a 100 photos in this case - it refused to install Geekbench off the Play store, citing lack of storage. That's with no additional apps on board, other than the standard Google package.
Obviously, we freed some space and did run the benchmarks. In the multi-core GeekBench the Nokia 2 puts out a score less than half the Nokia 5's. Even the Nokia 3, itself packing a quad-core CPU, is more powerful than the 2 by a wide margin - 4x53>4x7, Cortexes, that is. Making an even better case for the A53s are the Xiaomis - both the Snapdragon 425 and 435 have a significant advantage in CPU power over the Nokia 2's Snapdragon 212.
GeekBench 4.1 (multi-core)
Higher is better
Nokia 5
2851
Moto G5
2580
Xiaomi Redmi 4
1819
Xiaomi Redmi 4a
1781
Nokia 3
1529
Meizu M5c
1285
Nokia 2
1162
GeekBench 4.1 (single-core)
Higher is better
Meizu M5c
870
Xiaomi Redmi 4a
677
Nokia 5
672
Xiaomi Redmi 4
670
Moto G5
618
Nokia 3
551
Nokia 2
429
The graphics department is similarly underwhelming. In GFXBench, the Nokia 2 is only capable of running the 2.7 T-Rex version of the benchmark (which we dropped a while ago) and 3.0 Manhattan. In the latter, the Nokia 2 is tied with the Meizu M5c at the last spot in the chart with a modest 4.4fps. The Redmi 4 can do 14fps, and even the lesser 4a is ahead.
GFX 3.0 Manhattan (1080p offscreen)
Higher is better
Xiaomi Redmi 4
7.2
Nokia 5
7.1
Moto G5
7.1
Meizu M5s
4.5
Xiaomi Redmi 4a
2.8
Nokia 3
2.2
Meizu M5c
2.2
Nokia 2
1.8
GFX 3.0 Manhattan (onscreen)
Higher is better
Xiaomi Redmi 4
14
Nokia 5
14
Meizu M5s
9.2
Moto G5
7.1
Xiaomi Redmi 4a
5.7
Nokia 3
4.5
Nokia 2
4.4
Meizu M5c
4.4
Moving on to Antutu, you should know better than to expect miracles from the Nokia 2. Indeed, it's one of the lowest scores we've seen of late. Even the Lumia 650 was capable of more back in Nokia's Microsoft days, again with an S212 inside (though, of course, running Windows, so the cross-platform comparison argument stands).
AnTuTu 6
Higher is better
Xiaomi Redmi 4
44089
Moto G5
43755
Nokia 5
43392
Meizu M5s
39166
Xiaomi Redmi 4a
36110
Microsoft Lumia 650
31353
Meizu M5c
29001
Nokia 3
28441
Nokia 2
25210
This is the part where we often say 'yes, this and that phone doesn't excel in benchmarks, put is perfectly okay and smooth in everyday use'. Well, the Nokia 2 isn't. It's slow, there's no escaping that. It feels just as slow as its outdated hardware would suggest, and even basic browsing around the UI can leave you waiting at times. Such is life. At least until the phone receives the 8.1 Oreo update and with it some Android Go memory management improvements. Realistically, however, it's better to have your expectations managed rather than the limited amount of memory on the phone.