Funky-shape jukebox
Nokia 5220 XpressMusic review: Funky-shape jukebox

S40 user interface
One of the benefits of the S40 UI is the active standby mode. Instead of looking at a plain and boring wallpaper image, you can opt for a more practical layout that turns the standby screen into more of a PC desktop.
The active standby mode consists of several parts that can be edited or relocated to match the user preferences. In the most common case, the top area is reserved for instant access to favorite functions. The central area provides instant access to the music player. And at the very bottom you will see the calendar events set for the current day. A cool S40 feature, that even Nokia smartphones lack, is the possibility to add a note to the active stand-by. The two soft keys' functionality can also be altered if necessary.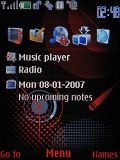 S40 user interface and active standby
The main menu in Nokia 5220 classic can be visualized in four different ways: a grid of icons with or without captions, a list of items, and tabs. While each of them has its pros and cons, our personal choice remains the typical grid view with legends, showing a matrix of 3 x 3 icons. If you prefer more icons to appear on screen, you can go for the grid view without text, as it displays a 4 x 3 icons grid.
As usual, the menu items are intuitively accessible through keyboard shortcuts. The color background of the entire menu, as well as the wallpaper on the display, can be easily modified by changing the active theme.
The menu responds quickly, without lagging or holdups.
There are six predefined ringing profiles on Nokia 5220. These should be enough to suit practically any situation you could possible face. The seventh profile is the Flight mode, which turns off all transceivers on the phone. This can turn out very convenient if you decide to use your phone as an MP3-player-only for example.
Furthermore, as opposed to some other brands of phones, the flight mode can be used without a SIM card inserted, which we find convenient.
Phonebook stores up to 2000 contacts
The phonebook on Nokia 5220 offers space for up to 2000 contacts. Each contact can be assigned a variety of fields but the phone numbers are limited to 5. First names are separated from last names eliminating problems, which may occur with synchronization. Ringtones can be assigned to each contact. Naturally, you can also assign personal pictures or videos that will run on an incoming call.
There are three available view modes for your contact list: List-of-Names, Name-and-Number and Name-and-Picture. It can display either the SIM card contacts or the phone memory contacts - having both at the same time is also an option.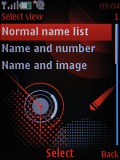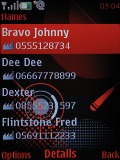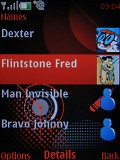 There are three different options for the phonebook looks
The phonebook font size can also be modified, should this be necessary, and it's an option that will be widely appreciated. Searching is done by gradual typing of the name of the corresponding contact. And that's not all: contacts can also be organized in groups and these can subsequently be used as call filters.
Another application to mention here is the voice dial: no pre-recording of voice labels is necessary. There is also a training application that helps for better results when using voice commands and/or dialing.
A nice extra is the Find-on-Map option which locates the contact's address on the new Nokia Maps application for S40 if it is entered correctly.
Telephony: Loud and clear
As you might have guessed, signal reception and call clarity have not been compromised in Nokia 5220. The calls are loud and clear on both ends and you will have no problems communicating with this phone. Vibration strength is moderate.
Nokia 5220 is among the many S40 Nokia phones to feature an active noise cancellation technology for suppressing background noise in calls.
It's about time though Nokia introduced some sort of smart dialing in their feature phones, as most competing manufacturers have already done. It's quite convenient and might save the extra clicks to get to the phonebook.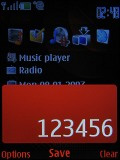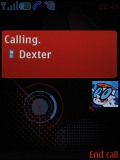 Making a phone call on Nokia 5220
Nokia 5220 made the Good rank in our loudspeaker test. Compared to Nokia 5310, the 5220 is noticeably louder, especially when playing music on the loudspeaker as seen in the results table. You can find more details about our test, as well as the results of all other tested mobiles here.
| | | | | |
| --- | --- | --- | --- | --- |
| Speakerphone test | Voice, dB | Pink noise/ Music, dB | Ringing phone, dB | Overall score |
| Nokia 5310 XpressMusic | 64.8 | 62.0 | 75.9 | Average |
| Nokia 5220 XpressMusic | 73.7 | 68.5 | 75.7 | Good |
| Sony Ericsson W302 | 71.6 | 68.7 | 76.7 | Good |
| Nokia 5320 XpressMusic | 74.3 | 66.6 | 78.3 | Very Good |
| Samsung M3200 Beat s | 76.1 | 78.3 | 84.7 | Excellent |
The Call Log in Nokia 5220 displays Dialed, Received and Missed calls separately, as well as all of them in bulk. Every submenu can hold up to 20 call records with their date, time and duration.