Funky-shape jukebox
Nokia 5220 XpressMusic review: Funky-shape jukebox

The camera hides a trick or two
The Nokia 5220 XpressMusic is equipped with a 2 megapixel camera with image resolution of up to 1600 x 1200 pixels. There's no flash, and there's no auto focus.
The camera is more of a complimentary feature on the music-centric 5220.
Typical of Series 40, the camera settings are not the richest around but are still reasonable for this shooter. They include white balance settings, three quality levels going form basic to high, and various effects. Sequence shots and shooting in both portrait and landscape mode are also among the available extras.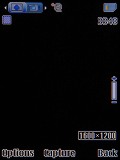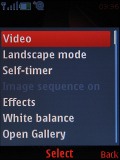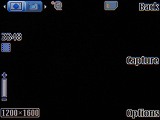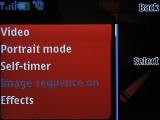 Camera user interface can be set to work in both portrait and landscape mode
There are a few things to frown at - there is no cover to protect the lens from scratches, the lack of a flash rules out night portraits, while the fixed focus is sure to ruin any attempt at a close-up.
The lack of a dedicated camera button is another downer when it comes to operating the camera. It is quite uncomfortable to use the confirm button of the D-pad for that purpose, especially when shooting in landscape mode.
The camera itself is not the best we have seen either, but it's above average and image quality is clearly better than what Nokia 5310 and Nokia 6500 classic can pull off.
Here are several samples for you to judge:
There's a performance boost
We were pleasantly surprised by two major camera improvements over previous S40 models - including the Nokia 5310.
First you get a much snappier performance - the Nokia 5310 took ages to save an image, the same goes for the Nokia 6500 classic. This time we have nice shot-to-shot time and saving the image doesn't take too long.
And secondly, the Nokia 5220 is pitched as having the Nokia proprietary processing algorithm (NIPS), which allows for taking better pictures in challenging light conditions. By the way, Nokia 7510 Supernova uses the same technology too.
Nokia however don't offer any technical details on this technology for tech geeks like us, and they don't even have a demo of the improvements on their website. No offence, but right from the very start the whole NIPS thing sounded like a gimmick. So, we just had to test it.
We set out to test the technology by shooting a dimly lit scene (right after sunset in a north facing room). We used the Nokia 5220, as well as a Nokia 6500 classic, which was available at the time.
As you will see, Nokia 6500 classic images have extremely high levels of noise because the camera automatically boosts ISO to make up for the low light.
Nokia 5220 on the other hand preferred to keep ISO levels relatively down, deploying at the same time some new noise suppression routine. The result is much better low light pictures.



Nokia 5220 vs. Nokia 6500 classic: low light performance



Nokia 5220 vs. Nokia 6500 classic: low light performance
There is a drawback to keeping the ISO down of course and that's the resulting low shutter speed. In our case, we got all the 10 test Nokia 6500 classic shots nice and sharp (but with a lot of noise), while all the Nokia 5220 images were a bit blurry - even this one that we are displaying is not tack sharp.
But from where we stand, the high noise has already ruined the images by the 6500c, so we guess the Nokia 5220 and its NIPS technology is the better choice - as long as you keep your hands and your subjects still.
Video is only good for MMS
The Nokia 5220 camera captures only QCIF resolution video in 3GP format. While they can be unlimited in length, their quality and resolution is only good for an occasional MMS.
There's stereo Bluetooth, but no 3G
Connectivity is at about the level you would expect in this price range. Nokia 5220 XpressMusic has support for GPRS and EDGE to get wireless data transfers covered.
Bluetooth 2.0 is also on board for wireless short range connections. There is support for the A2DP profile, so you can listen to music on a stereo Bluetooth headset.
USB connectivity is really seamless. Thanks to the standard microUSB port and the supplied USB cable, connecting to a computer is hassle-free. Once connected, the phone memory contents as well as those of the memory card can be access on the computer.
Finally, a microSD memory card slot, which can sometimes be the most convenient way of transferring information, is also present here. Though officially quoted to support up to 2GB cards, 8GB cards are no trouble at all for the Nokia 5220.
Unlike the Nokia 5310, the memory card slot is not hidden under the battery, so you can hot-swap it problem-free.
Web browsers galore
Nokia 5220 classic has an integrated browser, which which is identical to the one used in Nokia 5310.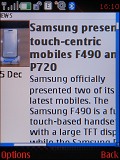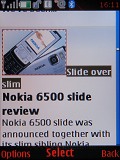 The phone's primary web browser
The browser faces serious competition from another application - the well-known Opera Mini, which serves as an excuse for Nokia to not bother developing their own S40 web browser.
Opera Mini is pre-installed on all recent midrange S40 phones and is definitely our first choice for browsing the web on Nokia 5220. It is far more intuitive and fits text better than the integrated browser. The browsing experience can hardly be compared to the one on Nokia's smartphones but still is at a more than decent level. We still wished the screen was a little bigger on this occasion.