Funky-shape jukebox
Nokia 5220 XpressMusic review: Funky-shape jukebox

Say hello to Nokia Maps for S40
Nokia Maps is becoming a familiar sight on recent S40 devices and the Nokia 5220 XpressMusic is among the handsets to feature it. Among the things you can do without a GPS receiver is browse maps, look up addresses and locations, and plan routes.
Nokia Maps offers straightforward route planning. Having entered a start point and a destination, the application will plan your route with easy-to-follow directions to where you're heading.
Putting down some Landmarks while you're on the go, or saving locations in the Favorites section is another available option. Favorites contents can also be exported/sent via MMS, which is a nice extra too.
Having Nokia Maps on your mobile phone is a nice advantage. Of course you can always get the competing Java-based Google Maps but Nokia Maps has one crucial advantage - you can preload your maps on the memory card so that you don't need to download them over the air.
Once you pair Nokia Maps with an external Bluetooth GPS receiver you can also enjoy real time voice-guided turn-by-turn navigation. It comes at a certain price, but it's always there as an option for those who need it.
If you don't have an external GPS unit, in some cases Google Maps may be the better choice. For one, it's up and going much faster (Nokia Maps takes couple of minutes to load on 5220), and then there's the convenient Locate Me feature that approximates your location on the map based on cellular triangulation.
Let the games begin
The preinstalled gaming package on Nokia 5220 includes four games. The City Bloxx game is first in this list. It is a challenge to both brain and reflexes and, as you might know, our team is quite fond of it.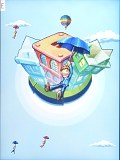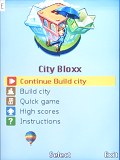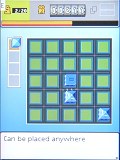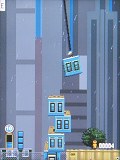 City bloxx game is a challenge to brain and reflexes
Next in line is the Snake III, which hardly needs description. After all it's the trademark game of Nokia handsets.
Then there's the Guitar Rock Tour, which was first seen on the Symbian-powered Nokia 5320 XpressMusic. It's inspired by the popular Guitar Hero game, except here you play the guitar using the keypad.
The last game is Rally 3D. It has excellent graphics and is really rather amusing to play.
Final words
To conclude, Nokia 5220 is a solid performer - it provides pretty much everything as promised in a neat and compact package. Simplicity, affordability and friendly handling are good enough grounds for the likely mass appeal of Nokia 5220 XpressMusic.
Nokia 5220 doesn't have 3G support or a fancy camera, but if it's music you are after you're right on target. We are yet to see however how an exciting rivalry will unfold. The recently released and promising Samsung 3510 Beat b is staking much on shake control and might be a worthy challenger if the pricing is right. So, whether Nokia 5220 will beat or get beat is a tough bet to take.
We still guess many of you will be choosing between the Nokia 5220 and Nokia 5310. So, we sat down and ran a quick comparison. It turned out Nokia 5220 outperforms the mighty bestseller. We found that Nokia 5220 has a number of advantages:
Stand-out asymmetrical design
Beefier battery - more standby time, more music time (24 h instead of 20 h)
Nokia Maps
Music lights
Snappier camera
Better low light image quality thanks to NIPS
Noticeably better loudspeaker performance, especially when playing music
More affordable price tag
In fact the only things that put the 5310 ahead of the 5220 are the slightly better display, Visual Radio (not that big a deal) and, finally, the excellent build and more solid construction. The Nokia 5220 seems way too plasticky and the finish is not as refined as the one of 5310 - but all that's a matter of personal taste. So, if you're choosing an XpressMusic handset, the Nokia 5220 seems well worth it and the eccentric styling makes sure it won't go unnoticed.