Sharp-witted shooter
Nokia 6220 classic review: Sharp-witted shooter

GPS navigation is a nice surprise
Nokia 6220 classic has a GPS receiver of pleasing performance, as far as sensitivity is considered. It only took it about a minute to lock upon cold start. You can also activate the built-in A-GPS feature to reduce this time even further. Have in mind though that data transfer charges apply in this case.
The built-in GPS receiver works with the Nokia Maps application, which is one of the software applications to offer the most detailed maps. Furthermore, it is free and relatively easy to use as far as the most basic functionality is concerned. A welcomed bonus is the three-month worth of free turn-by-turn navigation.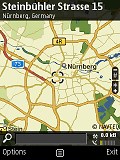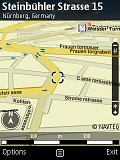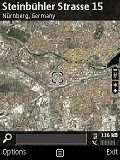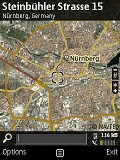 Nokia Maps 2.0 offers four different view modes: 2D, 3D, Satellite and Hybrid
The Nokia Maps application itself is giving little reason to complain. It has very decent looks and easily customizable route planning routine. Toll roads and motorways can be avoided and so can tunnels and ferries. Route selection can be set to either fastest or shortest. The app is also usable for pedestrian navigation or you can switch the GPS receiver off and use the phone as an electronic map.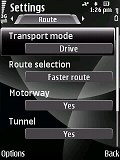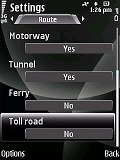 The route planning algorithm can be easily customized
In case you don't want to use Nokia Maps you can go for a third-party application as there are quite a lot of those available.
The overall impression of the Nokia 6220 classic GPS functionality is positive, earning another point for the device. It will hardly leave a user disappointed and if it wasn't for the screen it could easily compare to dedicated GPS navigation units.
Games
Nokia 6220 classic features a single game - Marble. We, for one do not find it too entertaining but that might be just us. Of course you can always download more games as there are dozens of them over the internet.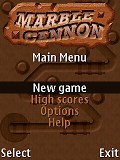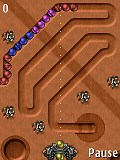 Only one game comes preinstalled on Nokia 6220 classic
Final words
To summarize, Nokia 6220 classic is better than its price tag and delivers without fail. For your buck you get an impressive range of imaging niceties, Symbian power and a snappy UI, plus all the added benefits of Feature Pack 2. Nokia 6220 classic is nothing short of a true Symbian workhorse. If only it didn't look a sick horse. And hey, we're not nagging for a flashy crowd-pleaser design. We just mean to say that the 6220 classic exterior is doing its performance no justice, all the more the dismal keypad.
Anyway, beside the looks, which is a subjective call, the absence of Wi-Fi is pretty much the only cause of frustration. On the other hand, there is hardly a handset to offer this kind of performance and features in this price range. If Wi-Fi isn't too high on your list and you're keen to find beauty in the most unlikely of things, you'll be enjoying a sensible purchase and strong performance.